Local governments across Wisconsin are wrestling with issues that define what it takes to support a thriving community.
"We're getting to these crisis points where population is declining, and people are getting older," said Tiffany Brault, a second-term member of the Fond Du Lac City Council as well as a member of the Fond Du Lac County Board. "I learned quickly that our county board is non-confrontational. We don't really take on hard issues. Housing and childcare are all these big huge problems coming down on people in my generation, and if we don't have leaders who want to work together and find solutions, what will happen to our communities?"
Brault's response is to engage the community around her in the issues her area is facing. She is identifying roadblocks and potential solutions with a local childcare taskforce. That's part of her strategy to have local government take the lead on doing what it can to create effective communities. "We have such an important role that we can play, and we can't do that if we don't have good leadership."
To support her role in government, Brault attended Extension's Local Government Leadership Academy (LGLA). She joined more than a dozen of her peers graduating from the Academy, ready to apply evidence-based techniques and research in her position. Her first lesson: taking a critical issue such as childcare and breaking it down into smaller goals, starting with bringing people together that represent different pieces of the puzzle. "I think that's part of what I've learned through LGLA. Here's how we work with people to find some sort of solution that might work for all of us."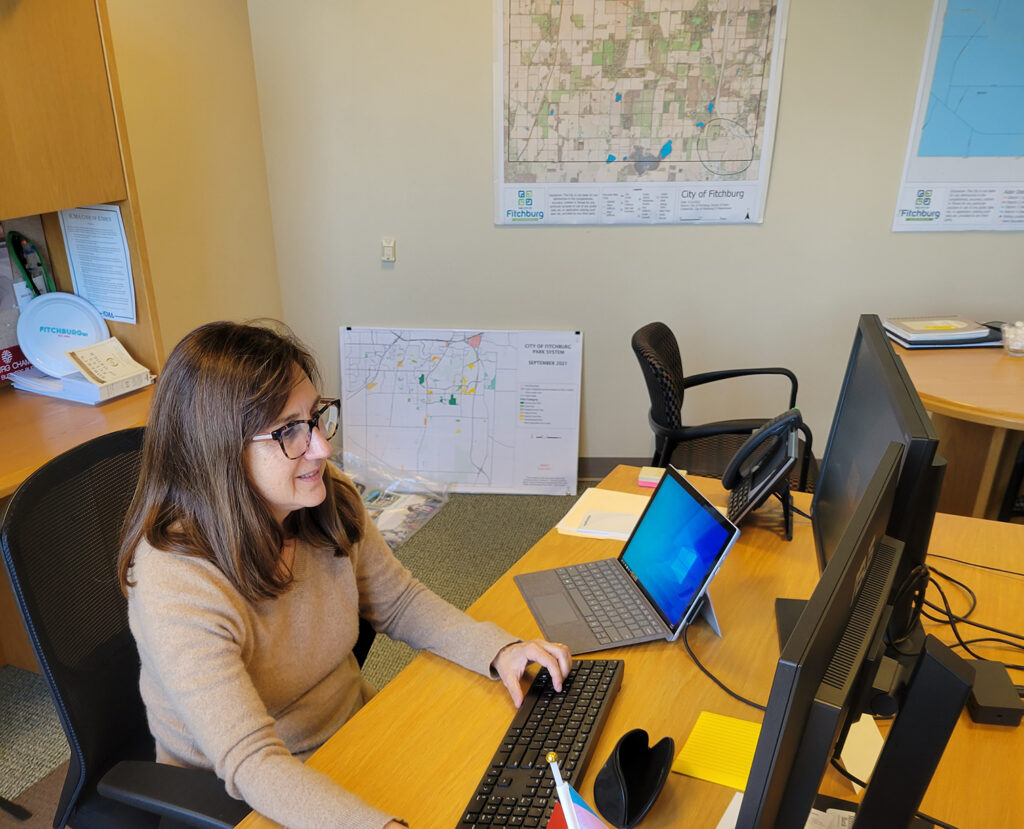 LGLA provides a way for elected officials to learn new skills to address the unique challenges that come before local governments. "Government is different than private business or not-for-profits," said Fitchburg Mayor Julia Arata-Fratta, a former city alder who joined the Academy in 2022. "One of the things I found helpful was going through the experience with other people in government. Having the experience to learn with participants from every corner of Wisconsin and to learn what they're doing in their different positions was valuable."
Arata-Fratta sees how what she learned in LGLA helps her run things more effectively. As the 2024 budget season begins, she said that an important lesson that she took from the Academy was the importance of active listening and intentionally including different points of view in conversations.
"I haven't always reached out to people who were on the opposite side of an issue or that I had little in common with. I used to think, 'What's the point? They're going to vote against this anyway.'" Now, she makes a point to keep them involved in the conversation. "I know that we all have the same goal – doing what's best for our community. Even if they disagree with me 90% of the time, I want to understand why. Sometimes, we will agree. Other times, we can compromise and find a solution. But we can't do that if we're not talking."
Emphasizing the 'real-world' problems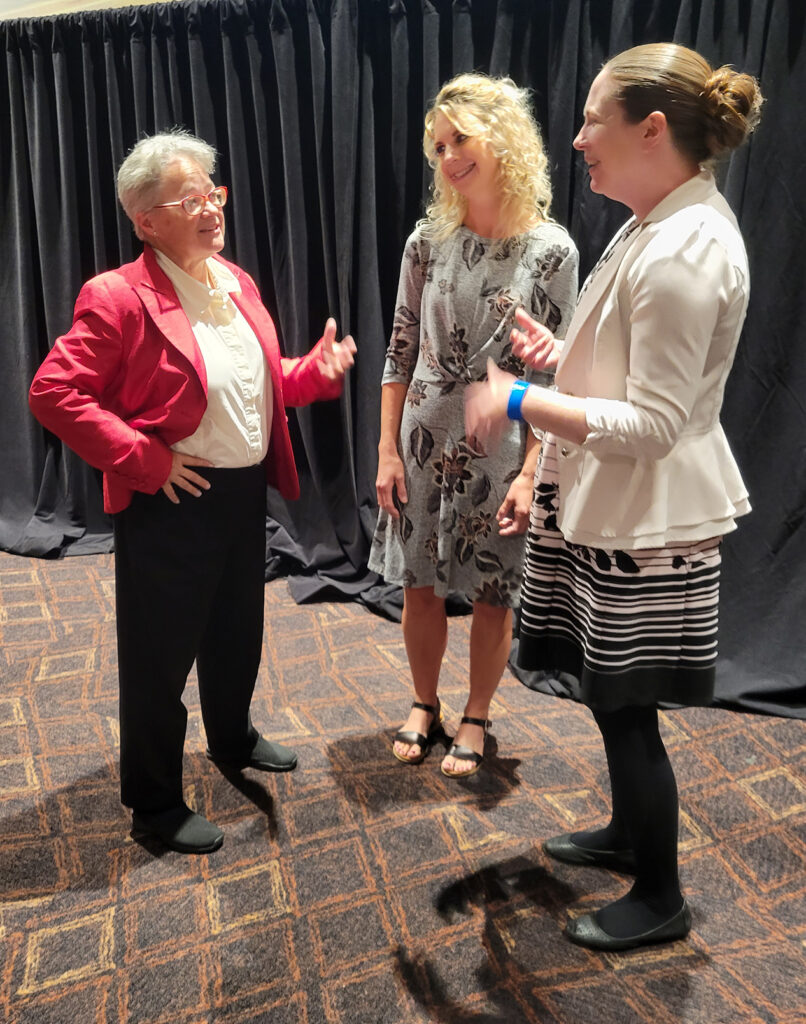 The Local Government Leadership Academy is a key way Extension brings the Wisconsin Idea to communities across the state. Working in local government requires that you know how to do the job, but it also takes certain skills to be effective. Extension brings the latest research on organizational development and leadership to the curriculum to help counties build their capacity to function more effectively and efficiently. That includes talking about things like communication, relationship building, civil discourse, and systems.
"In LGLA, we put a lot of emphasis on real-world problems that they are facing every day in their community. The question is how can they develop patterns of behavior and connections that address that one issue, but establish a pattern for dealing with any sort of challenge like that that comes up in their community," said LGLA's Facilitator and Extension Specialist Elizabeth McCrank.
LGLA began as a collaborative effort between Extension, the Wisconsin Counties Association (WCA), and Leadership Wisconsin Inc. Elected officials lead Wisconsin's 72 counties, 604 cities and villages, and 1,250 towns, which are all tasked with delivering services that support individuals, families, organizations, and businesses. LGLA, part of Extension's Organizational and Leadership Development Program, engages dozens of academy members every year and provides educational resources for many more.
"State and federal funding reductions, paired with increasing demands for services, will force local government to find innovative solutions to better serve their citizenry. There are only a select group of people that have the skills set to have a vision for what our communities could be and know how to remove barriers to get there," said Mark O'Connell, Executive Director of the Wisconsin Counties Association.
How leadership benefits government
Through a mix of workshops and self-study, the Academy helps participants find ways to contribute to the improved capacity of their local government. That kind of programming was beneficial to Brittany Mews, RN BSN, another recent graduate who has been the Clark County Health Department Director/Health Officer since June 2019. Five months after taking the position, she was leading her county through the COVID-19 pandemic. "The pandemic brought a whole new level of challenges that was extremely difficult to navigate. The combination of being a new leader and discovering the complexities of the operations of local government heightened by the pandemic attracted me to this program."
"Because we focus on government as a system, we feel strongly that the Academy needs to include both elected officials and government employees, such as department administrators and managers. Having both in the Academy allows us to talk about working together and also put that into practice at each session," McCrank said.
Katie Rosenberg, a former Marathon County Board member in 2021 when she participated in LGLA and now the Mayor of Wausau, said having a mix of administrators and elected officials was invaluable.
"As elected officials, we often make decisions that make sense to us. But LGLA opened my eyes to the fact that our decisions have to be interpreted by staff and deployed. And our decisions are not always easy to interpret and deploy," Rosenberg said. She learned a lot from staff members, hearing their pain points and seeing how they are solving problems. Now, she takes more time to talk with departments about potential decisions and ask better questions. "If it's not working, you can change it. We're so precious about the things we create, but we need to be willing to change. That was a big thing I took away – that things don't have to be perfect, especially if they aren't working."
LGLA graduated their fifth cohort this September, and McCrank says the feedback from participants is overwhelmingly positive. "The issues before counties and municipalities are getting more complicated. To address those issues, we'll need people who are willing to work together, listen to each other, and be creative. Our leaders understand that and are excited that they can send people to LGLA to learn those important skills."