Spongy moth (Lymantria dispar) [formerly known as "gypsy moth"] caterpillars can eat leaves from most trees and shrubs in North America. It does, however, prefer some species to others and there are a few trees it won't touch even when starving. Remember that spongy moth caterpillars feed primarily from into July. If you notice trees being defoliated at other times of the year it is likely something else that is feeding on them.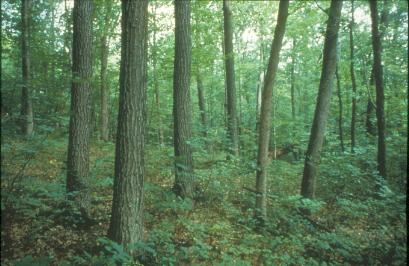 Feeding preferences of spongy moth caterpillars on Wisconsin host plants
Favorite foods
Acceptable meals
Unlikely to be fed on
oak
aspen
willow
apple and crabapple
tamarack
white birch
witch hazel
mountain ash
basswood
linden
pine (older caterpillars)
spruce (older caterpillars)
maple
walnut
chestnut
hickory
cherry
hemlock
elm
hackberry
black and yellow birch
beech
cottonwood
box elder
ironwood
arborvitae
green, white, and black ash
balsam fir
locust
scotch pine
red cedar
tulip poplar
catalpa
sycamore
dogwood
In addition, many reports from the Midwest have indicated that blue spruce can sometimes serve as a good habitat for spongy moth caterpillars. The dense canopies and sharp needles can protect spongy moth caterpillars from predators and other natural enemies.