Resources for Education and Outreach
Drinking Water and Human Health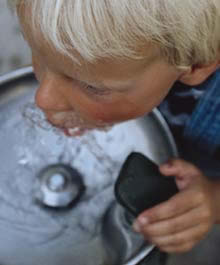 The health and livelihood of Americans depends on the availability of a safe drinking water supply. In some portions of the nation drinking water is a scarce resource, while in other areas abundant water supplies are available. Community water systems now supply drinking water to over 80 percent of the U.S. population. Other citizens drink water from private sources, mostly wells. Increasing water demands from a growing population, economic expansion and increasing use per capita mean that we need to emphasize the wise use, proper management and protection of this resource.
Both community and private sources of drinking water are susceptible to a myriad of chemical contaminants, biological pollutants and nuisance water problems that may vary depending on site conditions and other factors. Some of the more common chemical pollutants include pesticides, fertilizers, petroleum products, and industrial solvents. Some problem organisms, including viruses, bacteria, protozoa and algae, cause nuisance problems with taste and odor while others are potential pathogens. Threats to drinking water quality come from animal and plant production agriculture, industrial activities and even activities around our businesses, residences, recreational areas and transportation systems. Many U.S. citizens are becoming more concerned about potential health risks and nuisance problems associated with their drinking water.
Adapted from the USA Water Quality Drinking Water and Human Health Theme page,http://www.usawaterquality.org/themes/health/default.html
EDUCATION & OUTREACH RESOURCES
Also available in a PDF version, Drinking Water resources_complete
Please note: links and contact information below have not been verified.
| | |
| --- | --- |
| Title | Karst—Avoid that Sinking Feeling: Sinkholes, Limestone and Groundwater Contamination |
| Resource Type | Print Materials |
| Author | Rock River Coalition, Inc. and the University of Wisconsin Extension |
| Publication Date | N/A |
| URL | http://basineducation.uwex.edu/rockriver/newkarstbro.pdf |
| Keyword(s) | karst, groundwater contamination, sinkholes, limestone |
| Abstract | A three-panel brochure that describes karst geology and how it threatens groundwater quality. Actions to prevent groundwater contamination are outlined. |
| Contact and Order | Environmental Resources Center (ERC), University of Wisconsin-Extension, 445 Henry Mall, Room 202, Madison, WI  53706 |
| | Website: www.uwex.edu/erc/ |
| | Email: erc@uwex.edu |
| Geographical Emphasis | EPA Region V—Great Lakes, Wisconsin |
| Ecological Emphasis | Multiple ecosystems, watersheds |
| Target Audience | adults, landowners, and water, watershed, and riverway groups |
| Water Topic & Subtopic | Animal Waste Management-Manure management policy—AFO/CAFO |
| | Drinking Water and Human Health-Community water supplies |
| | Pollution Assessment and Prevention-Community-scale contamination, home and community |
| | Watershed Management-Ecosystem management |
| Educational Purpose | Information resource (one way) |
| | |
| --- | --- |
| Title | Answers to Your Questions about Groundwater |
| Resource Type | Print materials |
| Author | Wisconsin Department of Natural Resources |
| Publication Date | 2003 |
| URL | http://www.dnr.state.wi.us/org/water/dwg/gw/pubs/atqagw.pdf |
| Keyword(s) | groundwater, groundwater questions, public wells, private wells, groundwater problems, groundwater pollution, groundwater contaminants, groundwater responsibility, community water supply, drinking water |
| Abstract | This small booklet provides general information on groundwater resources: problems, responsibilities, and solutions. |
| Contact and Order | Wisconsin Department of Natural Resources, 101 S. Webster St. P.O. Box 7921, Madison 53707, (608) 266-2621 |
| Geographical Emphasis | Wisconsin |
| Ecological Emphasis | Multiple ecosystems, watersheds |
| Target Audience | adults, households, and water, watershed, and riverway groups |
| Water Topic & Subtopic | Drinking Water and Human Health-Community water supplies, monitoring groundwater (emerging issue), private water supplies |
| | Pollution Assessment and Prevention-Home and community |
| | Watershed Management-Community involvement |
| Educational Purpose | Information resource (one way) |
| | |
| --- | --- |
| Title | SAWS H2O University |
| Resource Type | Website |
| Author | San Antonio Water System |
| Publication Date | N/A |
| URL | http://www.saws.org/education/h2o_university/index.cfm |
| Keyword(s) | water, water conservation, conservation, education, recycling, H2O Heroes, activities, e-books, teacher resources, publications, virtual classroom |
| Abstract | Water conservation resources for teachers and children. Amazing variety of activities, online activities, printable activities, etc. for children, with online clubs such as H2O Heroes and S.W.A.T. to join. Resources for teachers include curriculum, training workshops, videos and materials to check out, field trips, etc. Very extensive, colorful, fun. |
| Contact and Order | San Antonio Water System, 1001 E. Market St.  P.O. Box 2449, San Antonio 78298, (210) 704-7297, chenderson@saws.org |
| Geographical Emphasis | National |
| Ecological Emphasis | Multiple ecosystems, riparian, watersheds |
| Target Audience | youth, educators, households |
| Water Topic & Subtopic | Drinking Water and Human Health-Community water supplies, hazardous substances |
| | Watershed Management-Community involvement, stormwater management, wastewater management |
| Educational Purpose | Information resource (one way), education resource (formalized learning process), capacity building resource |
| | |
| --- | --- |
| Title | RiverSmart radio PSA |
| Resource Type | Public Service Announcement |
| Author | Manuszak, Angela and Gibson, Brenda |
| Publication Date | 2003 |
| URL | N/A |
| Keyword(s) | homeowner, watershed, nonpoint source, storm water, river |
| Abstract | This is a script for a radio PSA after the models provided by the national RiverSmart media campaign developed by River Network. It highlights practical things people can do at home to protect their local rivers. |
| Contact and Order | Miami Conservancy District, 38 E. Monument Ave., Dayton 45402; (937) 223-1278 x. 3263; amanuszak@miamiconservancy.org |
| Geographical Emphasis | National |
| Ecological Emphasis | Multiple ecosystems, rivers, watersheds |
| Target Audience | adults, households, landowners |
| Water Topic & Subtopic | Drinking Water and Human Health-Hazardous substances |
| | Environmental Restoration-Stream focus, watershed focus |
| | Pollution Assessment and Prevention-Home and community |
| | Watershed Management-Stormwater management |
| Educational Purpose | Information resource (one way), education resource (formalized learning process) |
| | |
| --- | --- |
| Title | Consider the Source: An Interactive Guide to Protecting America's Drinking Water |
| Resource Type | CD |
| Author | U.S. Environmental Protection Agency |
| Publication Date | 2004 |
| URL | N/A |
| Keyword(s) | drinking water, drinking water quality, water quality, watershed, groundwater recharge, runoff, safe drinking water, interactive guide |
| Abstract | This CD-ROM shows how our drinking resources are under siege from nature and our activities at home, work, and play. Outlines the facts about drinking water in our communities. |
| Contact and Order | Safe Drinking Water Hotline 1-800-426-4791 or www.epa.gov/safewater |
| | EPA Office of Ground Water and Drinking Water, Order your copy (reference EPA 816-C-04 003) from: National Service Center for Environmental Publications, U.S. EPA/NSCEP, P.O. Box 42419, Cincinnati, Ohio 45242-0419, 1-800-490-9198 |
| | http://www.epa.gov/safewater/publicoutreach/landscapeposter.html |
| Geographical Emphasis | N/A |
| Ecological Emphasis | N/A |
| Target Audience | N/A |
| Water Topic & Subtopic | N/A |
| Educational Purpose | N/A |
| | |
| --- | --- |
| Title | Safe Drinking Water in an Emergency |
| Resource Type | Fact sheet/bulletin |
| Author | George F. Smith |
| Publication Date | 1998 |
| URL | http://economics.ag.utk.edu/pubs/water/aerd26.pdf |
| Keyword(s) | Drinking water. Safe water in an emergency. |
| Abstract | An overview of safe drinking water in emergencies including sources, amounts needed, storage, and purification alternatives. |
| Contact and Order | University of Tennessee Extension, 2621 Morgan Circle, Knoxville, TN 37996-4518 |
| Geographical Emphasis | National |
| Ecological Emphasis | N/A |
| Target Audience | households |
| Water Topic & Subtopic | Drinking Water and Human Health-Private water supplies |
| Educational Purpose | Informational resource (one way) |
| | |
| --- | --- |
| Title | Polluted Urban Runoff: A Source of Concern |
| Resource Type | Fact sheet/bulletin |
| Author | Johnson, Carolyn D. and Dotty Juengst |
| Publication Date | N/A |
| URL | N/A |
| Keyword(s) | Urban runoff, rural runoff, clean water, pollutants-sediment, nutrients, bacteria, oxygen demanding material, toxic, metals-lead and zinc, pesticides, PCBs, PAHs |
| Abstract | This resource identifies the pollution sources that drain into Wisconsin lakes and streams. It describes what effects specific pollutants have on water resources and offers ways for people to help prevent polluted runoff in urban and rural areas. |
| Contact and Order | University of Wisconsin Extension Publications |
| | Coakley-Tech, P.O. Box 342831, Milwaukee 53234, 877-947-7827 |
| Geographical Emphasis | Regional, EPA Region V—Great Lakes, Wisconsin |
| Ecological Emphasis | Multiple ecosystems, watersheds |
| Target Audience | adult(s), community organizations, educators |
| Water Topic & Subtopic | Drinking Water and Human Health-Community water supplies |
| | Pollution Assessment and Prevention-Home and community |
| | Watershed Management-Community involvement, stormwater management, wastewater management |
| Educational Purpose | Information resource (one way), capacity building resource |
| | |
| --- | --- |
| Title | Give Water a Hand |
| Resource Type | Print Materials |
| Author | Elaine Andrews and Kadi Row, University of WI—Extension |
| Publication Date | N/A |
| URL | http://erc.cals.wisc.edu/gwah/ |
| Keyword(s) | youth water education, action program, stewardship program, youth education |
| Abstract | Give Water A Hand is national watershed education program designed to involve young people in local environmental service projects. Following steps in the Give Water A Hand Action Guide, your youth group or class plans and completes a community service project to protect and improve water resources. |
| Contact and Order | Environmental Resources Center, University of Wisconsin—Madison, erc@uwex.edu |
| | Coakley-Tech, P.O. Box 342831, Milwaukee 53234, (877) 947-7827 |
| Geographical Emphasis | National |
| Ecological Emphasis | Multiple ecosystems, streams, watersheds |
| Target Audience | adult(s), youth, educators |
| Water Topic & Subtopic | Drinking Water and Human Health-Community water supplies |
| | Environmental Restoration-Watershed focus |
| | Pollution Assessment and Prevention-Home and community |
| | Watershed Management-Community involvement, lake management |
| Educational Purpose | Communication resource (two way), education resource (formalized learning process), capacity building resource |
| | |
| --- | --- |
| Title | Principles of Water Resources: History, Development, Management, and Policy |
| Resource Type | Print Materials |
| Author | Thomas V. Cech |
| Publication Date | 2003 |
| URL | N/A |
| Keyword(s) | historical perspective of water use and development, hydrologic cycle, climate, weather, surface water hydrology, groundwater hydrology, municipal and irrigation water development, dams, water allocation law, federal water agencies, water management agencies, water quality, drinking water and wastewater treatment |
| Abstract | Text book |
| Contact and Order | Wiley |
| Geographical Emphasis | National |
| Ecological Emphasis | N/A |
| Target Audience | adult(s) |
| Water Topic & Subtopic | Water Policy and Economics-Policy development |
| Educational Purpose | Information resource (one way) |
| | |
| --- | --- |
| Title | Drinking Water and MTBE: A Guide for Private Well Owners |
| Resource Type | Print Materials |
| Author | National Farm/Home*A*Syst Office and UW Extension Center for Environment and Energy |
| Publication Date | N/A |
| URL | N/A |
| Keyword(s) | drinking water contamination, MTBE, water pollution, well contamination, MTBE contamination, drinking water protection |
| Abstract | This brochure provides private well owners with basic information about the gasoline additive chemical methyl tertiary-butyl ether (MTBE). |
| Contact and Order | University of Wisconsin, Environmental Resources Center, 445 Henry Mall, Room 202, Madison, WI  53706 |
| | Website: www.uwex.edu/erc/ |
| | Email: erc@uwex.edu |
| Geographical Emphasis | National |
| Ecological Emphasis | N/A |
| Target Audience | adult(s), educators, households, landowners |
| Water Topic & Subtopic | Drinking Water and Human Health-Community water supplies, hazardous substances, monitoring groundwater (emerging issue), private water supplies |
| | Pollution Assessment and Prevention-Agriculture and rural non-farm focus, community scale contamination, home and community |
| | Watershed Management-Community involvement |
| Educational Purpose | Information resource (one way) |
| | |
| --- | --- |
| Title | Project WET Curriculum and Activity Guide |
| Resource Type | Print Materials |
| Author | Project WET U.S.A. |
| Publication Date | 1996 |
| URL | http://www.projectwet.org |
| Keyword(s) | Water, Water Education, Water Education for Teachers, Physical, Chemical, Properties, K12, K-12, Water Resource Management, Social, Cultural Environmental Education, Science, hands-on, interdisciplinary |
| Abstract | Project WET (Water Education for Teachers) is a nonprofit water education program and publisher for educators and young people ages 5-18. The program facilitates and promotes awareness, appreciation, knowledge, and stewardship of water resources through the dissemination of classroom-ready teaching aids and the establishment of internationally sponsored Project WET programs. |
| Contact and Order | Project WET USA, Montana State University 201 Culbertson Hall, Bozeman 59717, (406) 994-5392 |
| Geographical Emphasis | National |
| Ecological Emphasis | Multiple ecosystems, watersheds, wetlands |
| Target Audience | youth, educators, special interest group(s) |
| Water Topic & Subtopic | Conservation and Agricultural Water Management-Community focus |
| | Drinking Water and Human Health-Community Water Supplies |
| | Pollution Assessment and Prevention-Home and community |
| | Water Policy and Economics-Conflict issues |
| | Watershed Management-Ecosystem management |
| Educational Purpose | Education resource (formalized learning process), capacity building resource |
| | |
| --- | --- |
| Title | Where Does Your Water Come From? The Drinking Water Source Book |
| Resource Type | Print Materials |
| Author | Judy Maben, Water Education Foundation |
| Publication Date | 2003 |
| URL | http://www.watereducation.org |
| Keyword(s) | drinking water, watersheds, groundwater, water cycle, water pollution sources, water pollution prevention |
| Abstract | This booklet is written for students grades 5-10 and is designed to increase awareness of the source of drinking water. The text and colorful pictures explore the water cycle, what watersheds are, how surface water and groundwater interact, the sources of water pollution and how it can be prevented. |
| Contact and Order | Water Education Foundation, 717 K Street, Suite 317, Sacramento 95814, (916) 444-6240 |
| Geographical Emphasis | National |
| Ecological Emphasis | Watersheds |
| Target Audience | youth |
| Water Topic & Subtopic | Conservation and Agricultural Water Management-Use-related issues |
| | Drinking Water and Human Health-Community water supplies |
| | Environmental Restoration-Watershed focus |
| | Pollution Assessment and Prevention-Community-scale contamination |
| | Water Policy and Economics-Value of water |
| Educational Purpose | Information resource (one way), education resource (formalized learning process) |
| | |
| --- | --- |
| Title | After the Storm |
| Resource Type | Video |
| Author | Co-produced by EPA and The Weather Channel |
| Publication Date | 2004 |
| URL | http://www.epa.gov/weatherchannel |
| Keyword(s) | watersheds; drinking water; nonpoint source pollution; hypoxia; wetlands; Gulf of Mexico; beach water quality; filtration; Safe Drinking Water Act |
| Abstract | After the Storm shows the connection between weather and watersheds, and the importance of watershed protection. It highlights three case studies where polluted runoff threatens watersheds highly valued for recreation, commercial fisheries and navigation, and drinking water and explains simple things people can do to protect their local watersheds. |
| Contact and Order | US EPA, Office of Wetlands, Oceans and Watersheds Ariel Rios Building, 1200 Pennsylvania Avenue, NW, Washington 20460, (202) 566-1292, OR |
| | US Environmental Protection Agency, P.O. Box 42419, Cincinnati 45242, (800) 490-9198 |
| | http://yosemite.epa.gov/water/owrccatalog.nsf/AboutOrdering?OpenForm&CartID=8691-123609 |
| Geographical Emphasis | National |
| Ecological Emphasis | Multiple ecosystems, watersheds |
| Target Audience | adult(s), youth, private sector |
| Water Topic & Subtopic | Conservation and Agricultural Water Management- Nonpoint source pollution |
| | Pollution Assessment and Prevention-Home and community |
| | Watershed Management-Community involvement, ecosystem management, stormwater management |
| Educational Purpose | communication resource (two way), education resource (formalized learning process), capacity building resource |
| | |
| --- | --- |
| Title | Reading Drinking Water Reports |
| Resource Type | Print Materials |
| Author | Hydroville Curriculum Project, Environmental Health Sciences, Center, Oregon State University |
| Publication Date | 2005 |
| URL | http://www.hydroville.org/links/downloads.aspx |
| Keyword(s) | High school curriculum, drinking water standards, Safe Drinking Water Act, scavenger hunt |
| Abstract | This activity introduces students to drinking water standards, the Safe Drinking Water Act, and terminology found in a typical annual water quality report. Students read their own community's water report and find specific information through a scavenger hunt. |
| Contact and Order | Molly Bloomfield, Director, Hydroville Curriculum Project, Community Outreach and Education Program, Environmental Health Sciences Center, Oregon State University, (541) 737-8892 |
| Geographical Emphasis | National |
| Ecological Emphasis | Multiple ecosystems |
| Target Audience | youth, community organizations, educators |
| Water Topic & Subtopic | Drinking Water and Human Health-Community water supplies, hazardous substances, monitoring groundwater (emerging issue), pathogens and human health |
| Educational Purpose | Information resource (one way), education resource (formalized learning process), capacity building resource |
| | |
| --- | --- |
| Title | Name that Water Quality Hazard |
| Resource Type | Print Materials |
| Author | Hydroville Curriculum Project, Environmental Health Sciences Center, Oregon State University |
| Publication Date | 2005 |
| URL | http://www.hydroville.org/links/downloads.aspx |
| Keyword(s) | High school, Drinking water contaminants, interactive game, community resource |
| Abstract | This activity introduces students to a spectrum of common water quality hazards, as well as sources of hazards, route(s) of exposure, associated health symptoms, and methods for hazard control. |
| Contact and Order | Molly Bloomfield, Director, Hydroville Curriculum Project, Community Outreach and Education Program, Environmental Health Sciences Center, Oregon State University, (541) 737-8892 |
| Geographical Emphasis | National |
| Ecological Emphasis | Multiple ecosystems |
| Target Audience | adult(s), youth, educators |
| Water Topic & Subtopic | Drinking Water and Human Health-Community water supplies, hazardous substances, monitoring groundwater (emerging issue), pathogens and human health |
| | Pollution Assessment and Prevention-Home and community |
| Educational Purpose | Information resource (one way), education resource (formalized learning process), capacity building resource |
| | |
| --- | --- |
| Title | Measuring Ground Water Elevation |
| Resource Type | Print Materials |
| Author | Hydroville Curriculum Project, Environmental Health Sciences, Center, Oregon State University |
| Publication Date | 2005 |
| URL | http://www.hydroville.org/links/downloads.aspx |
| Keyword(s) | ground water elevation, 3-D model, measurement, high school, middle school |
| Abstract | In this activity, students will be working with a 3-dimensional groundwater model to determine the flow of groundwater. The purpose of this experiment is to demonstrate measurement techniques and to gain an understanding of relative measurements. |
| Contact and Order | Molly Bloomfield, Director, Hydroville Curriculum Project, Community Outreach and Education Program, Environmental Health Sciences Center, Oregon State University, (541) 737-8892 |
| Geographical Emphasis | National |
| Ecological Emphasis | Multiple ecosystems |
| Target Audience | youth, educators, and water, watershed, and riverway groups |
| Water Topic & Subtopic | Conservation and Agricultural Water Management- Groundwater table monitoring |
| | Drinking Water and Human Health-Community water supplies, monitoring groundwater (emerging issue) |
| Educational Purpose | Education resource (formalized learning process) |
| | |
| --- | --- |
| Title | American Geological Institute Environmental Awareness Series |
| Resource Type | Web site |
| Author | American Geological Institute |
| Publication Date | 2002 |
| URL | http://www.agiweb.org |
| Keyword(s) | geology, soils, metal mining, karst, environmental awareness, water resources, soils and society |
| Abstract | Titles in the Series are: Sustaining Our Soils and Society, Metal Mining and the Environment, and Living with Karst-A Fragile Foundation. |
| Contact and Order | American Geological Institute, www.agiweb.org |
| Geographical Emphasis | National |
| Ecological Emphasis | Multiple ecosystems, watersheds |
| Target Audience | adult(s), youth, natural resource professionals |
| Water Topic & Subtopic | Conservation and Agricultural Water Management-Groundwater table monitoring, nonpoint source pollution |
| | Drinking Water and Human Health-Community water supplies, private water supplies |
| | Watershed Management-Ecosystem management |
| Educational Purpose | Information resource (one way) |
| | |
| --- | --- |
| Title | Arsenic in Your Drinking Water |
| Resource Type | Print Materials |
| Author | EPA, Office of Ground Water and Drinking Water |
| Publication Date | 2007 |
| URL | http://www.epa.gov/safewater/arsenic/pdfs/fs_arsenic_justthefactsforconsumers.pdf |
| Keyword(s) | arsenic, drinking water contaminants, arsenic exposure, arsenic contaminants, testing for arsenic, safe drinking water |
| Abstract | This piece provides Just the Facts for Consumers; on arsenic in your drinking water. |
| Contact and Order | EPA Safe Drinking Water Hotline 1-800-426-4791 |
| | Arsenic in drinking water: http://www.epa.gov/safewater/arsenic |
| | Arsenic health effects: http://www.atsdr.cdc.gov/toxprofiles/phs2.html |
| | Your private well: http://www.epa.gov/safewater/privatewells |
| Geographical Emphasis | National |
| Ecological Emphasis | Multiple ecosystems |
| Target Audience | adult(s), educators, households |
| Water Topic and Subtopic | Drinking Water and Human Health-Hazardous substances, monitoring groundwater (emerging issue), private water supplies |
| | Pollution Assessment and Prevention-Home and community |
| Educational Purpose | Information resource (one way) |
| | |
| --- | --- |
| Title | Reducing Stormwater Costs through Low Impact Development (LID) Strategies and Practices |
| Resource Type | Print Materials |
| Author | EPA |
| Publication Date | 2007 |
| URL | http://www.epa.gov/owow/nps/lid/costs07/ |
| Keyword(s) | stormwater, LID, low impact development, hydrology |
| Abstract | This report provides information to cities, counties, states, private sector developers and others on the costs and benefits of using Low Impact Development (LID) strategies and practices to help protect and restore water quality. |
| Contact and Order | U.S. Environmental Protection Agency, Nonpoint Source Control Branch (4503T), Ariel Rios Building, 1200 Pennsylvania Avenue, NW, Washington, DC 20460, Phone: (202) 566-1155 |
| Geographical Emphasis | National |
| Ecological Emphasis | Multiple ecosystems |
| Target Audience | community organizations, private sector, public sector |
| Water Topic & Subtopic | Conservation and Agricultural Water Management-Nonpoint source pollution |
| | Drinking Water and Human Health-Community water supplies, monitoring groundwater (emerging issues) |
| | Pollution Assessment and Prevention-Community-scale contamination |
| Educational Purpose | Information resource (one way) |
| | |
| --- | --- |
| Title | Delaware Coast-A-Syst |
| Resource Type | Fact sheet/bulletin |
| Author | Delaware Department of Natural Resources and Environmental Control |
| Publication Date | N/A |
| URL | http://www.dnrec.state.de.us/dnrec2000/Divisions/Soil/dcmp/asyst.htm |
| Keyword(s) | drinking water protection, estuaries, shoreline, coastline, Delaware, Atlantic coastline, Atlantic coast, coastal zone, pollution prevention |
| Abstract | Coast-A-Syst focuses on how to avoid polluting local water sources, such as reservoirs, neighborhood ponds, tidal creeks, rivers, estuaries, or private wells. It covers topics that are important for every resident and homeowner to understand. |
| Contact and Order | Kimberly Cole, Delaware Coastal Programs, Department of Natural Resources & Environmental Control, 89 Kings Highway, Dover, DE 19901, Phone: (302)739-WAVE |
| Geographical Emphasis | National |
| Ecological Emphasis | Coastal wetlands, oceans, shoreland |
| Target Audience | households, landowners, recreational water users |
| Water Topic & Subtopic | Drinking Water and Human Health-Private water supplies |
| | Pollution Assessment and Prevention-Home and community |
| | Watershed Management-Stormwater management, wastewater management |
| Educational Purpose | Education resource (formalized learning process) |
| | |
| --- | --- |
| Title | Improving Your Private Well Water Quality |
| Resource Type | Print Materials |
| Author | Kevin Masarik, Central WI Groundwater Center, University of WI, Stevens Point |
| Publication Date | 2007 |
| URL | http://learningstore.extension.wisc.edu/Improving-Your-Private-Well-Water-Quality-P1181C120.aspx |
| Keyword(s) | Well water quality, well contamination, well systems, private wells, water treatment technology |
| Abstract | This publication describes options for improving private residential well water quality, including water treatment methods. |
| Contact and Order | Central Wisconsin Groundwater Center, College of Natural Resources University of Wisconsin, Stevens Point |
| | http://www.uwsp.edu/cnr/gndwater/ |
| | To order, call toll-free: 1.877.947.7827 or go to: learningstore.extension.wisc.edu |
| Geographical Emphasis | National |
| Ecological Emphasis | Multiple ecosystems, watersheds |
| Target Audience | adult(s), agriculture, households |
| Water Topic & Subtopic | Drinking Water and Human Health-Hazardous substances, monitoring groundwater, pathogens and human health, private water supplies |
| | Pollution Assessment and Prevention-Home and community |
| Educational Purpose | Information resource (one way) |
| | |
| --- | --- |
| Title | Groundwater Catalog |
| Resource Type | Print Materials |
| Author | Groundwater Foundation |
| Publication Date | 2006 |
| URL | N/A |
| Keyword(s) | groundwater, source water, aquifers, youth, drip irrigation, rainmakers |
| Abstract | Educating citizens about groundwater through important educational programs. |
| Contact and Order | The Groundwater Foundation, P.O. Box 22558, Lincoln, NE 68542-2558 |
| | www.groundwater.org |
| | 1-800-858-4844 |
| Geographical Emphasis | National |
| Ecological Emphasis | Multiple ecosystems |
| Target Audience | educators, households, landowners |
| Water Topic & Subtopic | Conservation and Agricultural Water Management-Groundwater table monitoring, irrigated agriculture |
| | Drinking Water and Human Health-Monitoring groundwater (emerging issue) |
| Educational Purpose | Information resource (one way) |
| | |
| --- | --- |
| Title | Interactive Workshop on Arsenic Removal from Drinking Water |
| Resource Type | CD |
| Author | EPA |
| Publication Date | 2006 |
| URL | http://www.epa.gov |
| Keyword(s) | arsenic removal, drinking water, arsenic treatment |
| Abstract | This is an interactive CD that complements the EPA's Office of Research and Development and Office of Water's training workshops that provide in-depth treatment technology training to help drinking water systems become compliant with the new arsenic rule of 10 ppb. |
| Contact and Order | EPA's National Service Center for Environmental, Publications, 1-800-490-9198 |
| Geographical Emphasis | National |
| Ecological Emphasis | Multiple ecosystems |
| Target Audience | educators, natural resource professionals, policy makers |
| Water Topic & Subtopic | Drinking Water and Human Health-Community water supplies, hazardous substances, pathogens and human health, private water supplies |
| Educational Purpose | Information resource (one way), capacity building resource |
| | |
| --- | --- |
| Title | Guidelines for drinking-water quality, third edition |
| Resource Type | Print Materials |
| Author | The World Health Organization |
| Publication Date | 2006 |
| URL | http://www.who.int/water_sanitation_health/dwq/gdwq3rev/en/index.html |
| Keyword(s) | safe drinking water, water safety, surveillance, microbial, chemical, water quality problems |
| Abstract | The first two editions of Guidelines for Drinking-water Quality were used by developing and developed countries worldwide as the basis for regulation and standard setting to ensure the safety of drinking-water. This edition has been comprehensively updated to take account of developments in risk assessment and risk management. |
| Contact and Order | http://www.who.int/water_sanitation_health/dwq/gdwq3rev/en/index.html |
| Geographical Emphasis | National |
| Ecological Emphasis | Multiple ecosystems |
| Target Audience | educators, natural resource professionals, policy makers |
| Water Topic & Subtopic | Drinking Water and Human Health-Community water supplies, hazardous substances, monitoring groundwater (emerging issue), pathogens and human health, private water supplies |
| Educational Purpose | Information resource (one way) |
| | |
| --- | --- |
| Title | Greenscaping: The Easy Way to a Greener, Healthier Yard |
| Resource Type | Web site |
| Author | EPA |
| Publication Date | 2006 |
| URL | http://www.epa.gov/epaoswer/non-hw/green/owners.htm |
| Keyword(s) | greenscaping, yard, landscaping, yard waste |
| Abstract | This Web site provides homeowners with instructions on how to create a healthy, green yard, that can save money, time, and help the environment. |
| Contact and Order | http://www.epa.gov/epaoswer/non-hw/green/owners.htm |
| Geographical Emphasis | National |
| Ecological Emphasis | Multiple ecosystems |
| Target Audience | adult(s), households, landowners |
| Water Topic & Subtopic | Drinking Water and Human Health-Community Water Supplies |
| | Watershed Management-Community involvement |
| Educational Purpose | Information resource (one way) |
| | |
| --- | --- |
| Title | Greenscaping Brochure |
| Resource Type | Print Materials |
| Author | EPA |
| Publication Date | 2006 |
| URL | http://www.epa.gov/epaoswer/non-hw/green/owners.htm |
| Keyword(s) | greenscaping, landscaping, lawn, yard waste |
| Abstract | This is a brochure of the information provided on the EPA's greenscaping Web site page. It contains information on how to create a healthy yard that saves time, money and helps the environment. |
| Contact and Order | http://www.epa.gov/epaoswer/non-hw/green/owners.htm |
| Geographical Emphasis | National |
| Ecological Emphasis | Multiple ecosystems |
| Target Audience | adult(s), households, landowners |
| Water Topic & Subtopic | Drinking Water and Human Health-Community water supplies |
| | Watershed Management-Community involvement |
| Educational Purpose | Information resource (one way) |
| | |
| --- | --- |
| Title | A Farmer's Guide to Agriculture and Water Quality Issues |
| Resource Type | Web site |
| Author | N/A |
| Publication Date | 2005 |
| URL | http://www.cals.ncsu.edu/wq/wqp/index.html |
| Keyword(s) | agriculture, farmers, water quality, erosion, sediment, nutrient management, pathogens, pesticides, wetlands, riparian protection |
| Abstract | Provides basic information, targeted at farmers, in these water quality areas: erosion and sediment control, nutrient management, pathogens, pesticides, wetlands and riparian protection. |
| Contact and Order | NCSU Water Quality Group, Dept. of Biological & Agricultural Engineering, NC Cooperative Extension, North Carolina State University Campus Box 7637, Raleigh, NC 27695-7637, Phone:(919) 515-8241 |
| Geographical Emphasis | National |
| Ecological Emphasis | Multiple ecosystems, watersheds, wetlands |
| Target Audience | adult(s), agriculture, natural resource professionals |
| Water Topic & Subtopic | Conservation and Agricultural Water Management- Nonpoint source pollution |
| | Drinking Water and Human Health-Pathogens and human health |
| | Nutrient and Pesticide Management- Nutrient management standards and policy, pesticide management standards and policy |
| | Pollution Assessment and Prevention- Agriculture and rural non-farm focus |
| Educational Purpose | Information resource (one way) |
| | |
| --- | --- |
| Title | Ecology of Bacterial Pathogens: Keeping out unhealthy levels of E. Coli and Salmonella |
| Resource Type | Event |
| Author | Dr. Max Teplitski, Assistant Professor in the Department of Soil and Water Science at the University of Florida/IFAS |
| Publication Date | N/A |
| URL | http://conference.ifas.ufl.edu/soils/pathogens/index.html#intro |
| Keyword(s) | course, bacteria, pathogens, E. Coli, Salmonella, water science |
| Abstract | This short course explores questions in bacterial ecology relevant to environmental quality issues. The main focus is on the latest published research on bacterial contamination and persistence in drinking, industrial and irrigation water supplies, recreation areas and agricultural produce. |
| Contact and Order | University of Florida, IFAS Extension |
| Information | http://conference.ifas.ufl.edu/soils/pathogens/index.html#intro |
| Geographical Emphasis | National |
| Ecological Emphasis | Multiple ecosystems |
| Target Audience | adult(s), natural resource professionals, policy makers |
| Water Topic & Subtopic | Animal Waste Management-Pathogens (emerging issue) |
| | Conservation and Agricultural Water Management-Nonpoint source pollution |
| | Drinking Water and Human Health-Pathogens and human health |
| | Watershed Management-Land use, stormwater management |
| Educational Purpose | Education resource (formalized learning process) |
| | |
| --- | --- |
| Title | Providing Safe Drinking Water – A primer for small businesses and organizations |
| Resource Type | Print Materials |
| Author | Susan Darling, Deborah Grantham, Katrie Hillman, Ward Krkoska, Ann Lemley, Amy Samuels, Linda Wagenet |
| Publication Date | 2003 |
| URL | http://smallbusinessesprovidingsafewater.css.cornell.edu/ |
| Keyword(s) | Water Quality, Wells, Grounds Maintenance, Pesticides, Septic Systems, On-site Waste Water Treatment, Fuel Storage Tanks, Small Business, Assessment, Fact Sheets |
| Abstract | Many small rural businesses provide drinking water to their customers. Providing Safe Drinking Water is an educational program on source water protection for these small water system operators. The program manual provides information on source water protection, an assessment protocol and guidance on developing an action plan to address risks. |
| Contact and Order | Assistant Director for Natural Resources and Environment, Cornell Cooperative Extension, 307A Rice Hall, Cornell University, Ithaca, NY 14853-5601; 607-255-4931 (phone) |
| | Water Quality Extension Program, 203 MVR Hall, Cornell University, Ithaca, NY 14853, Phone: 607-255-1943 |
| | The binder, including CD with presentations, can be obtained through the Cornell university resource center. http://www.cce.cornell.edu/store/customer/product.php?productid=16273&cat=&page=1 |
| Geographical Emphasis | National |
| Ecological Emphasis | Lakes, rivers, watersheds |
| Target Audience | adult(s), agriculture-related businesses, private sector |
| Water Topic & Subtopic | Drinking Water and Human Health-Community water supplies, hazardous substances |
| | Pollution Assessment and Prevention-Agriculture and rural non-farm focus, home and community, private waste water management |
| Educational Purpose | Capacity building resource |
| | |
| --- | --- |
| Title | Water Quality Information and Fact Sheets |
| Resource Type | Web site |
| Author | Annelies Heidekamp, Ann Lemley, Susan Darling, Katrie DiTella |
| Publication Date | 2005 |
| URL | http://www.cce.cornell.edu/factsheets/wq-fact-sheets/ |
| Keyword(s) | Water Quality, Water treatment, Fact Sheets, Frequently Asked Questions |
| Abstract | This website provides you with a lot of information about water treatment, septic tanks and wells. Also a lot of materials can be downloaded from the site free of charge. Don't forget to look at the FAQ section and the list of links. |
| Contact and Order | Water quality program, Cornell University, 203 MVR, Ithaca, NY 14853, Phone: 607 255 1943 |
| Geographical Emphasis | National |
| Ecological Emphasis | N/A |
| Target Audience | adult(s), educators, households |
| Water Topic & Subtopic | Drinking Water and Human Health-Hazardous substances, pathogens and human health, private water supplies, private waste water management |
| Educational Purpose | Information resource (one way) |
| | |
| --- | --- |
| Title | New England Private Drinking Well Symposium, 2005 |
| Resource Type | Event |
| Author | N/A |
| Publication Date | 2005 |
| URL | http://www.usawaterquality.org/NewEngland/Focus_Areas/well/symposium.htm |
| Keyword(s) | private wells, drinking water, groundwater quality, contaminants of concern, contaminant analysis, water treatment systems, epidemiology, effective risk communication strategies |
| Abstract | Focused on reducing the risks associated with private drinking water wells, the conference provided opportunities for drinking water professionals engaged in research, regulation, extension, and education to share knowledge and ideas, to identify and update emerging issues, and to network with one another. |
| Contact and Order | CSREES New England Regional Water Quality, http://www.usawaterquality.org/NewEngland/Focus_Areas/well/symposium.htm,  OR |
| | Water Quality Program Coordinator, University of Rhode Island, Kingston |
| Geographical Emphasis | Regional, EPA Region I—New England |
| Ecological Emphasis | Multiple ecosystems, watersheds |
| Target Audience | adult(s), educators, and water, watershed, and riverway groups |
| Water Topic & Subtopic | Conservation and Agricultural Water Management-Community focus |
| | Drinking Water and Human Health-Monitoring groundwater (emerging issue), pathogens and human health, private water supplies |
| | Pollution Assessment and Prevention-Home and community |
| Educational Purpose | Communication resource (two way), capacity building resource |
| | |
| --- | --- |
| Title | USDA – CSREES National Water Conference, 2006 |
| Resource Type | Event |
| Author | N/A |
| Publication Date | 2006 |
| URL | http://www.soil.ncsu.edu/swetc/waterconf/2006/main.htm |
| Keyword(s) | water conference, Extension, water quality conference, network |
| Abstract | The conference will provide opportunities for water quality professionals engaged in research, extension, and education to share knowledge and ideas, to identify and update emerging issues, and to network with the CSREES National Water Quality Program and partner organizations. |
| Contact and Order | Conference website: http://www.soil.ncsu.edu/swetc/waterconf/2006/main.htm, OR |
| | Soil Science Department, Campus Box 7619, North Carolina State University, Raleigh, NC 27695-7619 |
| Geographical Emphasis | National |
| Ecological Emphasis | Multiple ecosystems, watersheds |
| Target Audience | educators, natural resource professionals, policy makers |
| Water Topic & Subtopic | Drinking Water and Human Health-Community water supplies, pathogens and human health |
| | Nutrient and Pesticide Management-Nutrient management standards and policy |
| | Pollution Assessment and Prevention-Community-scale contamination |
| | Watershed Management-Ecosystem management |
| Educational Purpose | Information resource (one way), communication resource (two way) |
| | |
| --- | --- |
| Title | Protecting Your Water and Septic System |
| Resource Type | Fact sheet/bulletin |
| Author | Tina Pagan and Jorge H. Atiles |
| Publication Date | 2001 |
| URL | http://www.fcs.uga.edu/pubs/PDF/HACE-E-47.pdf |
| Keyword(s) | septic system maintenance, septics, septic systems, Georgia |
| Abstract | Septic systems require regular maintenance to prevent costly damage and repairs.  This risk assessment will help you protect your home, the health of your family and the environment. |
| Contact and Order | University of Georgia, Driftmier Engineering Center, Athens, GA 30602, Phone: 706-542-7661 |
| Geographical Emphasis | Georgia |
| Ecological Emphasis | N/A |
| Target Audience | adult(s), households |
| Water Topic & Subtopic | Drinking Water and Human Health-Private waste water management |
| | Pollution Assessment and Prevention-Agriculture and rural non-farm focus |
| Educational Purpose | Education resource (formalized learning process) |
| | |
| --- | --- |
| Title | Stormwater Ponds: An Effective Way to Control Urban Runoff |
| Resource Type | Print Materials |
| Author | University of Wisconsin-Extension |
| Publication Date | N/A |
| URL | N/A |
| Keyword(s) | stormwater ponds, urban runoff, pond design |
| Abstract | This is a short booklet that explains many different aspects of stormwater ponds. It details pond design, including costs, maintenance and liabilities, as well as explaining the general purpose for building and using a stormwater pond. |
| Contact and Order | Wisconsin county Extension offices, OR |
| | Extension Publications, 30. N. Murray St., Madison, WI 53715, Phone: 608-262-3346 |
| Geographical Emphasis | Regional, EPA Region V—Great Lakes, Wisconsin |
| Ecological Emphasis | Ponds, watersheds |
| Target Audience | educators, landowners, natural resource professionals |
| Water Topic & Subtopic | Drinking Water and Human Health-Community Water Supplies |
| | Environmental Restoration-Watershed focus |
| | Watershed Management-Community involvement, stormwater management |
| Educational Purpose | Information resource (one way) |
| | |
| --- | --- |
| Title | Taking Stock of Your Water System: A Simple Asset Inventory for Very Small Drinking Water Systems |
| Resource Type | Print Materials |
| Author | Environmental Protection Agency (EPA) |
| Publication Date | 2004 |
| URL | http://www.epa.gov/safewater |
| Keyword(s) | Water system, asset inventory, drinking water systems, asset management, safe drinking water act, water regulations |
| Abstract | This brochure is a guide to help very small water systems, such as manufactured home communities and homeowners' associations, assess their water system conditions by preparing a simple asset inventory. |
| Contact and Order | Office of Water, United States Environmental Protection agency, Washington, D.C., OR |
| | Safe Drinking Water Hotline: 800-426-4791 |
| Geographical Emphasis | National |
| Ecological Emphasis | Multiple ecosystems |
| Target Audience | adult(s), community organizations, households |
| Water Topic & Subtopic | Drinking Water and Human Health-Community water supplies, private water supplies |
| Educational Purpose | Information resource (one way) |
| | |
| --- | --- |
| Title | Volunteer Water Quality Monitoring- list serve |
| Resource Type | List serve |
| Author | Volunteer Water Quality Monitoring National Facilitation Project Staff |
| Publication Date | N/A |
| URL | https://lists.uwex.edu/mailman/listinfo/databases |
| Keyword(s) | volunteer, water monitoring programs, water monitoring questions |
| Abstract | This list is designed for people to post questions so that others who may have experience with a specific database issue can respond or offer input to help answer the question at hand. |
| Contact and Order | Volunteer Water Quality Monitoring Staff |
| Geographical Emphasis | National |
| Ecological Emphasis | Multiple ecosystems |
| Target Audience | adult(s), community organizations, households |
| Water Topic & Subtopic | Drinking Water and Human Health-Community water supplies, private water supplies |
| | Watershed Management-Monitoring |
| Educational Purpose | Communication resource (two way) |
| | |
| --- | --- |
| Title | West Virginia Save Our Streams |
| Resource Type | Web site |
| Author | N/A |
| Publication Date | N/A |
| URL | http://www.wvdep.org/dwwm/wvsos |
| Keyword(s) | streams, conservation, restoration, stream study, watershed, stream morphology |
| Abstract | West Virginia Save Our Streams program is a volunteer monitoring program that trains West Virginia citizens to monitor and become watchdogs over their local wadeable streams. WV Save Our Streams uses a streamside biological approach to monitoring. |
| Contact and Order | Citizens Monitoring Coordinator, West Virginia Save Our Streams Program, 601 57th Street, SE, Charleston, WV 25304, 304-926-0499 |
| Geographical Emphasis | West Virginia |
| Ecological Emphasis | Rivers, streams, watersheds |
| Target Audience | adult(s), youth, community organizations |
| Water Topic & Subtopic | Drinking Water and Human Health-Community water supplies |
| | Environmental Restoration-Stream focus |
| | Watershed Management-Community involvement, rivers management |
| Educational Purpose | Information resource (one way), capacity building resource |
| | |
| --- | --- |
| Title | The Water Update |
| Resource Type | E-newsletter |
| Author | N/A |
| Publication Date | N/A |
| URL | http://www.usawaterquality.org/news |
| Keyword(s) | water, water quality, watershed, restoration, ecology |
| Abstract | The purpose of this newsletter is to provide information about water quality programs and activities to the 300+ subscribers on our water quality list server. |
| Contact and Order | bmahler@uidaho.edu |
| Geographical Emphasis | National |
| Ecological Emphasis | Lakes, rivers, watersheds |
| Target Audience | adult(s), households, and water, watershed, and riverway groups |
| Water Topic & Subtopic | Drinking Water and Human Health-Community water supplies |
| | Environmental Restoration-Watershed focus |
| | Watershed Management-Community involvement, ecosystem management, monitoring |
| Educational Purpose | Information resource (one way) |
| | |
| --- | --- |
| Title | Baltimore City: Unique Program in Watershed 263 |
| Resource Type | Case Study |
| Author | N/A |
| Publication Date | N/A |
| URL | http://www.cwp.org/RR_photos/Baltimore_City_profile_sheet.pdf |
| Keyword(s) | stormwater programs, nutrients, nitrogen/phosphorus, non-point sources, sewer leaks, drinking water, watershed |
| Abstract | This case study shows solutions to the city of Baltimore's challenges to comply with national water quality standards. These solutions include urban forestry practices, increases in street sweeping, converting vacant lots to community gardens and creating customized stormwater management techniques. |
| Contact and Order | Water Quality Management Section, Bureau of Water and Waste Water, Baltimore City Department of Public Works, 3001 Druid Park Drive, Room 223, Baltimore, MD 21215, 410-396-0732 |
| Ecological Emphasis | Multiple ecosystems |
| Target Audience | natural resource professionals, policy makers, and water, watershed, and riverway groups |
| Water Topic & Subtopic | Conservation and Agricultural Water Management-Management and drainage, nonpoint source pollution |
| | Drinking Water and Human Health-Community water supplies |
| | Nutrient and Pesticide Management-Nutrient management standards and policy |
| | Water Policy and Economics-Policy development |
| Educational Purpose | Information resource (one way) |
| | |
| --- | --- |
| Title | Drinking Water Products Catalog |
| Resource Type | Print Materials |
| Author | National Drinking Water Clearinghouse |
| Publication Date | N/A |
| URL | http://www.ndwc.wvu.edu |
| Keyword(s) | drinking water, water quality |
| Abstract | This drinking water products catalog provides educational products to assist small communities with their drinking water system needs. |
| Contact and Order | National Drinking Water Clearinghouse, www.ndwc.wvu.edu, 1-800-624-8301 |
| Geographical Emphasis | National |
| Ecological Emphasis | Multiple ecosystems |
| Target Audience | natural resource professionals, policy makers, public sector |
| Water Topic & Subtopic | Drinking Water and Human Health-Community water supplies, hazardous substances, monitoring groundwater (emerging issue), pathogens and human health, private water supplies |
| Educational Purpose | Information resource (one way), capacity building resource |
| | |
| --- | --- |
| Title | EPA Watershed Tools |
| Resource Type | Print Materials |
| Author | U.S. Environmental Protection Agency |
| Publication Date | N/A |
| URL | http://yosemite.epa.gov/water/owrccatalog.nsf/ |
| Keyword(s) | watershed, watershed protection, watershed planning, water quality, restoration, best management practices, stormwater, watershed outreach, pollutant reduction |
| Abstract | The EPA provides a large number of posters, tool kits, Web sites and guides that offer tons of information on anything watershed related. |
| Contact and Order | National Service Center for Environmental, Publications (NSCEP), 1-800-490-9198, ncepimal@one.net |
| Geographical Emphasis | National |
| Ecological Emphasis | Multiple ecosystems |
| Target Audience | educators, natural resource professionals, and water, watershed, and riverway groups |
| Water Topic & Subtopic | Conservation and Agricultural Water Management-Community focus |
| | Drinking Water and Human Health-Community water supplies |
| | Environmental Restoration-Watershed focus |
| | Watershed Management-Community involvement, ecosystem management |
| Educational Purpose | Information resource (one way) |
| | |
| --- | --- |
| Title | Thirstin's Drinking Water Games and Activities |
| Resource Type | CD |
| Author | U.S. Environmental Protection Agency |
| Publication Date | N/A |
| URL | http://www.epa.gov/OGWDW/kids/kids_k-3.html |
| Keyword(s) | water cycle |
| Abstract | This is a group of activities for K-12 to learn about the water cycle. Tools include a poster, activity book, an interactive Web site and CD ROM. |
| Contact and Order | National Service Center for Environmental, Publications, PO Box 42419, Cincinnati, OH 45242, 1-800-490-9198  OR |
| | www.epa.gov/nscep, or email: ncepimal@one.net |
| Geographical Emphasis | National |
| Ecological Emphasis | Multiple ecosystems |
| Target Audience | youth, educators, and water, watershed, and riverway groups |
| Water Topic & Subtopic | Conservation and Agricultural Water Management-Community focus |
| | Watershed Management-Community involvement, ecosystem management |
| | Water Policy and Economics-Water transfer |
| Educational Purpose | Information resource (one way) |
| | |
| --- | --- |
| Title | After the Rain: Urban Runoff |
| Resource Type | Video |
| Author | Oregon State University Extension Service |
| Publication Date | N/A |
| URL | http://extension.oregonstate.edu/streaming/transcripts/after_the_rain/sect4.php |
| Keyword(s) | urban runoff, stormwater management, drinking water supplies, drinking water safety |
| Abstract | Explores the importance of water, the pressures our cities are placing on this precious resource, and ways that individuals can protect local drinking water supplies. The video should prove useful to anyone who is concerned about drinking water safety and improving the natural world around us. |
| Contact and Order | Publications Orders, Extension & Experiment Station Communications, Oregon State University, 422 Kerr Administration Building, Corvallis, OR 97331 |
| Geographical Emphasis | National |
| Ecological Emphasis | Multiple ecosystems |
| Target Audience | educators, natural resource professionals, and water, watershed, and riverway groups |
| Water Topic & Subtopic | Conservation and Agricultural Water Management-Community focus |
| | Drinking Water and Human Health-Community water supplies |
| | Watershed Management-Community involvement, monitoring, stormwater management |
| Educational Purpose | Information resource (one way) |
| | |
| --- | --- |
| Title | National Water Quality Database |
| Resource Type | Web site |
| Author | Cooperative Extension Service |
| Publication Date | N/A |
| URL | http://www.epa.gov/wqsdatabase/ |
| Keyword(s) | water conservation, drinking water quality, pest management, nutrient management, waste management, wells, testing, public policy |
| Abstract | This is a information management tool for locating water quality and waste management resources created by the 50 State Cooperative Extension Services. Major categories in the database include conservation, drinking water quality, pest management, nutrient management, waste management, wells, testing and public policy. |
| Contact and Order | Purdue Extension Specialist-Water Quality, 219-854-2309 |
| Geographical Emphasis | National |
| Ecological Emphasis | Multiple ecosystems |
| Target Audience | natural resource professionals, policy makers, and water, watershed, and riverway groups |
| Water Topic and Subtopic | Drinking Water and Human Health-Community water supplies, monitoring groundwater (emerging issue) |
| | Nutrient and Pesticide Management-Nutrient management standards and policy |
| | Watershed Management-Wastewater management |
| | Water Policy and Economics-Policy development |
| Educational Purpose | Information resource (one way) |
| | |
| --- | --- |
| Title | Training Environmental Stewards from Mountains to Ocean: A Water Quality Training Curriculum |
| Resource Type | CD |
| Author | Washington State University Extension |
| Publication Date | 2006 |
| URL | http://king.wsu.edu/enviro/curriculum.htm |
| Keyword(s) | water quality, conservation, watershed management |
| Abstract | This CD (or print material) provides a coordinated approach for training volunteers about preserving water quality and quantity across a diversity of land uses, particularly those that you would experience when traveling from the ridge of the Cascade Mountains to the shores of Puget Sound and the Pacific Ocean. |
| Contact and Order | Water Resources Educator, 206-205-3203, OR |
| | Environmental Educator, 206-205-3130, 711 |
| Geographical Emphasis | National |
| Ecological Emphasis | Multiple ecosystems |
| Target Audience | adult(s), educators, and water, watershed, and riverway groups |
| Water Topic & Subtopic | Conservation and Agricultural Water Management-Community focus |
| | Drinking Water and Human Health-Community water supplies |
| | Watershed Management-Community involvement, ecosystem management |
| Educational Purpose | Information resource (one way), capacity building resource |
| | |
| --- | --- |
| Title | Karsts: Avoid that Sinking Feeling |
| Resource Type | Print Materials |
| Author | Rock River Coalition, Inc |
| Publication Date | N/A |
| URL | http://www.extension.washington.edu/ext/ |
| Keyword(s) | sink holes, water pollutants, groundwater, shallow soils, sinking streams, chemicals, manure |
| Abstract | This is an educational brochure with facts about karsts, what they are and what to do about them so that groundwater does not get contaminated. |
| Contact and Order | http://www.extension.washington.edu/ext/,  OR |
| | 206-897-UWEX (8939) |
| Geographical Emphasis | National |
| Ecological Emphasis | Multiple ecosystems |
| Target Audience | educators, natural resource professionals, and water, watershed, and riverway groups |
| Water Topic & Subtopic | Conservation and Agricultural Water Management-Groundwater table monitoring |
| | Drinking Water and Human Health-Community water supplies, monitoring groundwater (emerging issue) |
| | Watershed Management-Community involvement |
| Educational Purpose | Information resource (one way) |
Title
Consider the Source: An Interactive Guide to Protecting America's Drinking Water
Resource Type
CD
Author
U.S. Environmental Protection Agency
Publication Date
N/A
URL
http://yosemite.epa.gov/
http://yosemite.epa.gov/water/owrccatalog.nsf/e673c95b11602f2385256ae1007279fe/d6903c29987f18b985256ed6005a9d5b?OpenDocument&CartID=null
Keyword(s)
drinking water, water quality, watershed, groundwater, runoff
Abstract
This CD-ROM shows how our drinking resources are under siege from nature and our activities at home, work and play. Protecting American's drinking water is in our hands. All of us must learn the facts about drinking water in our communities.
Contact and Order
www.epa.gov/safewater; US Environmental Protection Agency, Office of Water
Geographical Emphasis
National
Ecological Emphasis
Multiple ecosystems, watersheds
Target Audience
adult(s), youth, educators
Water Topic & Subtopic
Drinking Water and Human Health-Community water supplies, pathogens and human health
Environmental Restoration-Watershed focus
Watershed Management-Community involvement
Water Policy and Economics-Value of water
Educational Purpose
Information resource (one way)
| | |
| --- | --- |
| Title | Water Down the Drain |
| Resource Type | CD |
| Author | Hamline University Center for Global Environmental Education |
| Publication Date | N/A |
| URL | http://www.hamline.edu/gse/cgee_site/store.html |
| Keyword(s) | non-point runoff pollution, watershed landscape, pollution, impervious surfaces, water cycle |
| Abstract | Irresistible Alex, a sixfoot hip-hopping frog, introduces the causes of non-point runoff pollution in urban settings. Six modules introduce a watershed landscape perspective and provide information about the impacts of impervious surfaces and pollution problems and solutions common to residential lots. |
| Contact and Order | Center for Global Environmental Education, 1536 Hewitt Ave, MS-1760, St. Paul, MN 55104, Phone: 651-523-2480 |
| Geographical Emphasis | National |
| Ecological Emphasis | Multiple ecosystems |
| Target Audience | youth, educators, and water, watershed, and riverway groups |
| Water Topic & Subtopic | Conservation and Agricultural Water Management-Nonpoint source pollution |
| | Drinking Water and Human Health-Community water supplies |
| | Pollution Assessment and Prevention-Home and community |
| | Watershed Management-Community involvement, stormwater management |
| Educational Purpose | Information resource (one way) |
| | |
| --- | --- |
| Title | Safe Drinking Water Tools CD-ROM |
| Resource Type | CD |
| Author | U.S. Environmental Protection Agency |
| Publication Date | 2006 |
| URL | http://www.epa.gov/OGWDW/pws/tools/index.html#7 |
| Keyword(s) | drinking water quality, public water systems, water monitoring |
| Abstract | Safe Drinking Water Tools is a one-stop knowledge portal for the most essential drinking water publications. This is an updated version of the CD, contains more intelligent search features and a full inventory of all publications 1997-2006. |
| Contact and Order | 1-800-490-9198; Refer to EPA #816-C-07-001. |
| Geographical Emphasis | National |
| Ecological Emphasis | Multiple ecosystems |
| Target Audience | adult(s), households, private sector |
| Water Topic & Subtopic | Drinking Water and Human Health-Community water supplies, monitoring groundwater (emerging issue), private water supplies |
| | Watershed Management-Monitoring |
| Educational Purpose | Information resource (one way) |
| | |
| --- | --- |
| Title | Reining in the Storm: One Building at a Time CD-ROM |
| Resource Type | CD |
| Author | David Eckert |
| Publication Date | N/A |
| URL | http://www.fallschurchenvironment.org/lidfilm.html |
| Keyword(s) | community water supplies, stormwater systems, rainwater, groundwater, monitoring, drinking water |
| Abstract | This 30-minute film presents five steps involved in creating clean water through Low Impact Development techniques: Conservation of sensitive lands; Minimization of pavement; Disconnection from underground stormwater systems; Infiltration of rainwater into groundwater; Education for maintenance and enforcement. |
| Contact and Order | http://www.fallschurchenvironment.org/lidfilm.html |
| Geographical Emphasis | National |
| Ecological Emphasis | Multiple ecosystems |
| Target Audience | adult(s), educators, private sector |
| Water Topic & Subtopic | Drinking Water and Human Health-Community water supplies, monitoring groundwater (emerging issue), private water supplies |
| | Watershed Management-Community involvement, stormwater management |
| Educational Purpose | Information resource (one way) |
| | |
| --- | --- |
| Title | 3rd National Conference on Nonpoint Source Pollution Information & Education Programs |
| Resource Type | CD |
| Author | U.S. Environmental Protection Agency |
| Publication Date | 2003 |
| URL | http://www.epa.gov/owow/nps/proceedings.html |
| Keyword(s) | nonpoint source pollution, education programs, drinking water, runoff, stormwater management, urban residential landscaping |
| Abstract | Registrants from 16 states participated in this national conference to discuss far-reaching programs developed around the nation to educate the public about the complex issues of nonpoint source pollution. |
| Contact and Order | http://www.epa.gov/owow/nps/proceedings.html |
| Geographical Emphasis | National |
| Ecological Emphasis | Multiple ecosystems |
| Target Audience | educators, natural resource professionals, and water, watershed, and riverway groups |
| Water Topic & Subtopic | Conservation and Agricultural Water Management-Management and drainage, nonpoint source pollution |
| | Drinking Water and Human Health-Community water supplies, monitoring groundwater (emerging issue) |
| | Watershed Management-Stormwater management |
| Educational Purpose | Information resource (one way) |
| | |
| --- | --- |
| Title | Tap into Prevention: Drinking Water Information for Health Care Providers |
| Resource Type | Video |
| Author | Agency for Toxic Substances and Disease Registry, U.S. EPA |
| Publication Date | 2004 |
| URL | http://www.epa.gov/safewater |
| Keyword(s) | drinking water supplies, groundwater, wastewater, water contaminants, waterborn disease, drinking water and health |
| Abstract | This material (video, CD-ROM and pamphlet) is for health care providers who wish to gain continuing education credits. It covers some major drinking water health issues, including contaminants and those most easily affected. |
| Contact and Order | Office of Ground Water and Drinking Water; EPA 816-K-04-001; www.epa.gov/safewater |
| Geographical Emphasis | National |
| Ecological Emphasis | Multiple ecosystems |
| Target Audience | policy makers, private sector, public sector |
| Water Topic & Subtopic | Animal Waste Management-Pathogens (emerging issue) |
| | Drinking Water and Human Health-Community water supplies, hazardous substances, pathogens and human health, private water supplies |
| Educational Purpose | Information resource (one way), capacity building resource |
| | |
| --- | --- |
| Title | United Nations Educational, Scientific and Cultural Organization (UNESCO) |
| Resource Type | Web site |
| Author | N/A |
| Publication Date | N/A |
| URL | http://www.unesco.org/water/ |
| Keyword(s) | water, freshwater, oceans, lakes, sustainable development, water policy, groundwater |
| Abstract | This Web site provides access to an infinite about of information on water, the natural sciences and water education opportunities. |
| Contact and Order | http://www.unesco.org/water/ |
| Geographical Emphasis | National |
| Ecological Emphasis | Multiple ecosystems |
| Target Audience | educators, natural resource professionals, and water, watershed, and riverway groups |
| Water Topic & Subtopic | Conservation and Agricultural Water Management-Groundwater table monitoring |
| | Drinking Water and Human Health-Community water supplies |
| | Environmental Restoration-Watershed focus |
| | Watershed Management-Community involvement, ecosystem management |
| Educational Purpose | Information resource (one way) |
| | |
| --- | --- |
| Title | Texas Water Resources Institute |
| Resource Type | Web site |
| Author | Texas A&M Agrilife and National Institute for water resources |
| Publication Date | N/A |
| URL | http://twri.tamu.edu/ |
| Keyword(s) | education programs, water resources, waste water, agricultural runoff, urban runoff, water quality, water contaminant, watershed management |
| Abstract | The Texas Water Resources Institute provides leadership to stimulate priority research and Extension educational programs in water resources within the Texas A&M University System and throughout Texas. |
| Contact and Order | Texas Water Resources Institute, 1500 Research Parkway, Suite 240, 2118 TAMU, College Station, TX 77843-2118; Phone: (979) 845-1851; Email: twri@tamu.edu |
| Geographical Emphasis | Regional, EPA Regions IV, VI—Southern, Texas |
| Ecological Emphasis | Lakes, multiple ecosystems, watersheds |
| Target Audience | educators, natural resource professionals, and water, watershed, and riverway groups |
| Water Topic & Subtopic | Conservation and Agricultural Water Management-Community focus, nonpoint source pollution |
| | Drinking Water and Human Health-Monitoring groundwater (emerging issue) |
| | Environmental Restoration-Watershed focus |
| | Watershed Management-Ecosystem management |
| Educational Purpose | Information resource (one way) |
| | |
| --- | --- |
| Title | National Water Quality Monitoring Council |
| Resource Type | Web site |
| Author | NWQMC |
| Publication Date | N/A |
| URL | http://acwi.gov/monitoring/ |
| Keyword(s) | monitoring, water quality, water pollutants, groundwater, stormwater management, water cycle, educational activities |
| Abstract | The purpose of the NWQMC is to create a national forum for coordination of consistent and scientifically defensible methods and strategies to improve water quality monitoring, assessment and reporting. Promote partnerships to foster collaboration, advance the science, and improve management within all elements of the water quality monitoring community. |
| Contact and Order | U.S. Geological Survey, Rhode Island; (401) 322-0902;  OR |
| | Environmental Protection Agency; DC – (202) 566-1174 |
| Geographical Emphasis | National |
| Ecological Emphasis | Multiple ecosystems |
| Target Audience | educators, natural resource professionals, and water, watershed, and riverway groups |
| Water Topic & Subtopic | Conservation and Agricultural Water Management-Nonpoint source pollution |
| | Drinking Water and Human Health-Community water supplies, hazardous substances, monitoring groundwater (emerging issue) |
| | Pollution Assessment and Prevention -Home and community |
| Educational Purpose | Information resource (one way) |
| | |
| --- | --- |
| Title | Create Your Own Groundwater Model |
| Resource Type | Web site |
| Author | Lehigh Valley Water Suppliers, INC |
| Publication Date | N/A |
| URL | http://www.lvwater.org/ |
| Keyword(s) | groundwater, monitoring, water quality, drinking water, groundwater contaminants, community water supplies, watershed management, stormwater management |
| Abstract | The LVWS creates outreach programs that enhance the public's understanding and support for the issues that water utilities face, such as conservation, pollution prevention, source water protection and watershed awareness. LVWS focuses its most of its programs on youth education. |
| Contact and Order | Lehigh Valley Water Suppliers, Inc., P.O. Box 3348, Allentown, PA 18106-0348 |
| Geographical Emphasis | National |
| Ecological Emphasis | Multiple ecosystems, streams, watersheds |
| Target Audience | youth, educators, and water, watershed, and riverway groups |
| Water Topic & Subtopic | Drinking Water and Human Health-Community water supplies, monitoring groundwater (emerging issue), pathogens and human health |
| | Environmental Restoration-Watershed focus |
| | Pollution Assessment and Prevention-Home and community |
| Educational Purpose | Information resource (one way), capacity building resource |
| | |
| --- | --- |
| Title | Private Water Systems Handbook, Fifth Edition |
| Resource Type | Print Materials |
| Author | Midwest Plan Service – Iowa State University |
| Publication Date | 2009 |
| URL | http://www.mwps.org |
| Keyword(s) | Private water systems, private wells, well sampling and testing, well pumps, water system maintenance, cisterns |
| Abstract | Complete information about sampling and testing water to ensure safety. Dicsussions include water reducing modern appliances, reverse osmosis water treatment systems, selection, design, use of PEX modern piping systems, and energy-saving equipment; such as on-demand hot water heating systems and variable speed well pumps |
| Contact and Order | Ag and Biosystems Engineering Iowa State University; mwps@iastate.edu |
| Geographical Emphasis | National |
| Ecological Emphasis | Multiple ecosystems, watersheds, wetlands |
| Target Audience | adult(s), educators, landowners |
| Water Topic & Subtopic | Conservation and Agricultural Water Management-Salinity |
| | Drinking Water and Human Health-Private water supplies |
| | Pollution Assessment and Prevention-Home and community |
| | Watershed Management-Ecosystem management, monitoring |
| Educational Purpose | Information resource (one way) |
| | |
| --- | --- |
| Title | World Lakes Network |
| Resource Type | Web site |
| Author | N/A |
| Publication Date | 2006 |
| URL | http://www.worldlakes.org |
| Keyword(s) | Protecting and restoring the health of lakes throughout the world |
| Abstract | Global network of more than 1000 people and organizations in 100+ countries working for the conservation and sustainable management of lakes. |
| Contact and Order | Ag and Biosystems Engineering Iowa State University; mwps@iastate.edu |
| Geographical Emphasis | National |
| Ecological Emphasis | Lakes, multiple ecosystems, shorelands |
| Target Audience | educators, landowners, natural resource professionals |
| Water Topic & Subtopic | Drinking Water and Human Health-Community water supplies |
| | Environmental Restoration-Lake focus |
| | Watershed Management-Ecosystem management |
| | Water Policy and Economics-Value of water |
| Educational Purpose | Information resource (one way) |
| | |
| --- | --- |
| Title | Adopt-A-Stream curriculum on CD-ROM |
| Resource Type | CD |
| Author | Delta Laboratories, Inc. |
| Publication Date | N/A |
| URL | http://www.adopt-a-stream.org/manuals.php |
| Keyword(s) | value of water, conservation efforts, water testing, water systems, wildlife, water monitoring |
| Abstract | Delta Labs has developed a water quality curriculum that combines age-appropriate scientific information with field activities. Adopt A-Stream: The Water detectives is for elementary students; Adopt A-Stream: Technology and Environmental Impacts if for middle school students; and Adopt-A-Stream: Environmental Integrity is for high school students. |
| Contact and Order | Delta Laboratories, Adopt-A-Stream, 410 White Spruce Blvd., Rochester, NY 14623; http://www.adopt-a-stream.org/manuals.php |
| Geographical Emphasis | National |
| Ecological Emphasis | Multiple ecosystems |
| Target Audience | youth, educators, and water, watershed, and riverway groups |
| Water Topic & Subtopic | Drinking Water and Human Health-Monitoring groundwater (emerging issue) |
| | Environmental Restoration-Stream focus |
| | Watershed Management-Community involvement, ecosystem management |
| | Water Policy and Economics-Value of water |
| Educational Purpose | Information resource (one way) |
| | |
| --- | --- |
| Title | Institute for Public Health and Water Research |
| Resource Type | Web site |
| Author | N/A |
| Publication Date | 2006 |
| URL | http://www.ipwr.org/contact/index.html |
| Keyword(s) | The Institute for Public Health and Water Research (IPWR) was incorporated in 2005 as a not-for-profit, independent science and education organization. The mission of IPWR is to improve public health through the consumption of quality drinking water. The IPWR provides scientific direction, funds and other support to investigators to encourage research, publications and meetings. The IPWR distributes information and organizes discussions with appropriate groups for public education and outreach about water and health. |
| Abstract | Understanding relationship between drinking water and good health is vital to public health, as consumption of quality drinking water is a cornerstone of improved public health. |
| Contact and Order | 979-845-0391 |
| Geographical Emphasis | National |
| Ecological Emphasis | Ephemeral systems (intermittent) |
| Target Audience | agriculture-related businesses, educators, households |
| Water Topic & Subtopic | Drinking Water and Human Health-Community water supplies, pathogens and human health |
| | Nutrient and Pesticide Management-Nutrient management standards and policy |
| Educational Purpose | Information resource (one way) |
| | |
| --- | --- |
| Title | The National Academies Press |
| Resource Type | Web site |
| Author | N/A |
| Publication Date | 2006 |
| URL | http://www.nap.edu/about.html |
| Keyword(s) | Experts, resources, books, publications, research, medicine, national research council, national academy of engineering |
| Abstract | The National Academies Press (NAP) was created by the National Academies to publish the reports issued by the National Academy of Sciences, the National Academy of Engineering, the Institute of Medicine, and the National Research Council, all operating under a charter granted by the Congress of the United States. |
| Contact and Order | Website |
| Geographical Emphasis | National |
| Ecological Emphasis | Multiple ecosystems |
| Target Audience | agriculture, educators, policy makers |
| Water Topic & Subtopic | Conservation and Agricultural Water Management-Groundwater table monitoring |
| | Drinking Water and Human Health-Hazardous substances |
| | Watershed Management-Ecosystem management |
| | Water Policy and Economics-Conflict issues, economics |
| Educational Purpose | Information resource (one way) |
| | |
| --- | --- |
| Title | Irrigation Association |
| Resource Type | Web site |
| Author | N/A |
| Publication Date | 2008 |
| URL | http://www.irrigation.org/ |
| Keyword(s) | organization for irrigation equipment and system manufacturers, dealers, distributors, designers, consultants, contractors and end users. Educating the public on sound practices and water management. Serving as a centralized clearing house for research and innovation. Improving industry proficiency through continuing education. Recognizing and promoting experience and excellence with professional certification. Lending expertise to water-use public policy at the local, state, regional and national level |
| Abstract | Water conservation, irrigation, lawn, yard |
| Contact and Order | 703-536-7080 |
| Geographical Emphasis | National |
| Ecological Emphasis | Multiple ecosystems |
| Target Audience | agriculture-related businesses, educators, private sector |
| Water Topic & Subtopic | Conservation and Agricultural Water Management-Community focus, irrigated agriculture |
| | Drinking Water and Human Health-Community water supplies, private water supplies |
| | Pollution Assessment and Prevention-Home and community |
| Educational Purpose | Information resource (one way) |
| | |
| --- | --- |
| Title | WaterSense |
| Resource Type | Web site |
| Author | WaterSense |
| Publication Date | 2008 |
| URL | http://www.epa.gov/watersense/index.htm |
| Keyword(s) | WaterSense, a partnership program sponsored by the U.S. Environmental Protection Agency, makes it easy for Americans to save water and protect the environment. Look for the WaterSense label to choose quality, water-efficient products. Many products are available, and don't require a change in your lifestyle. |
| Abstract | landscape, landscape management, homeowners, landowners, adults, water efficiency, irrigation, Smart Technologies |
| Contact and Order | WaterSense |
| Geographical Emphasis | National |
| Ecological Emphasis | Multiple ecosystems |
| Target Audience | agriculture-related businesses, households, landowners |
| Water Topic & Subtopic | Drinking Water and Human Health-Community water supplies, private water supplies |
| | Watershed Management-Community involvement |
| | Water Policy and Economics-Value of water, water transfer |
| Educational Purpose | Information resource (one way) |
| | |
| --- | --- |
| Title | Broadening Participation in Biological Monitoring: Guidelines for Scientists and Managers |
| Resource Type | Web site |
| Author | Website |
| Publication Date | 2005 |
| URL | http://www.ifcae.org/publications/ |
| Keyword(s) | mission is to improve human and environmental conditions through applied research, education, and community improvement projects. We are dedicated to helping communities, managers, policymakers, and other stakeholders understand the social complexities underlying natural resource problems. |
| Abstract | Participatory inventory, participatory monitoring, participatory research, biodiversity, collaborative monitoring, multiparty monitoring, monitoring plan, forest managers, scientists |
| Contact and Order | (503) 331-6681 |
| Geographical Emphasis | National |
| Ecological Emphasis | Lakes, multiple ecosystems, ponds |
| Target Audience | educators, natural resource professionals, and water, watershed, and riverway groups |
| Water Topic & Subtopic | Conservation and Agricultural Water Management-Use-related issues |
| | Drinking Water and Human Health-Community water supplies, monitoring groundwater (emerging issue) |
| | Nutrient and Pesticide Management-BMP use and adoption |
| | Watershed Management-Monitoring |
| Educational Purpose | Information resource (one way) |
| | |
| --- | --- |
| Title | 'Growth and Water Resources' Training Module |
| Resource Type | Web site |
| Author | Environmental Protection Agency |
| Publication Date | N/A |
| URL | http://www.epa.gov/watertrain/smartgrowth/ |
| Keyword(s) | water resources, oceans, wetlands, watershed, land use, water quality standards |
| Abstract | Changes in land use are linked to impacts on water resources. This module illustrates how historical trends in growth patterns and activities on land have become the most significant challenge for preserving water quality and meeting future water resource goals. |
| Contact and Order | EPA |
| Geographical Emphasis | National |
| Ecological Emphasis | Multiple ecosystems |
| Target Audience | educators, natural resource professionals, and water, watershed, and riverway groups |
| Water Topic & Subtopic | Drinking Water and Human Health-Community water supplies, private water supplies |
| | Watershed Management-Community involvement |
| | Water Policy and Development-Policy development |
| Educational Purpose | Capacity building resource |
| | |
| --- | --- |
| Title | EPA Office of Water training opportunities |
| Resource Type | Event |
| Author | Environmental Protection Agency |
| Publication Date | N/A |
| URL | http://www.epa.gov/ow/training.html |
| Keyword(s) | training, workshops, watershed training, BASINS model training |
| Abstract | The Web site lists several water workshops and training events being held all over the United States. |
| Contact and Order | Environmental Protection Agency Office of Water, 1200 Pennsylvania Avenue, N.W., Washington, D.C. 20460; OW-GENERAL@epa.gov |
| Geographical Emphasis | National |
| Ecological Emphasis | Multiple ecosystems |
| Target Audience | educators, natural resource professionals, and water, watershed, and riverway groups |
| Water Topic & Subtopic | Drinking Water and Human Health-Community water supplies |
| | Environmental Restoration-Watershed focus |
| | Watershed Management-Community involvement |
| Educational Purpose | Education resource (formalized learning process) |
| | |
| --- | --- |
| Title | EPA Office of Water training opportunities |
| Resource Type | Event |
| Author | Environmental Protection Agency |
| Publication Date | N/A |
| URL | http://www.epa.gov/ow/training.html |
| Keyword(s) | training, workshops, watershed training, BASINS model training |
| Abstract | The Web site lists several water workshops and training events being held all over the United States. |
| Contact and Order | Environmental Protection Agency, Office of Water, 1200 Pennsylvania Avenue, N.W., Washington, D.C. 20460; OW-GENERAL@epa.gov |
| Geographical Emphasis | National |
| Ecological Emphasis | Multiple ecosystems |
| Target Audience | educators, natural resource professionals, and water, watershed, and riverway groups |
| Water Topic & Subtopic | Drinking Water and Human Health-Community water supplies |
| | Environmental Restoration-Watershed focus |
| | Watershed Management-Community involvement |
| Educational Purpose | Education resource (formalized learning process) |
| | |
| --- | --- |
| Title | Managing Your Environmental Responsibilities: A Planning Guide for Construction and Development |
| Resource Type | Print Materials |
| Author | Environmental Protection Agency |
| Publication Date | N/A |
| URL | http://www.cicacenter.org/links |
| Keyword(s) | Construction, development, environmentally responsible, stormwater, dredge and fill, wetlands, oil spills, waste management, PCBs, air pollution, asbestos |
| Abstract | This is a comprehensive and detailed guide designed to help those involved in construction and development better manage their environmental obligations. |
| Contact and Order | Construction Industry Compliance Assistance, Center; www.cicacenter.org/links;  OR |
| | National Service Center for Environmental, Publications (NSCEP) at 1800-490-9198 (specify document # EPA305-B-04-003) |
| Geographical Emphasis | National |
| Ecological Emphasis | Multiple ecosystems |
| Target Audience | natural resource professionals, private sector, public sector |
| Water Topic & Subtopic | Conservation and Agricultural Water Management-Management and drainage |
| | Drinking Water and Human Health-Hazardous substances |
| | Pollution Assessment and Prevention-Home and community |
| | Watershed Management-Stormwater management |
| Educational Purpose | Information resource (one way) |
| | |
| --- | --- |
| Title | USGS National Water-Quality Assessment (NAWQA) Program |
| Resource Type | Web site |
| Author | USGS |
| Publication Date | N/A |
| URL | http://water.usgs.gov/nawqa/ |
| Keyword(s) | Pesticides, nutrients, volatile organic compounds, trace elements, ecology, modeling, water quality |
| Abstract | The NWQA Program collects and interprets data about water chemistry, hydrology, land use, stream habitat and aquatic life in more than 50 water basins and aquifers covering almost all 50 states. |
| Contact and Order | U.S. Geological Survey; http://water.usgs.gov/nawqa/; On this Web site there is information to whom individual states can seek out answers to questions. |
| Geographical Emphasis | National |
| Ecological Emphasis | Multiple ecosystems |
| Target Audience | natural resource professionals, policy makers, and water, watershed, and riverway groups |
| Water Topic and Subtopic | Drinking Water and Human Health-Community water supplies |
| | Watershed Management-Ecosystem management, lake management, rivers management |
| | Water Policy and Economics-Policy development |
| Educational Purpose | Information resource (one way) |
| | |
| --- | --- |
| Title | Groundwater: Wisconsin's Buried Treasure |
| Resource Type | Printed Materials |
| Author | Wisconsin |
| Publication Date | 2006 |
| URL | http://www.wnrmag.com/supps/2006/apr06/intro.htm |
| Keyword(s) | groundwater, aquifers, water cycle, groundwater protection programs |
| Abstract | This updated DNR publication has information about Wisconsin aquifers, the water cycle, groundwater quantity, the Great Lakes Charter and how a well works, and can be used alongside the DNR's Groundwater Study Guide. |
| Contact and Order | WI Department of Natural Resources, Bureau of Drinking Water and Groundwater |
| | The Groundwater Study Guide booklet and activity sheets can be downloaded for free at |
| | http://dnr.wi.gov/org/caer/ce/eek/teacher/groundwaterguide.htm |
| Geographical Emphasis | Wisconsin |
| Ecological Emphasis | Multiple ecosystems |
| Target Audience | youth, educators, and water, watershed, and riverway groups |
| Water Topic & Subtopic | Drinking Water and Human Health-Community water supplies, hazardous substances, monitoring groundwater (emerging issue), private water supplies |
| Educational Purpose | Information resource (one way) |
| | |
| --- | --- |
| Title | Austin Texas: The Integration of Monitoring and Stormwater Management |
| Resource Type | Case Study |
| Author | Center for Watershed Protection |
| Publication Date | 2006 |
| URL | http://pubs.usgs.gov/fs/2005/3147/ |
| Keyword(s) | stormwater management, water quality issues, bacteria, metals, sediment, nutrients, monitoring, restoration, watersheds |
| Abstract | This case study describes and analyzes the integration of monitoring and stormwater management practices in Austin, Texas. |
| Contact and Order | Water Quality Education Manager, 505 Barton Springs Road, 11th Floor, Austin, TX 78704; 512-974-2446 |
| Geographical Emphasis | Texas |
| Ecological Emphasis | Multiple ecosystems |
| Target Audience | educators, natural resource professionals, and water, watershed, and riverway groups |
| Water Topic & Subtopic | Drinking Water and Human Health-Community water supplies, pathogens and human health |
| | Environmental Restoration-Watershed focus |
| | Watershed Management-Community involvement, stormwater management |
| Educational Purpose | Information resource (one way) |
| | |
| --- | --- |
| Title | Self-Assessment Tool for Small Community Decision Makers |
| Resource Type | Printed Materials |
| Author | National Environmental Services Center |
| Publication Date | N/A |
| URL | http://www.nesc.wvu.edu |
| Keyword(s) | self-assessment, drinking water, wastewater, solid waste |
| Abstract | This self-assessment guide is designed for decision makers in small communities to identify areas where improvements can be made in the management of environmental services. |
| Contact and Order | National Environmental Services Center; www.nesc.wvu; 1800-624-8301 |
| Geographical Emphasis | National |
| Ecological Emphasis | Multiple ecosystems |
| Target Audience | natural resource professionals, policy makers, private sector |
| Water Topic & Subtopic | Conservation and Agricultural Water Management-Basin transfer |
| | Drinking Water and Human Health-Community water supplies |
| | Watershed Management-Community involvement, wastewater management |
| Educational Purpose | Information resource (one way) |
| | |
| --- | --- |
| Title | Building Capacity Community-Based Environmental Education in Practice |
| Resource Type | Printed Materials |
| Author | US EPA |
| Publication Date | 2000 |
| URL | http://www.uwex.edu/erc/pdf/EPA8.pdf |
| Keyword(s) | Local environment, poor environmental decisions, protect environment, improve environment, community |
| Abstract | Community-Based Environmental Education is local, collaborative, informed, and active, and it leads to positive actions. |
| Contact and Order | US EPA |
| Geographical Emphasis | National |
| Ecological Emphasis | Ephemeral systems (intermittent), lakes, multiple ecosystems |
| Target Audience | community organizations, educators, natural resource professionals |
| Water Topic & Subtopic | Drinking Water and Human Health-Community water supplies |
| | Pollution Assessment and Prevention-Home and community |
| | Water Policy and Economics-Assistance, policy development, value of water |
| Educational Purpose | Information resource (one way) |
| | |
| --- | --- |
| Title | Healthy Watersheds, Healthy People |
| Resource Type | Printed Materials |
| Author | Dept of Ecology State of Washington |
| Publication Date | 2008 |
| URL | https://fortress.wa.gov/ecy/publications/publications/0801018.pdf |
| Keyword(s) | Watersheds, unhealthy watershed, fish populations, drinking water, contaminated shellfish, toxic chemicals in fish, healthy watersheds and healthy people |
| Abstract | Our future is linked to the health of our watersheds – and our watersheds have many challenges. You can make a difference. |
| Contact and Order | Washington Waters – Ours to Protect, Department of Ecology, State of Washington |
| Geographical Emphasis | National |
| Ecological Emphasis | Multiple ecosystems, watersheds |
| Target Audience | community organizations, educators, natural resource professionals |
| Water Topic & Subtopic | Drinking Water and Human Health-Community water supplies, pathogens and human health, private water supplies |
| | Environmental Restoration-Watershed focus, wildlife and fisheries |
| Educational Purpose | Information resource (one way) |
| | |
| --- | --- |
| Title | Natural and Beneficial Floodplain Functions: Floodplain Management – More than Flood Loss Reduction |
| Resource Type | Printed Materials |
| Author | Association of State Floodplain managers |
| Publication Date | 2008 |
| URL | http://www.floods.org/PDF/WhitePaper/ASFPM_NBF%20White_Paper_%200908.pdf |
| Keyword(s) | flood loss reduction, conservation and protection of natural and beneficial functions of water resources, water resources, regulatory requirements, Hydrologic and Hydraulic Processes, Geomorphic, biologic |
| Abstract | This is a position paper prepared by the Association of State Floodplain Managers, (ASFPM), a non-profit professional organization dedicated to reducing flood losses and protecting floodplain functions and resources in the United States |
| Contact and Order | ASFPM |
| Information | |
| Geographical Emphasis | National |
| Ecological Emphasis | Ephemeral systems (intermittent), multiple ecosystems, watersheds |
| Target Audience | natural resource professionals, policy makers, and water, watershed, and riverway groups |
| Water Topic & Subtopic | Conservation and Agricultural Water Management-Use-related issues |
| | Drinking Water and Human Health-Community water supplies |
| | Water Policy and Economics-Policy development, value of water |
| Educational Purpose | Information resource (one way) |
| | |
| --- | --- |
| Title | 25 Things You Can Do to Help Protect and Preserve the Illinois River and its Watershed |
| Resource Type | Printed Materials |
| Author | Bob Frazee |
| Publication Date | 2008 |
| URL | http://web.extension.uiuc.edu/eastpeoriacenter/downloads/9116.pdf |
| Keyword(s) | Watershed, pet waste, soil erosion, swales, low areas, stormwater, impervious areas |
| Abstract | 25 things to help protect a wateshed |
| Contact and Order | |
| Geographical Emphasis | National, Illinois |
| Ecological Emphasis | Streams, watersheds, wetlands |
| Target Audience | educators, households, natural resource professionals |
| Water Topic & Subtopic | Drinking Water and Human Health-Community water supplies, hazardous substances |
| | Environmental Restoration-Lake focus, watershed focus, wetland focus |
| Educational Purpose | Information resource (one way) |
| | |
| --- | --- |
| Title | Your Water. Your Decision |
| Resource Type | Printed Materials |
| Author | Source water collaborative |
| Publication Date | 2007 |
| URL | http://www.protectdrinkingwater.org/index.php?option=com_content&task=view&id=85&Itemid=45 |
| Keyword(s) | water resources, protect water, smart growth, protect drinking water |
| Abstract | Article encouraging local officials to connect with best practices, people, and other resources that can help them protect their sources of drinking water. |
| Contact and Order | Protectdrinkingwater.com |
| Geographical Emphasis | National |
| Ecological Emphasis | Multiple ecosystems |
| Target Audience | agriculture, educators, landowners |
| Water Topic & Subtopic | Drinking Water and Human Health-Community water supplies, hazardous substances, monitoring groundwater (emerging issue), private water supplies, private waste water management |
| Educational Purpose | Information resource (one way) |
| | |
| --- | --- |
| Title | Water Sense |
| Resource Type | Web site |
| Author | EPA |
| Publication Date | 2008 |
| URL | http://www.epa.gov/watersense/water/simple.htm |
| Keyword(s) | water use, sensible water use, water wisely, leaky faucets |
| Abstract | By making just a few small changes to your daily routine, you can save a significant amount of water, which will help you save money and preserve water supplies for future generations. Water efficient plumbing fixtures and irrigation systems provide the same performance and quality you've come to expect |
| Contact and Order | US EPA |
| Geographical Emphasis | National |
| Ecological Emphasis | Lakes, rivers, streams |
| Target Audience | educators, natural resource professionals, policy makers |
| Water Topic & Subtopic | Drinking Water and Human Health-Community water supplies, hazardous substances, monitoring groundwater (emerging issue), private water supplies, private waste water management |
| Educational Purpose | Information resource (one way) |
| | |
| --- | --- |
| Title | Water Sense |
| Resource Type | Web site |
| Author | EPA |
| Publication Date | 2008 |
| URL | http://www.epa.gov/watersense/ |
| Keyword(s) | Wastewater, using water wisely, runoff, water efficiency, saving water |
| Abstract | WaterSense, a partnership program sponsored by the U.S. Environmental Protection Agency, makes it easy for Americans to save water and protect the environment. |
| Contact and Order | US EPA |
| Geographical Emphasis | National |
| Ecological Emphasis | Lakes, rivers, streams |
| Target Audience | industrial water users, landowners, natural resource professionals |
| Water Topic & Subtopic | Drinking Water and Human Health-Monitoring groundwater (emerging issue), private water supplies |
| | Watershed Management-Wastewater management |
| | Water Policy and Economics-Value of water, private waste water management |
| Educational Purpose | Information resource (one way) |
| | |
| --- | --- |
| Title | H2ouse.org |
| Resource Type | Web site |
| Author | H2ouse.org |
| Publication Date | 2008 |
| URL | http://h2ouse.org/ |
| Keyword(s) | gardens, landscaping, water efficiency, disease, save money, irrigation systems, low water use gardens |
| Abstract | Learn how-to's of proper lawn care, irrigation system maintenance, and low water use gardens |
| Contact and Order | H2ouse.org |
| Geographical Emphasis | National |
| Ecological Emphasis | Lakes, rivers, watersheds |
| Target Audience | agriculture related businesses, landowners, and water, watershed, and riverway groups |
| Water Topic & Subtopic | Drinking Water and Human Health-Private water supplies |
| | Pollution Assessment and Prevention-Agriculture and rural non-farm focus, home and community |
| Educational Purpose | Information resource (one way) |
| | |
| --- | --- |
| Title | Don't Send Money Down the Drain |
| Resource Type | Printed Materials |
| Author | Smart Irrigation Month |
| Publication Date | 2008 |
| URL | http://www.irrigation.org/SIM/default.aspx?pg=basics.htm&id=233 |
| Keyword(s) | Overwatering, automatic irrigation systems, lawn plant and gardening tips, best practices for irrigation |
| Abstract | Creating an efficient irrigation system requires specialized knowledge and understanding of irrigation design principles and local environmental conditions |
| Contact and Order | |
| Geographical Emphasis | National |
| Ecological Emphasis | Lakes, rivers, streams |
| Target Audience | agriculture-related businesses, households, landowners |
| Water Topic & Subtopic | Drinking Water and Human Health-Community water supplies, hazardous substances, private water supplies |
| | Watershed Management-Wastewater management |
| | Water Policy and Economics-Value of water |
| Educational Purpose | Information resource (one way) |
| | |
| --- | --- |
| Title | Protect Drinking Water |
| Resource Type | Web site |
| Author | Website |
| Publication Date | 2008 |
| URL | http://protectdrinkingwater.org |
| Keyword(s) | safe drinking water, best practices for water, protecting drinking water |
| Abstract | 23 national organizations united to protect America's drinking water at the source –in the lakes, rivers, streams and aquifers we tap for drinking purposes.  The SWC was formed to combine the strengths and tools of member organizations to act now, and protect drinking water sources for generations to come. |
| Contact and Order | Protectdrinkingwater.org |
| Geographical Emphasis | National |
| Ecological Emphasis | Lakes, rivers, streams |
| Target Audience | agriculture, policy makers, and water, watershed, and riverway groups |
| Water Topic & Subtopic | Drinking Water and Human Health-Community water supplies, hazardous substances, monitoring groundwater (emerging issue), private water supplies, private waste water management |
| Educational Purpose | Information resource (one way) |
| | |
| --- | --- |
| Title | How to Build a Rain Barrel |
| Resource Type | Images |
| Author | Outdoor America |
| Publication Date | 2007 |
| URL | http://www.iwla.org/fileadmin/pubs/oa/How_To_Rain_Barrel.pdf |
| Keyword(s) | build a rain barrel, rain barrel, watering alternatives |
| Abstract | How to guide to building a rain barrel |
| Contact and Order | Outdoor America |
| Geographical Emphasis | National |
| Ecological Emphasis | N/A |
| Target Audience | agriculture, households, and water, watershed, and riverway groups |
| Water Topic & Subtopic | Conservation and Agricultural Water Management-Community focus |
| | Drinking Water and Human Health-Pathogens and human health |
| | Environmental Restoration-Lake focus |
| | Water Policy and Economics-Value of water, water transfer |
| Educational Purpose | N/A |
| | |
| --- | --- |
| Title | Floodplain Management – More than Flood Loss Reduction |
| Resource Type | Print Materials |
| Author | Assoc. of State Floodplain Managers |
| Publication Date | 2008 |
| URL | http://www.floods.org/ |
| Keyword(s) | floodplain, floodplain management, flood loss reduction, conservation of water resources, protection of water resources |
| Abstract | This is a position paper prepared by the Association of State Floodplain Managers, (ASFPM), a non-profit professional organization dedicated to reducing flood losses and protecting floodplain functions and resources in the United States. |
| Contact and Order | ASFPM |
| Geographical Emphasis | National |
| Ecological Emphasis | Ephemeral systems (intermittent), multiple ecosystems, watersheds |
| Target Audience | agriculture-related businesses, educators, natural resource professionals |
| Water Topic & Subtopic | Drinking Water and Human Health-Community water supplies, private water supplies |
| | Environmental Resources-Buffers |
| | Watershed Management-Ecosystem management |
| Educational Purpose | Information resource (one way) |
| | |
| --- | --- |
| Title | Best Practices for Field Days |
| Resource Type | Web site |
| Author | Univ. of Minn. |
| Publication Date | 2004 |
| URL | http://www.extension.umn.edu/FieldDays/ |
| Keyword(s) | Effective education, program evaluation and assessment, marketing, theme |
| Abstract | Field days are community events that bring together professionals, volunteers and teachers with school children for a day of learning about their environment. They happen indoors or outdoors, for any number of students, for any age group |
| Contact and Order | NW Minnesota Water Festival |
| Geographical Emphasis | National |
| Ecological Emphasis | Multiple ecosystems |
| Target Audience | community organizations, educators, special interest group(s) |
| Water Topic & Subtopic | Drinking Water and Human Health-Community water supplies |
| | Watershed Management-Community invovlement |
| Educational Purpose | Information resource (one way) |
| | |
| --- | --- |
| Title | LEAP – Livestock Environmental Assurance Program |
| Resource Type | Web site |
| Author | Ohio Livestock Coalition |
| Publication Date | 2009 |
| URL | http://www.ohleap.org/index.html |
| Keyword(s) | Animal agriculture, manure, waste utilization, surface water, manure management |
| Abstract | To help Ohio's livestock and poultry producers identify and address key management issues affecting environmental quality, the Ohio Livestock Coalition (OLC) developed the Livestock Environmental Assurance Program (LEAP), provides producers with the opportunity to take a proactive approach in blending sound production economics with concern about environmental quality. |
| Contact and Order | Ohio Livestock Coalition |
| Geographical Emphasis | National |
| Ecological Emphasis | Rivers, streams, watersheds |
| Target Audience | agriculture-related businesses, educators, natural resource professionals |
| Water Topic & Subtopic | Animal Waste Management-Manure management, manure management policy—AFO/CAFO, pathogens (emerging issue), waste management (non-animal management) |
| | Drinking Water and Human Health-Community water supplies |
| Educational Purpose | Information resource (one way) |
| | |
| --- | --- |
| Title | Social Dimensions of Private Well Testing |
| Resource Type | Print Materials |
| Author | Great Lakes Regional Water Program |
| Publication Date | 2008 |
| URL | http://www.uwex.edu/ces/regionalwaterquality/Publications/factsheets/welltest-08.pdf |
| Keyword(s) | Water quality, well water risk, private wells, water testing, test kits |
| Abstract | There is a history of private well testing programs across the Upper Midwest, organized by Extension, by local government units, through private testing labs, or by other organizations. Why do people test or not test their water? Researchers have some ideas, but these may not be accurate or complete |
| Contact and Order | University of Wisconsin, Environmental Resources Center |
| Geographical Emphasis | National |
| Ecological Emphasis | Multiple ecosystems, shoreland, watersheds |
| Target Audience | community organizations, educators, natural resource professionals |
| Water Topic & Subtopic | Drinking Water and Human Health-Community water supplies, monitoring groundwater (emerging issue), private water supplies |
| Educational Purpose | Information resource (one way) |
| | |
| --- | --- |
| Title | Water Footprint |
| Resource Type | Web site |
| Author | A. Y. Hoekstra, A. K. Chapagain |
| Publication Date | 2009 |
| URL | http://www.waterfootprint.org/ |
| Keyword(s) | Water footprint, how to calculate water footprint, sum of water used, gross virtual water import. water consumption pattern |
| Abstract | Basis for the water footprint concept and methodology laid by Prof Hoekstra at UNESCO-IHE and further developed at the Univ of Twente, the Netherlands. The concept and methods have been firmly established in scientific literature. Thousands of individuals have expressed interest in further developing and/or applying the water footprint methodology. |
| Contact and Order | Waterfootprint.org |
| Geographical Emphasis | National |
| Ecological Emphasis | Multiple ecosystems |
| Target Audience | educators, industrial water users, policy makers |
| Water Topic & Subtopic | Conservation and Agricultural Water Management-Groundwater table monitoring |
| | Drinking Water and Human Health-Community water supplies, private water supplies |
| | Water Policy and Economics-Assistance |
| Educational Purpose | Information resource (one way) |
| | |
| --- | --- |
| Title | Tools for Effective Outreach |
| Resource Type | Print Materials |
| Author | Elizabeth Herron, Kris Stepenuck, Linda Green |
| Publication Date | 2009 |
| URL | http://www.usawaterquality.org/volunteer/pdf/GuideBook/OutreachXII2.pdf |
| Keyword(s) | Watershed information, outreach watershed, watershed feedback, watershed science, watershed management |
| Abstract | Outreach mechanisms approaches. Extension and empowerment. Steps for choosing effective outreach techniques. |
| Contact and Order | Volunteer Water Quality Monitoring National Facilitation Project. |
| Geographical Emphasis | National |
| Ecological Emphasis | Multiple ecosystems, watersheds |
| Target Audience | community organizations, educators, natural resource professionals |
| Water Topic & Subtopic | Drinking Water and Human Health-Community water supplies, monitoring groundwater (emerging issue) |
| | Environmental Restoration-Watershed focus |
| | Watershed Management-Wastewater management |
| Educational Purpose | Information resource (one way) |
| | |
| --- | --- |
| Title | eXtension Drinking Water and Human Health |
| Resource Type | Web site |
| Author | National Extension drinking water experts |
| Publication Date | 2011 |
| URL | http://www.extension.org/drinking_water |
| Keyword(s) | drinking water, water treatment, well water, municipal water, water contamination |
| Abstract | National drinking water specialists from the Cooperative Extension Service provide easy access to current, science-based information on safe drinking water issues. Their goals are to help citizens make educated, cost-saving decisions about drinking water conservation and treatment, and to help them guard against health risks. |
| Contact and Order | Go to the eXtension Drinking Water and Human Health page at http://www.extension.org/drinking_water and scroll down to the "People" section to learn about members of this eXtension community of practice. |
| Geographical Emphasis | National |
| Ecological Emphasis | Watersheds, wetlands |
| Target Audience | adult(s), households, landowners |
| Water Topic & Subtopic | Drinking Water and Human Health-Community water supplies, hazardous substances, pathogens and human health, private water supplies, private waste water management |
| Educational Purpose | Information resource (one way), communication resource (two way) |