Let's face it, digital media, like television and rock'n roll, is not going away! Digital media provides young people access to a whole new virtual world where they can test some important developmental tasks, such as:
hanging out with their friends and exploring their social status,
testing out their identities,
having private time to interact and communicate with close friends, or
learning new skills that will help them become responsible, productive adults.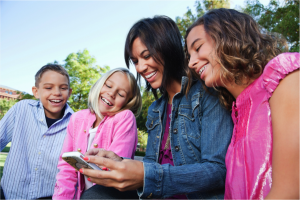 So, how can we use digital media as a positive force?
We can integrate digital media into our responsibilities as parents and learn ways we can use digital media to help us stay connected and continue to be an influential part of our teen's life!
Be an eParent®!
Research shows that digital media can be a positive and powerful parenting tool. eParenting® provides parents and other caring adults ways to connect with children and adolescents using digital media. Be an eParent® by using this unbiased, research-based resource you can trust from UW-Extension!