---
New resource:

Creative Uses for Downtown Buildings in Small Towns

click here for a copy of the working draft
---
Many down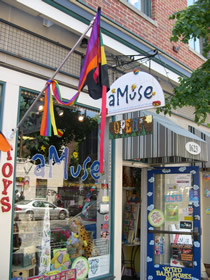 towns no longer have the traditional department stores that once anchored "main street."  Long gone are the days when Downtown was the one-stop shopping center for the community. Further, in today's competitive retail market, many chains continue to bypass downtown in their site selection process.
However, many downtowns are coming alive with new economic activity.  These vibrant downtowns often have a few innovative businesses that are attracting people back to the heart of town.  These businesses often build on downtown's sense of place and offer products and services not found in the big box stores.
This on-line resource provides examples of innovative downtown businesses in a variety of retail and service categories.  Brief case studies are provided that include the products sold, niche developed, market segments served, and synergy created downtown.
The site is searchable by type of business.  It is intended to:
1. provide existing and prospective entrepreneurs with innovative ideas for their downtowns
2. provide local economic development leaders with innovative ideas for their business expansion and recruitment efforts
Recently Added Businesses: