Update your personal information
CLA Alumni – Please update your personal information in the CLA Alumni database at anytime, by clicking on the link below.
---
With over 500 alumni, the Community Leadership Alliance's goal is to continue to provide opportunities to promote learning, growing, and networking. We know the alumni support the CLA's vision to advance leadership in Southwest Wisconsin. The CLA is proud of all graduates for strengthening community leadership, growing social and professional networks, and addressing local issues.
Most recent graduating class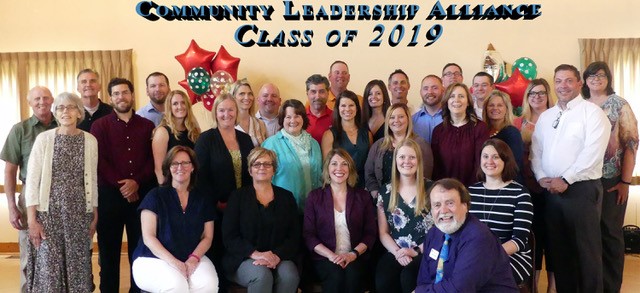 Cindy Becker
Josh Bedward
Kyle Bennett
Morgan Brown
Sally Carey
Jodi Cecil
Tim Collins
Brandon Espeseth
Erin Gallagher
Steve Genoway
Laura Hermsen
Tricia Jentz
Joshua Kemps
David Kranz
Darlene Masters
Ashley McFadden
Randy Mentz
Timothy Noble
Miranda Novinskie
Jessica Peterson
Shelley Reukauk
Jeff Robertson
Kristina Tranel
Mike Wang
Sarah Weier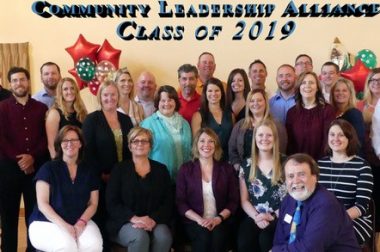 Danielle Bonin
Stephanie Brown
Carey Campbell
Kate Chambers
Nate Dreckman
Kasse Espeseth
Ross Griffin
Cora Halverson
Erin Hauck
Katrina Hecimovic
Pamela Heins
Kelly Hubbard
Rachel Leonard
Heidi Loy
Brittany Mainwaring
Nicola Maurer
Todd Michek
Lisa Peacock
Nicole Ruchotzke
David Schmitt
Chet Scott
Victor Teng
Tammy Vaassen
Ellen Volgarino
Heath Ahnen
Teresa Bahr
Katie Batton
Darcy Bevan
Diana Bolander
Heather Bontreger
Hannah Campbell Gustafson
Lynn Crooks
Charlie Draheim
Abbie Edge
Megan Fechner
Lori Jacobson
Katlyn Kasparek
Brittney Kowalski
Joe Krantz
Mela Lewandowski
Daniel Libby
Jeff Lindeman
Dan Miller
Trapper Mitchell
Kris Purkapile
Katie Reuter
Crystal Ripp
Barb Scanlan
Liz Schoenmann
Craig Simenson
Gretta Stilson
Teresa Straka
Shanshan Thompson
Darci Weber
Lori Wedig
Denise Wellnitz
Jennifer Williams Mendez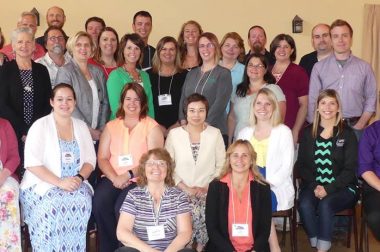 Candace Auel
Jennifer Bernetzke
William Budzinski
Ana Karina Burton
Christina Christianson
Chris Colney
Christie Daeger
Tiffany Donahoe
Emmily Dreessens
Amy Drury
Daniel Engelke
Savannah Ernzen
Daniel Glass
Jamie Gould
Megan Graber
Heidi Hawk
Valerie Hiltbrand
Megan Hinderman
Daniel Imhoff
Brandi Kamps
Katie Letcher
Jaye Lindner
Todd Lull
Richard McLeer
Holly Miller
Shyntel Owen
Amy Pennekamp
Sarah Rogers
Cena Sharp
Amanda Sternquist
Kimberlee Tranel
Karla Witzig
Shaun Wood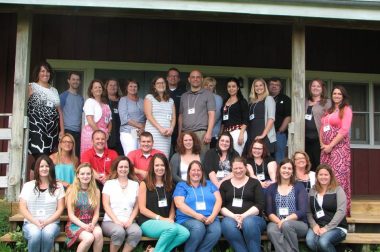 Ainsley Anderson
Lori Barry
Jaime Bell
Lori Berget
Darla Burton
Jonathan Brown
Susan Clifton
Ashley Cray
Ann Dolan
Sabrina Earl
Stephanie Foster
Samantha Goss
Lynn Hartl
Russell Hill
Jill Knight
Scott Laeser
Jessie Lee-Jones
Missy Lipska
Kriss Marion
Cara Nodorft
Amy Pohle
Wendy Pothour-Miller
Debra Reukauf
Heather Ringberg
Thomas Slaney
Johanna Stecklein
Crystal Taylor
Becky Waterman
Pauline Wetter
Leah Whitford
Sara Bahl
Donald Barrette
Judy Boll
Dan Bowden
Katherine Burke
James Clare
Holly Denman
Caiti Dreossler
Meghan Dudle
Tammie Engelke
Tamara Funk
Taylor Gronau
Sarah Hopkins
Kelsey Hughes
Angela Innerst
Michele Kluesendorf
Karen Lacke
Gilda Mantello
Valerie Martin
Steve McCarthy
Robb Pastor
Luke Peters
Marcia Rako
Lisa Roh
Nancy Salzmann
Danielle Seippel
Ryan Teasdale
Robin Timm
Becky Vaasen
Becky Wetter
Steve Winger
Kathy Witzig
Stephanie Belken
Edward Breitsprecker
Marcia Cordtsl
Rebecca DeBuhr
Eric Fatzinger
Katie Friar
Amy Gevelinger
Dana Gevelinger
Scott Godfrey
Kari Grady
Petra Guenthner-Johnson
Chantel Hampton
Mandy Henkel
Doborah Ihm
Amy Bell Kwallek
Cheryl Lange
Kristin Mitchell
Josoph Ploessl
Patty Ramsden
Peggy Rewey
Karen Rogulja
Chenoa Ruecking
Antonio Ruesga
Sherrilyn Schurman
Victoria Solomon
Lon Spooner
Michael Steffel
Jane White
James Winters
Aaron Wolfe
Donald Zahurance
Larry Bierke
Bev Broihahn
Jordan Burress
Amy Crist
Jenny Dochnahl
Andrea Droessler
William Grover
Debi Heisner
Jessica Helms
Kristin Holman-Steffel
Roxanne Johanning
Troy Maggied
Kathy Marty
Angela Miller
Ashley Nedeau-Owen
Stacia Nemitz
Eric Pleiss
Karl Pustina
Betsy Ralph-Tollefson
Lucas Schubert
Rose Smyrski
Julie Stephenson
Tim Streitzi
Jacob Tarrell
Robin Weigel
Jenny Belscamper
Kari Bennett
Robin Berglin
Jaclyn Bevan
Laura Bodenbender
Bob Boyle
Aaron Burbach
Angie Day
Amy Dillman
Rose Frost
Becky Haddad
Julie Klein
Denise LaBudda
Brenda Lantz
Mark Mailloux
Nathan Manwiller
Nick Metz
Todd Oellerich
Devon Piernot
Jenny Russell
Jason Sable
Kevin Schaefer
Shane Schuhmacher
Debi Sigwarth
Vicki Stangel
Phil Swain
Paige Thomas
Lauren Van Holten
Amy West
Shari Zenz
Muhammad Ahmed
Chad Bahr
Lisa Carpenter
Nicole Clapp
Tianna Conway
Heather Faherty
Heather Fifrick
April Fuhr
Jeffery Haas
Nancy Hammermeister
Eric Hartwig
Chad Holstein
Doug Huebner
Lee Jadaan
Cheryl Macdowell
Ted McDermott
Hailey Roessler
Amy Seeboth
Muffy Swingen
Bill Trainor
Gina Udelhofen
Paige Wegner
Jeremy Williams
Leon Wolfe
Soni Wolfe
Michelle Zasada
Gerald Abing
Philip Anderson
Bob Berglin
Bruce Buchholtz
Rob Bussar
Ranae Carey
John Digman
Denee Hirsch
Dawn Johnson
Todd Johnson
Ralph Kluseman
Margaret Langkamp
Kimberly Maier
Karri McCarthy
Daniel McWilliams
Sara Olson
Jeremy Patnaude
Joseph Pepper
Mei (yunmei)Reeder
Lisa Riley
Tom Sigwarth
Darin Smith
Carole Spelic
Janet Stecklein
Daniel Stelpflug
Natalie Thares
JillianThomas
Marily von Allmen
Matthew Zielinski
Marilyn von Allmen
Dewey Christoph
Nita Burke
Daniel Carey
Duane Christoph
Joyce Czajkowski
Sara Davis
Michelle Friedrich
Megan Graney
Lin Gunderson
Kelly Jo Hadfield
Barry Hottmann
Karen Johnson
Holly Kaiser
Jason King
Mindy Krantz-Johnson
LeAnn Leahy
Cindy Lenz
Doug McKinley
Laurie Monson
Correne Morgan
Tom Nall
Sue Nodolf
Lori Olson Pink
Gaile Schwickrath
Margie Sherwin
Jeff Stange
Barb Tucker
Linda Tucker
Rich Wiederholt
Katherine Abbott
Lori Bahr
Lexie Buschor
Karen Campbell
Barb Cassidy
Peggy Compton
Sara Edwards
JoAnne Ehasz
Kevin Esser
Angela Gasior
Amy Griswold
Tara Krueger
Barbara Linscheid
Steve Malone
David Meister
Bradley Mootz
Theodore Mynyk
Dee Oyen
Charlie Price
Amy Ressler
RoseAnn Rossing
Audrey Rue
Robert (Bob) Salmi
Jeff Segebrecht
Raquel Stocker
Carol Stoudt
Natalie Tollefson
David Vobora
Kay Wang
Edward White
Deborah Allen
Angela Chandler
Travis Courtney
Kari Dreessens
Gloria Holmes
Keith Hurlbert
Judy Klein
Amy Kreul
Melissa Leef
Jennifer Lien
Leeann Lonsdorf
Sheila Marten
Lance McNaugthon
Steven Michek
Patti Mitch
Anna Mroch
Dale Neis
Denise Nelson
Suzi Osterday
Troy Pittz
David Pope
Deb Putnam
Heather Reddy
Julie Statz
Barb Stockhausen
Ann Thompson
Mike Ubersox
Lisa Whitish
Kenneth Wiegman
Geri Zauche
Julie Abing
Joes Bartosh
Catherine Baruth
David Bauer
Jill Bausch
Kelly Jo Brick
Vicki Pluemer
Jill Bausch
Tricia Reuter
Sheila Ruchti
Douglas Stephens
Lon Pluckhahn
Catherine Baruth
Kathleen Polich
Jon Pepper
Mary J Dachelet
Cheryl Mulcahy
Heidi Tuescher-Gille
Joe Bartosh
Brad Chenous
Amy Kaup
Julie Abing
Victoria Peat-Olds
Cristina Pearson
Nina Elskamp
Sue Lindholm
Carlos Wiley
David Bauer
Priscilla Hahn
Lisa Riedle
Jim Griffiths
Angie Teasdale
Scott Pedley
Amy Burbach
Gayle Antony
Barbara Ballard
Kay Brink
Tom Brown
Kim Crippes
Greg Erickson
Sue Fager
Lee Gill
Andy Gillip
Marilyn Hauth
Ronald Holl
Susan Hollett
David Kiefer
Kathy Kruel
Matt Lee
Linda Lynch
Joe Meudt
Jeff Miesen
Tony Munos
Mike Olds
Sharon Pink
Sheila Trotter
Francie Tuescher
Alma Valencia
Jamie Vinger
Michael Wentela
Angie Wright
Darla Banfi
Tammy Bradley
Christine Brown
Kathy Cahill
Andrew Calhoun
Howard Crofoot
Dan Frommelt
Cathy Frontz
Linda Gebhardt
Margie Hackbarth
Lisa Hebgren
Daniel Jacobson
Alice Joestgen
Amy Knox
Gary Leahy
Judy Lindholm
Judy Meyerdierks
Pete Mumm
Tim Murphy
Joann Post
Jo Roling
Rick Sanson
Shelley Spensley
Margaret Sprague
Sheri Stewart
Kerie Wedige
Deb Weigel
Sarah Allen
Judy Behncke
Eric Berlin
Dennis Cooley
Patricia Cullen
Denise Deaton-Tolzman
BrendaDenn
Heidi Dyas-McBeth
Ronald Haas
Connie Haberkorn
Christine Hawkinson
Darnell Hendricks
Wendy Herbst
Barbara Kehrein
John Kohlenberg
Amy Loy
Laurie Maloney
Doug Miller
Tony Pillow
Tamilla Richter
Cathy Riedl-Farrey
Joanne Schultz
Sue Steudel
Denise Tillotson
Rochelle Williams
Apryl Bennett
David Blume
Penny Clary
Jill Clayton
Bernice Cornish
Jennifer Crubel
Chantal Delorme-Barnes
Sarah Halstead
Roxanne Hamilton
Michelle Hechel
Donna Hoppenjan
Angelina Jensen
Marcia Jewell
Laura Koch
Nancy Leahy
Mike Mair
James McCaulley
David Pearson
Curt Peterson
Laurie Samuelson
John Schindler
Jessica Schmidt
Valerie Shaw
Jolena Siegenthaler
Sheila Sobek
Jerome Wehrle
Rhonda Witmer
Cheryl Zmina
Chris Atten
Jason Biddick
Wendy Biddick
Ron Brisbois
Marlin Carl
David Certa
Amy Charles
Terri Chyko
Julie Clark
Derek Dachelet
Amy Dreckman
Lori Droessler
Rita Elver
Angie Freed
Kate Harmening
Kay Helker
Mark Ihm
James Kohlenberg
Kathy Kopp
Sandy Leibfried
Joan Martin
Rick Morgan
Sue Noble
Linda Parrish
Teressa Pellett
Mary Rasmussen
Raymond Saint
James Schneider
Louella Vosberg
Joseph Witmer