Witty Dairy Dude
by Katherine Freund
Leadership Waupaca County Class 20, Session 3 had a full packed agenda of agriculture and dairy speakers.  Our first speaker, Greg Blonde, was loaded with statistics and shared data that illuminated the importance of farming in our community. Richard Wagner, a lifelong dairy farmer, was a humble man with a witty sense of humor. Richard shared statistics, stories and the inner workings of a modern dairy farm.
 The first speaker of the day, Greg Blonde, provided staggering statistics on the impact agriculture has on the state of Wisconsin, specifically Waupaca County. Greg highlighted that half of our county is classified as farmland! Additionally, 91% of farm income goes back into our community (Blonde). These statistics show just how important the agricultural business is to our communities, why stakeholders should be committed to the success of the industry and the importance of knowing the needs of modern farmers. "Successful future farms need to be able to manage volatility" (Blonde), which makes community leaders from programs such as Leadership Waupaca County an important part of the future of local farms.
 Our second speaker, the witty Richard, was amazingly humble of his accomplishments in the dairy industry. Some of the takeaways from Richard's speech that stayed with me was his emphasis on the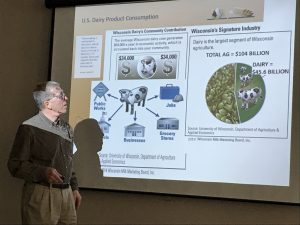 industry challenges for funding farming expansions and the need to prepare for passing on the business to a younger generation. Many family farms fail to endure multiple generations because of the unwillingness of the older generation to pass the torch and properly prepare for the future. Richard says to 'start em' young' and showed adorable pictures of the young families on his farm. I appreciated Richard reflecting on the importance of community members learning about the dairy industry and Wisconsin's commitment to the future of the dairy industry. A special thank you to Richard for sharing his family photos and advocating for immigrants in the farming industry.
Photo: Dairy Dude (aka Richard Wagner) laying down the stats