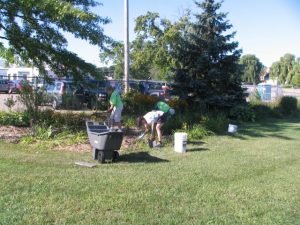 LEARN ABOUT HORTICULTURE AND SHARE YOUR KNOWLEDGE THROUGH COMMUNITY VOLUNTEERING.
Gardening for the People: Master Gardener Volunteers bring expertise and the joy of growing to diverse people and projects around the state   http://grow.cals.wisc.edu/agriculture/gardening-for-the-people
Extension, Jefferson County Level 1 Master Gardener Training
Please contact kimb@jeffersoncountywi.gov to be put on a interested list for our next class.
Level 1 Class Schedule
Introduction to the Master Gardener Program
Botany
Soils/Composting
Pest Management
Entomology
Plant Pathology/Weeds
Backyard Wildlife
General Gardening Practices
Herbaceous/Woody Ornamentals
Lawns
Houseplants/Plant Propagation
Vegetables
Fruits
Landscape Design/Organic Gardening/Phenology
*Topics may change as the class is developed.
How does the course work?: It is a 14-week course that general meets in the one week-day evening every other week for six months. The Jefferson County Program includes presentations, labs and activities on a wide range of topics such as: lawn care, house plants, plant pathology, botany review, backyard wildlife, fruits, vegetables, landscape design, soils, perennials, annuals, weeds and composting among others. Interactive classes will include presentations by Extension specialists, local experts and other guest speakers.
Successful completion of the Level 1 Training Program is the first step to becoming a Certified Master Gardener Volunteer and a member of the Jefferson County and Wisconsin Master Gardner Associations. In exchange for training, participants share their time and knowledge in their local communities by completing 24 hours of approved garden related volunteer service. This can be easily accomplished through working on local community projects, providing educational assistance and training or answering horticultural questions referred to you. Jefferson County Certified Master Gardener Volunteers work at local public gardens, nursing homes, community beautification projects, local foods education, home show exhibits, county fair displays and much more!
Location of Training: Training is held at the UW-Extension, Jefferson County Office located at 864 Collins Road in Jefferson.
Cost: The program cost is roughly $135. The course fee includes training and a comprehensive set of Extension horticulture publications.
Who Can Attend the training?: Whether you're a veteran gardener or a novice, and would like to learn more about gardening and landscaping, you are welcome to attend the next Master Gardener Volunteer Level 1 Training Program. The training is open to the general public although participants must be at least 18 years of age.
Registration:
Application Packet
Please feel free to contact Kim at 920-674-7297 or kimb@jeffersoncountywi.gov with any questions. Thank you!
Please note! Acceptance into the MGV training requires completion of a background check.