#FlashbackFriday This was originally published in December 2011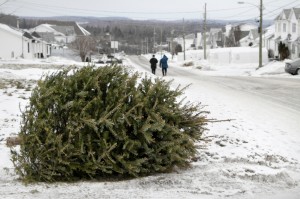 Scott Bowe, Extension wood products specialist
Department of Forest and Wildlife Ecology
University of Wisconsin-Madison College of Agricultural and Life Sciences
sbowe@wisc.edu
(608) 265-5849
What to do with a Christmas tree after the holidays. Scott Bowe provides some suggestions and also gives some information about Wisconsin's Christmas tree industry.
Total Time – 2:57
0:19 – What to do with Christmas trees
0:44 – What happens to trees after pick up
1:06 – Other uses for old Christmas trees
1:24 – Majority of trees now recycled
1:43 – About Wisconsin Christmas trees
1:57 – Value of Christmas trees
2:13 – Wisconsin's rank in tree production
2:31 – For more information
2:47 – Lead out
Transcript
Sevie Kenyon: Scott, welcome to our microphone, Christmas is over, what should people do with these Christmas trees now?
Scott Bowe: Well, it really depends on the place that you live. Most municipalities will have a Christmas tree recycling program, where you put your cleaned off Christmas tree, take off as much of the tinsel and all the ornaments that you can and you place them by the curb-side and they will collect these, usually the street department, in that municipality will collect these trees.
Sevie Kenyon: Scott, what happens to these trees, once they're picked up?
Scott Bowe: Well, once they're collected, most municipalities have a chipper and they will chip the tree for typically a mulch product. And many places, for example in Madison, Wisconsin, residents are allowed to pick up these chips for use in their gardens and, and other plantings. It comes right back to where it started, a complete recycling program.
Sevie Kenyon: Are there other uses for these old trees?
Scott Bowe: One possible use is in fish crib applications. Some organizations will actually gather up used Christmas trees, bind them together, then weight them, sink them, to provide fish habitat in different lakes around the state.
Sevie Kenyon: Do you have any idea, Scott how many trees are recycled?
Scott Bowe: I would suggest that the majority of trees are recycled, especially in urban areas. In rural areas, people may put them on a burn pile, or something like that. It's the urban areas that have these types of recycling programs.
Sevie Kenyon: Scott, can you tell us a little bit about the Wisconsin Christmas tree business.
Scott Bowe: The Christmas tree industry within the state has a significant economic impact. Estimates put production at 50 million dollars for an economic impact within Wisconsin.
Sevie Kenyon: And Scott, can you tell us how many growers we have and how many trees they may produce?
Scott Bowe: Well, Christmas tree farms in Wisconsin total over 1300 producers and latest estimates show that more than 1.8 million Christmas trees are harvested in any typical growing season.
Sevie Kenyon: Where does Wisconsin stand in the production of Christmas trees?
Scott Bowe: Wisconsin is currently ranked at 5th in the nation, for the number of trees harvested. We are behind Oregon, North Carolina, Michigan and Pennsylvania, but still a major production crop for Wisconsin.
Sevie Kenyon: And, Scott, if people are curious about Christmas trees, where should they go for more information?
Scott Bowe: I'd tell them to Google the Wisconsin Christmas Tree Producer Association. An excellent website with a number of facts and figures about the producing industry as well as tree care tips, tips on different varieties of trees, a great site to look at.
Sevie Kenyon: We've been visiting with Scott Bowe, Department of Forest and Wildlife Ecology, University of Wisconsin in the college of Agricultural and Life Sciences, Madison, Wisconsin… and I'm Sevie Kenyon.