To HMoob farmers, growing food is a way to become self-sufficient, eat well, and partake in rich cultural traditions that connect generations through shared knowledge and histories. However, HMoob farmers in Wisconsin, many of whom arrived between the late 1970s and early 2000s, largely did not have access to resources for growing culturally relevant crops, managing pests, and protecting soil health.
Kiana Chang, a junior studying information systems and data science, worked to change that during her summer 2023 internship with Extension. Chang, who is Hmong, saw the internship and decided, "I need to do this to help my community."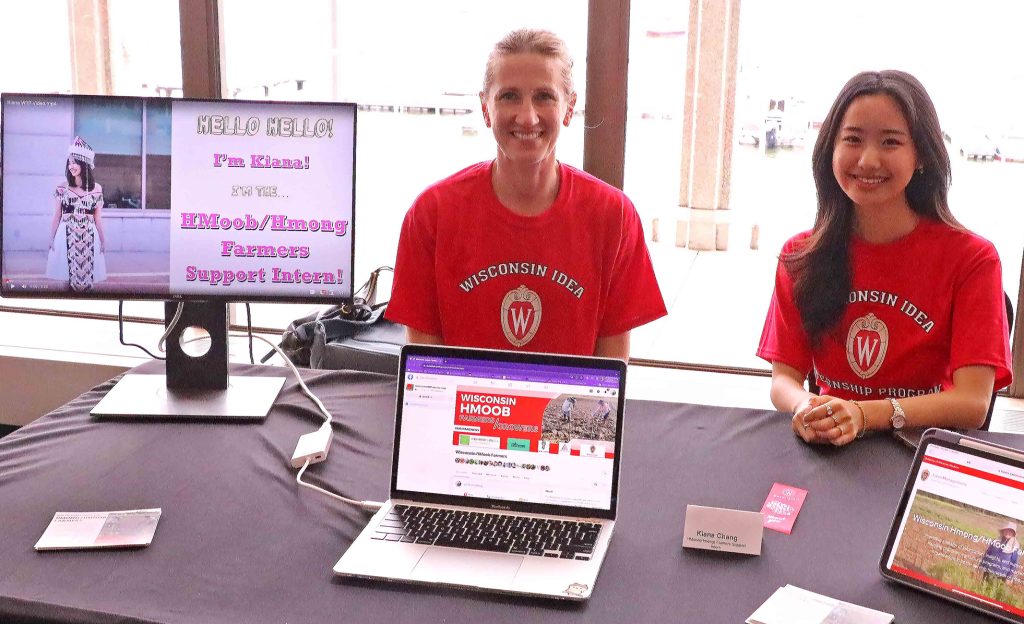 Under the mentorship of Trisha Wagner, the Extension Farm Management Outreach Program Manager, and Gaonou Thao, HMoob/Hmong Farmer Outreach Specialist, Chang revived the Wisconsin HMoob Farmers Facebook group to effectively reach farmers on the platform. The group grew from 21 HMoob farmers to over 115 during Chang's summer internship and fostered an online community to increase sustainable agriculture efforts, improve the profitability of farms, and celebrate HMoob food culture.
She stimulated and moderated communications between farmers; developed template language for project partners including Fondy, FairShare CSA Coalition, Power Up Eau Claire, and Groundswell Conservancy; and provided research-backed information in a culturally and linguistically relevant way to HMoob farmers.
The Wisconsin Idea Internship Program (WIIP) connects University of Wisconsin–Madison students with the Division of Extension's programming and research efforts to explore how Extension embodies the Wisconsin Idea, the university's guiding principle that education should benefit people's lives beyond the classroom. WIIP is a partnership with the Division of Diversity, Equity & Educational Achievement.
The summer 2023 cohort included 16 graduate and undergraduate students in various fields of study. Students' projects covered a variety of topics, including natural resources mapping and stewardship, military veteran outreach, and curriculum evaluation and facilitation. Students presented their work at a final showcase event at the Pyle Center on August 25.
Olivia Geisheker, a senior majoring in genetics and genomics, studied fungal pathogens and species present in Wisconsin cranberries during her internship. She discovered that over half of the fungi present in any cranberry are from an under-researched group of pathogens.
Andrew Gumieny hiked, cleared trails, built stairs on, and mapped a 250-acre area of donated land at Upham Woods Outdoor Learning Center as a conservation intern. He is an undergraduate double-majoring in education studies and psychology and noted that alternative teaching and learning methods, like outdoor learning, are often very effective in capturing the full attention of youth.
Joshua Mumm, Vivian Hacker, and Colton Jordan were sustainable agriculture interns mentored by Diane Mayerfeld. Each had an area of interest — animal health, urban agriculture, and field crops respectively — and redesigned high school sustainable agriculture curriculum, a free resource for K-12 schools.
Abigail Kattre, a senior studying health promotion and health equity, environmental science, and global health, conducted customer surveys at four Central Wisconsin farmers markets with the goal of expanding EBT access. She also created materials for market managers describing what EBT is, how to use it, and how markets can promote themselves as access points to fresh foods.
Jason Dopke, a junior majoring in data science and economics, used his personal experience as a veteran to capture stories of fellow veterans as well as to build a custom Python-based heat map of veterans' activities hosted or supported by Extension across Wisconsin.
Lily Hankley, a senior in the School of Journalism and Mass Communication, created custom illustrations, infographics, and data visualization for the Master Naturalist, Water Action Volunteers, and Aquatic Invasive Species Snapshot Day programs. Prior to this internship, she didn't have much design experience and now feels like she has a very diverse portfolio full of custom projects, including scientifically accurate insect illustrations, that complements her education in mass communication.
Margaret Afshar, a senior majoring in economics, analyzed the barriers between the University, county-based Extension educators, and farmers to determine the best ways to educate farmers on climate-smart agriculture. Through qualitative data analysis, she deduced that educators need better tools and professional development to feel comfortable pitching climate-smart approaches to farmers.
Read more about the 2022 cohort here.