Extension honored seven employees during its annual conference Nov. 2 for their commitment and contributions to the Wisconsin Idea and communities across the state. This was the second year since Extension rejoined UW–Madison that the division celebrated its employees with several award categories. It was also the second year in a row that Extension held a conference in Madison to bring more than 600 employees together from every county in Wisconsin.
The following Extension faculty and staff were recognized for their work, service, research, and education benefitting hundreds of thousands of Wisconsin residents every year:
Excellence in Education and Outreach Awards: Guolong Liang, Pattie Carroll, and Matt Kures
Excellence in Equity and Inclusivity Award: Annie Jones
Excellence in Research Award: Maggie Kerr
Excellence in Service Award: Deanna Schneider
Excellence in Supervision Award: Carrie Edgar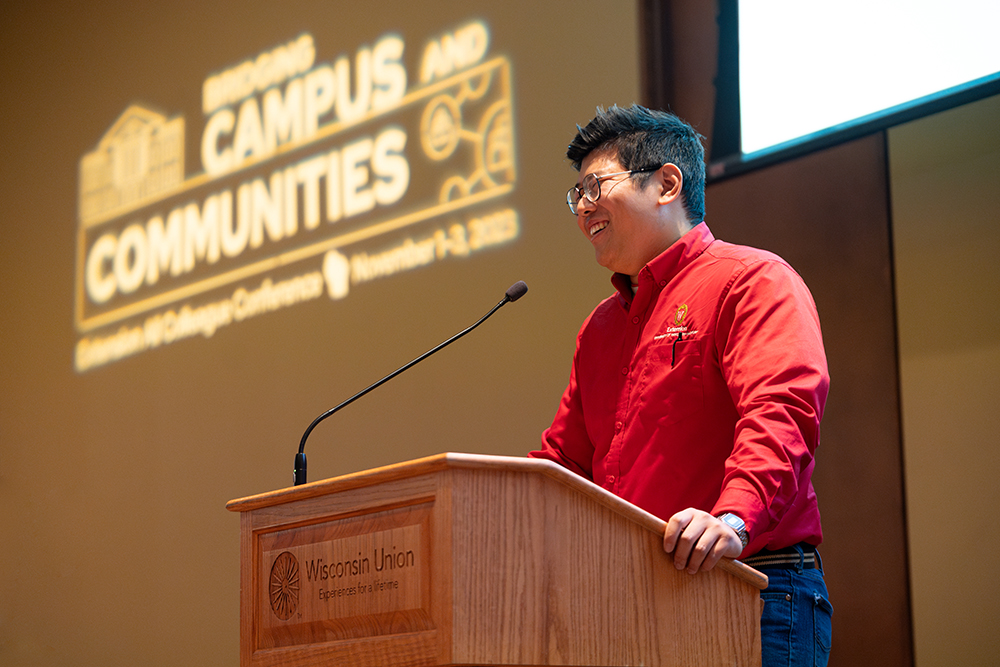 Guolong Liang, Commercial Vegetable Agriculture Water Quality Outreach Specialist. Located in Central Wisconsin helping farmers in the Central Sands Region of the state, Guolong focuses on agriculture water quality issues in commercial vegetable production. His focus is about designing and delivering outreach material on agricultural practices to reduce nitrogen and sediment loss into groundwater and surface water in diverse vegetable cropping systems. Guolong was honored as an employee with fewer than five years of experience in Extension; he joined the division in 2022.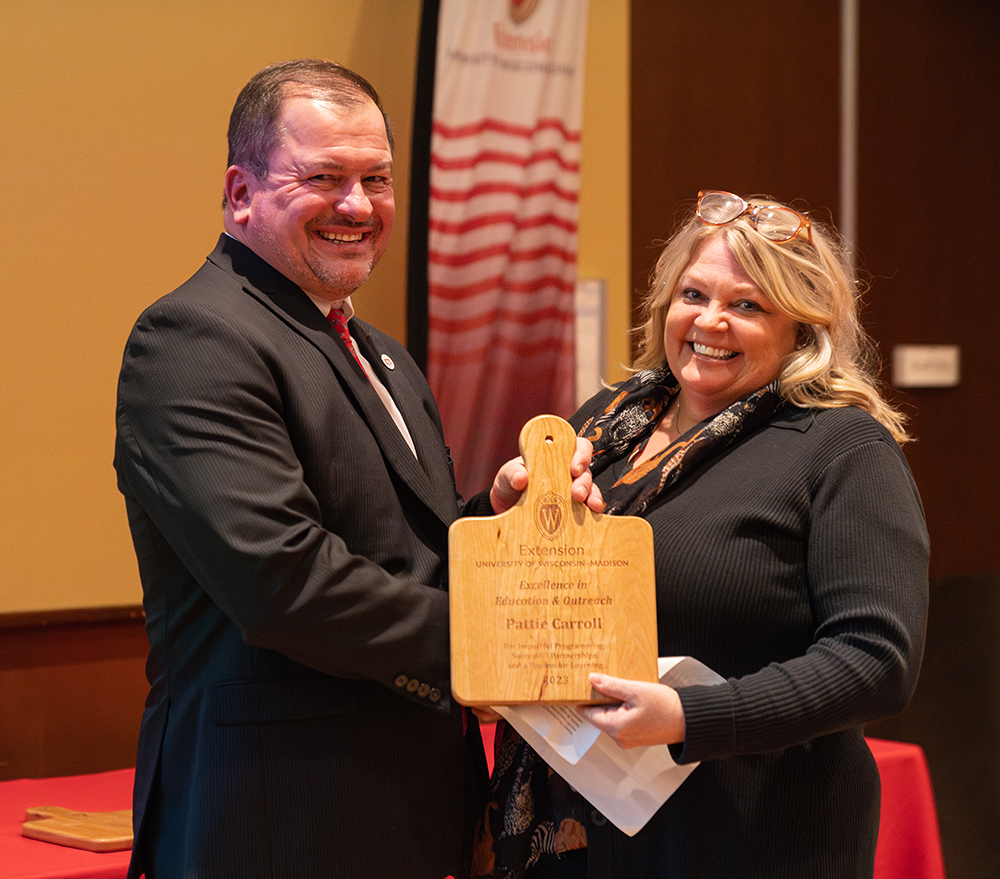 Patricia Carroll, Associate Professor and Human Development & Relationships Educator in Dodge County. Pattie's research and outreach has focused on digital parenting education initiatives and building capacity of family serving agencies and coalitions. Pattie was recognized in the category for an educator with five to 15 years of service in Extension. Pattie is pictured above with Karl Martin, Extension's Dean & Director.
Matt Kures, Distinguished Community Economic Development Specialist. Matt is in Extension's Community Development Institute and works in partnership with Extension's statewide network of resources to assist communities and organizations in the areas of regional economic analysis, labor force research, and industry sector competitiveness. Matt was celebrated in the category for an educator with more than 15 years with Extension.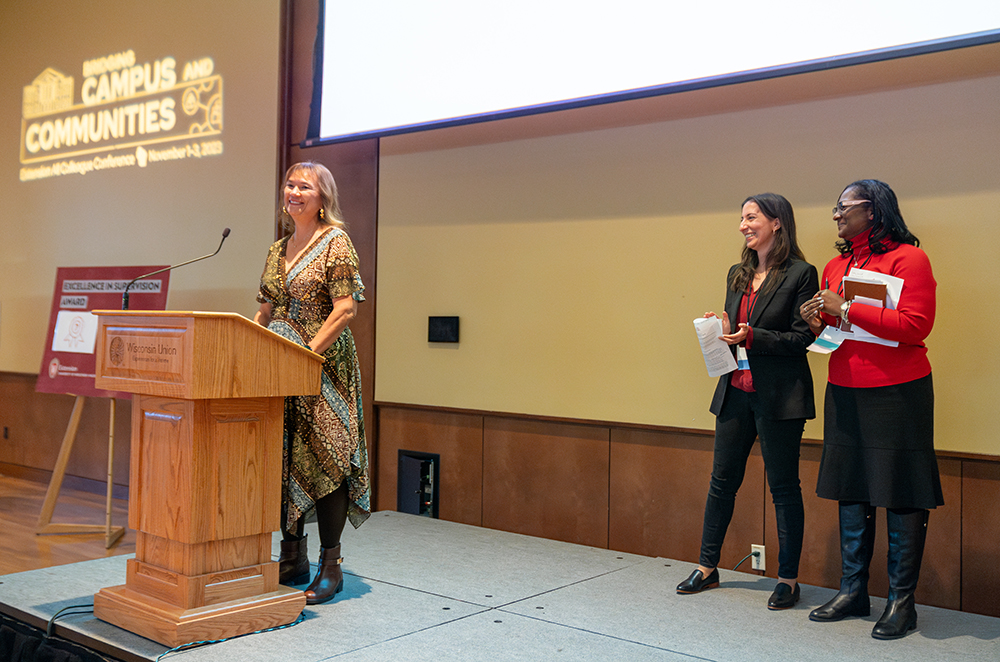 Dr. Annie Jones, Professor of Organization Development and Tribal Nations Specialist. Annie has worked with Extension for more than 20 years serving in a variety of capacities including Associate Dean, Special Assistant to the Dean for Strategic Directions, and a county-based Community Development Educator. Annie's areas of research include indigenous methodologies like the use of the Native American medicine wheel and cultural teachings to enhance planning and evaluation. Annie specializes in participatory and community-based action research. Annie is pictured above with Victoria Solomon, Associate Professor and Community Development Extension Educator in Green County, who nominated her for the award, and Human Development & Relationships Institute Director Danielle Hairston Green.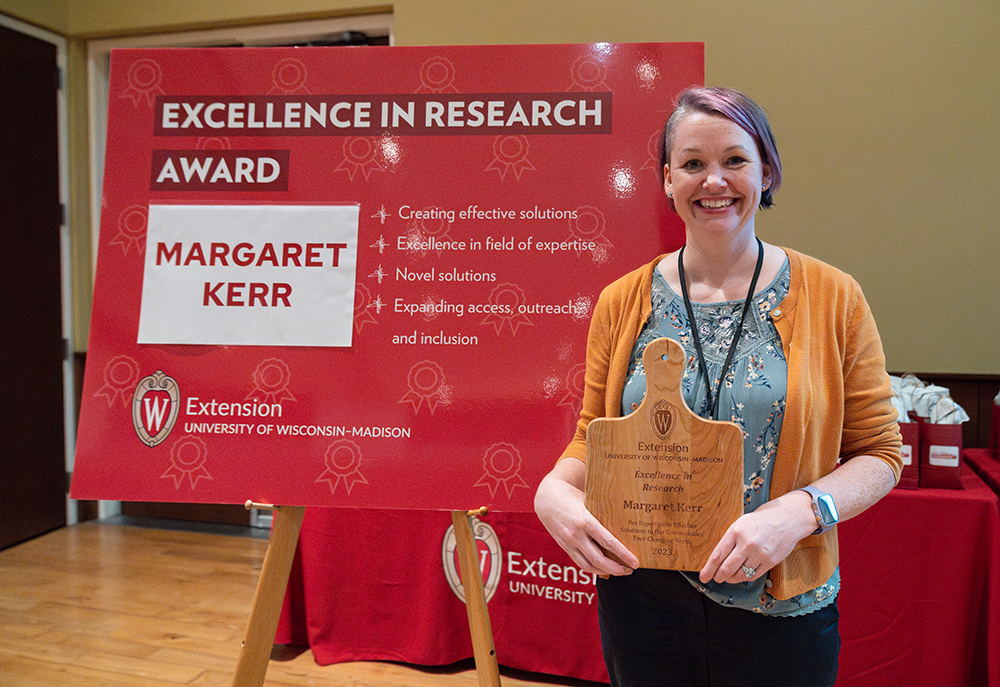 Dr. Margaret Kerr, Extension Campus Specialist for Vulnerable & Underserved Young Children Specialist. Maggie is a state specialist for Extension's Human Development & Relationships Institute and is also an Assistant Professor in Human Development and Family Studies at the School of Human Ecology. Maggie recently was also awarded UW–Madison's 2023 Distinguished Teaching Award. Maggie led a signature research project for the Human Development & Relationships Institute to assess the needs and service gap for fathers in Wisconsin.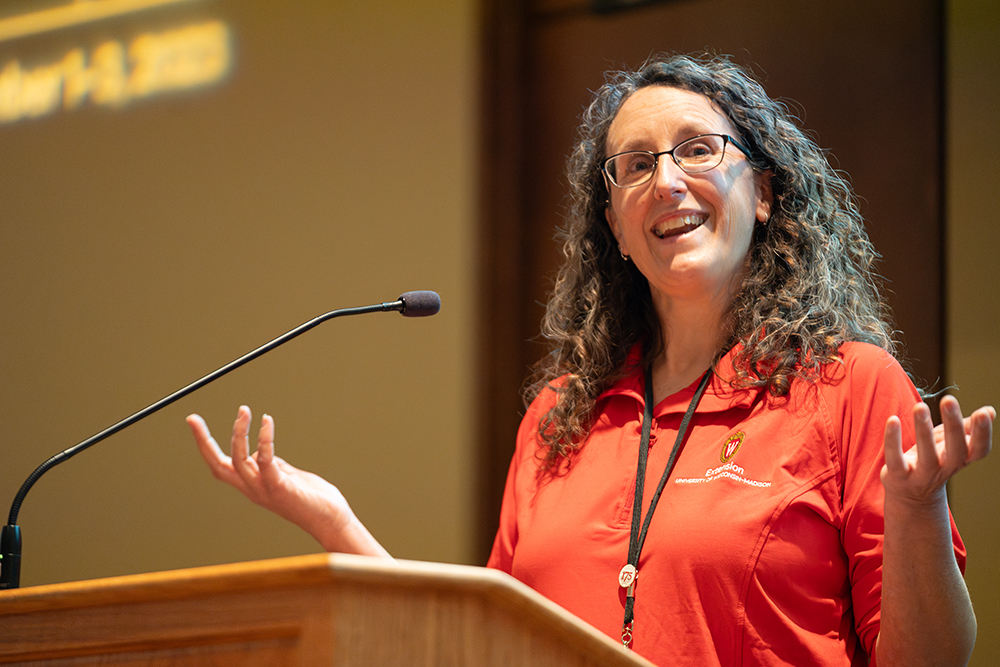 Deanna Schneider, Software and Data Engineer. An Extension employee since 1994, Deanna was a youth development educator in Dane County before transitioning to a state role in technology. She builds data collection applications, conducts data analysis, and integrates disparate data systems. Her technical skills and analysis have been invaluable both to aid leadership decisions and for educational support. She has created and refined administrative procedures and functions that benefit all of Extension's hundreds of employees and its many stakeholders.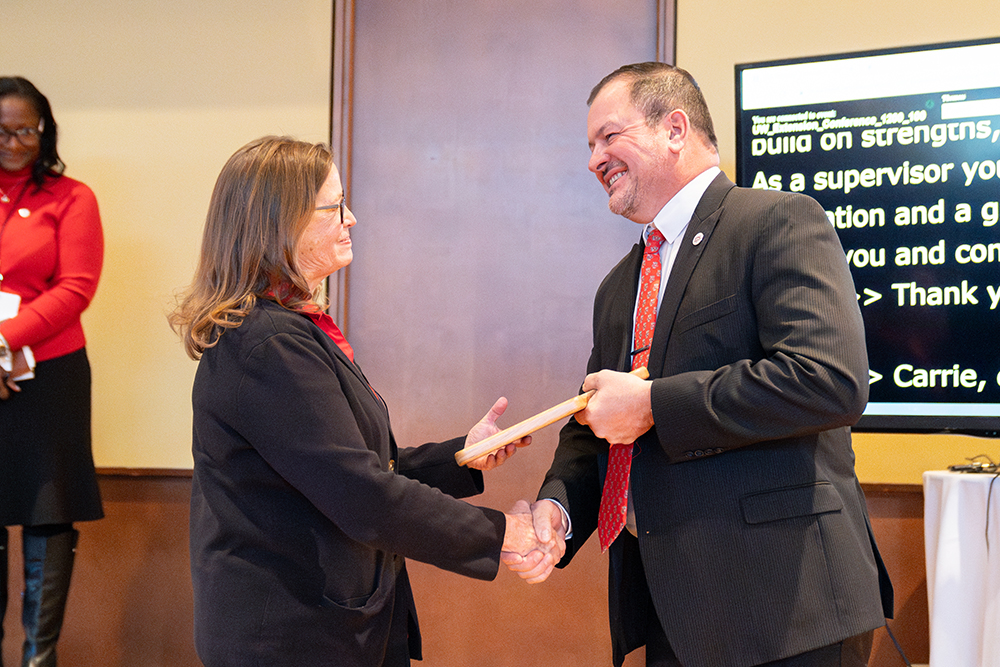 Carrie Edgar, Area Extension Director for Dane County. Carrie is the director for the Extension Dane County office, providing administrative leadership, resource management, program planning, community assessment, evaluation, and staff supervision for more than 20 employees. Carrie was honored for modeling strong leadership, credibility, and mentorship in the support of staff. Carrie is pictured above presented with her award by Karl Martin, Extension's Dean & Director.