Experiential Learning
These interactive online learning modules provide the basics volunteers and staff to increase their knowledge and skills to target learning outcomes, provide reflection on that learning and integrate the application of it into all activities.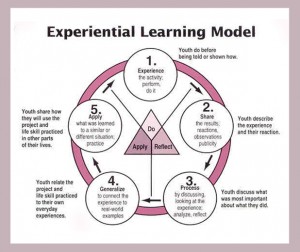 Helping Youth Learn Using Experiential Learning
Using an Experiential Model in 4-H Information about experiential learning, the steps and how to guide your youth through it with various activities and projects.
4-H Experiential Learning Model of Positive Youth Development
Inquiry Learning

To fully implement  4-H STEM activities, 4-H staff and volunteers use an inquiry-based learning approach to lead 4-H project activities. The following resources support the use of inquiry and experiential learning:
Inquiry-Based Learning Videos
Lesson 1: Why Should I Include Inquiry-Based Learning in Experiential Learning Activities?
Lesson 2: How Do I Use Inquiry-Based Learning with Youth?
Lesson 3: How Can I Better Facilitate Inquiry-Based Learning?
Teaching Resources from National 4-H Council
Essential Elements of 4-H Youth Development Programs Curriculum and Training Guide
4-H Science Smart Competency Training Guide
4-H Science in Urban Communities