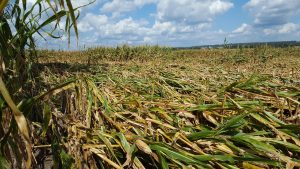 Flooding and storms damaged your crops but you still have the need for feed over the winter months ahead. Or you've had a good growing season and find yourself with some extra hay, forages or corn that you'd like to sell.  Making the connections between these two situations is the purpose behind the Farmer to Farmer Corn and Forage Website.
The Farmer to Farmer Corn and Forage Website is probably best thought of as an electronic neighborhood bulletin board which allows local farmers to get in touch with one another.  The website facilitates the local marketing of feed commodities where livestock producers in need of high moisture corn, corn silage, hay, or straw can easily make contact with corn sellers that have feed commodities for sale.
The Farmer to Farmer Corn and Forage List is free of charge for both buyers and sellers.  Users can search for, or list for sale, hay, haylage, straw, high moisture corn, corn silage or corn grain.  Buyers can search for farmers in just one Wisconsin county or in any number of counties at once.
This site has been an excellent way for buyers and sellers to get in-touch locally. Neighbors often within short distances have been able to buy and sell as a result of the website. All transactions and negotiations are handled directly between buyers and sellers.
UW- Extension developed and continued to support this website. However, UW-Extension assumes no responsibility in the transaction of buying or selling the items listed on this web site.
People who wish to use this service but do not have access to the Internet can get access and assistance at their county UW-Extension office.
Photo source:

Lyssa Seefeldt, Marquette County UW Extension.