The Fond du Lac County Forage Council and Extension are hosting the 2020 Corn Silage Dry Down Days on three consecutive Tuesdays: August 25, September 1, and September 8 at Country Visions Cooperative, 457 W 11th Street, Fond du Lac.
No fee
Morning of the dry down day, cut 4 to 5 stalks at chopper height, representative of the field, from inside the field, avoiding field border and headland effects
We ask that all samples have reached the dent stage
Drop off samples between 10 am and 12 noon at Country Visions Cooperative
Provide the following information with samples: name; city/town; contact info; hybrid variety and relative maturity; and planting date
Results available at https://fyi.extension.wisc.edu/fdlag/fdl-ag-corn-silage/
The best lactation performance by dairy cows has been shown to occur when corn silage is harvested at 65-70 percent moisture. This range of whole plant moisture also works well for achieving good packing and silage fermentation in horizontal silos. Determining whole plant moisture prior to harvest is one management practice to ensure high quality forages.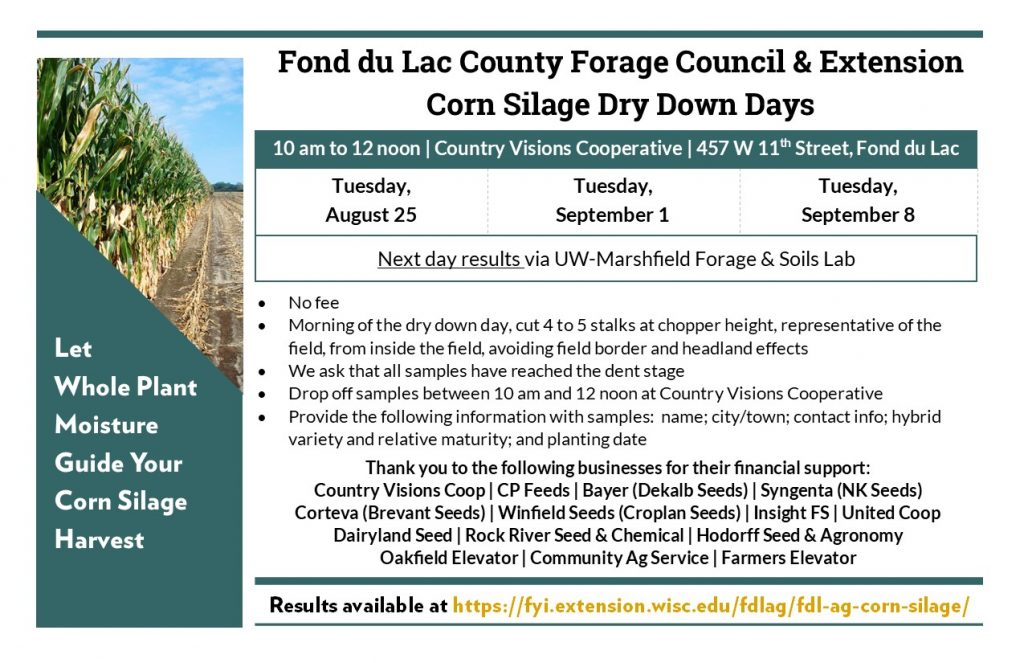 Thank you to the following businesses for their financial support:
Country Visions Coop | CP Feeds | Bayer (Dekalb Seeds) | Syngenta (NK Seeds)
Corteva (Brevant Seeds) | Winfield Seeds (Croplan Seeds) | Insight FS | United Coop
Dairyland Seed | Rock River Seed & Chemical | Hodorff Seed & Agronomy
Oakfield Elevator | Community Ag Service | Farmers Elevator