Determining when to cut first-crop alfalfa is often difficult because alfalfa quality, relative to flowering stage, varies greatly. To help with this dilemma, agronomists at the University of Wisconsin – Madison developed the Predictive Equations for Alfalfa Quality (PEAQ) method which predicts alfalfa's Relative Feed Value (RFV) at the time of cutting.
The Fond du Lac County Forage Council will be evaluating forage conditions by collecting weekly PEAQ readings starting Monday, May 16, 2022. These PEAQ readings will be reported and available on the Extension Fond du Lac County website.
The PEAQ Stick Method measures standing alfalfa's forage quality before it is harvested by measuring alfalfa height using a wooden PEAQ measuring stick and an equation to determine alfalfa's RFV. The RFV values are calculated based on the alfalfa plant's maturity stage.
NOTE: This procedure estimates alfalfa RFV content of the standing crop. It does not account for changes in quality due to wilting, harvesting, and storage. These factors may further lower RFV content by 10 to 25 units, assuming good wilting and harvesting conditions. This procedure is most accurate for good stands of pure alfalfa with healthy growth.
June 1, 2022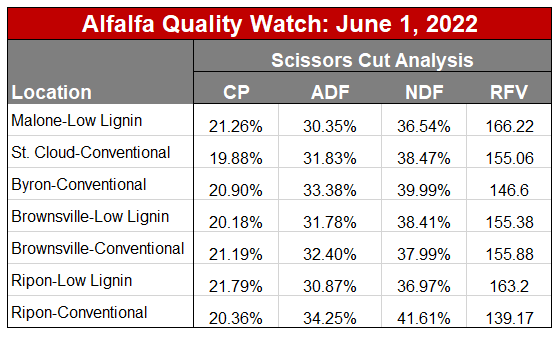 May 24, 2022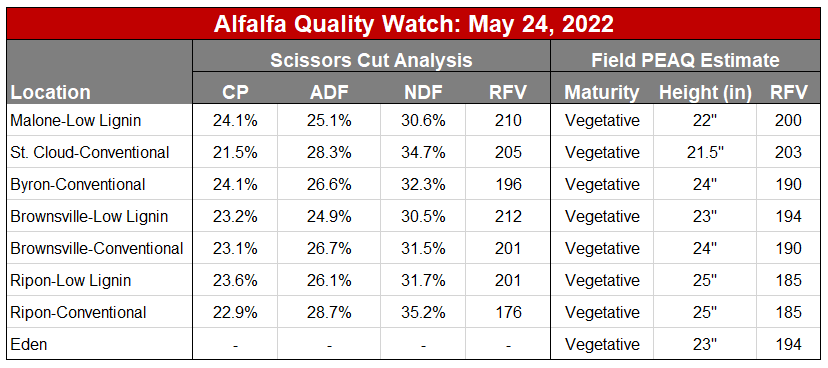 May 19, 2022