Pointillism
Are you looking to learn something new this summer?  Jeanette and Marcy are excited to teach you all about Pointillism.   Please register using the google form (https://tinyurl.com/Shawano4-HPointillism) or by calling the Extension office (715-526-6136) by Friday, July 9th.  Seats are limited.
Please bring your creativity, fine tip black permanent markers/pens, and a picture.  There will be a supply of markers/pens and pictures if you do not have any.
When:  Thursday, July 15 from 2:00pm to 4:00pm
Where:  Shawano County Courthouse, Rooms A&B
We are looking forward to seeing you!
Night at the Zoo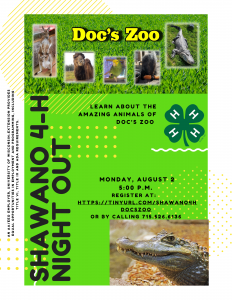 Shawano 4-H Night Out Registration
Camp Registrations
Sign up for one or all of our day camps this summer.
Shawano 4-H 2021 Summer Programs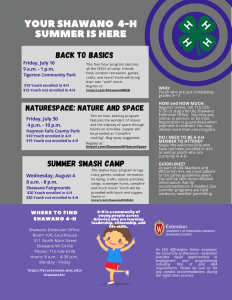 Naturespace: Nature and Space Registration
Summer SMASH Camp Registration
---
If you have any questions regarding 4-H Positive Youth Development in Shawano County, please contact:
| | |
| --- | --- |
| | Megan Suehring, 4-H Positive Youth Development Educator Shawano County Courthouse 311 North Main Street, Room 109 Shawano, WI 54166-2198 Phone: 715-526-4869 Fax: 715-526-4875 Email: megan.suehring@wisc.edu |
| | Terri Brunner, 4-H & Extension Coordinator Shawano County Courthouse 311 N Main Street, Room 109 Shawano, WI 54166-2198 Phone: 715-526-6136 Fax: 715-526-4875 Email: terri.brunner@co.shawano.wi.us |
| | Tami Goers,  Office Assistant Shawano County Courthouse 311 N Main Street, Room 109 Shawano, WI 54166-2198 Phone: 715-526-6136 Fax: 715-526-4875 Email: tami.goers@co.shawano.wi.us |