A small group of WACAA members traveled to the NACAA AM/PIC in Sioux Falls, South Dakota last week to participate in the activities.
Mark Hagedorn and Katie Wantoch represented Wisconsin by serving as voting delegates during the annual meeting. Jennifer Blazek stepped in to serve as the representative for the President in the state flag ceremony. In addition, several members of the Wisconsin Association of County Agricultural Agents volunteered their time to assist South Dakota in hosting this event. Randy Knapp and Mahlon Peterson served as Life Member committee chairs for the conference. Other volunteers included: Jennifer Blazek, Ken Williams, Mark Hagedorn and myself.
Jennifer Blazek, from Dane County, took the lead on decorating Wisconsin's cake for the 100th year celebration of NACAA. Wisconsin was recognized in the "free-hand" cake decorating category Sunday evening during the Opening Session. Check out the cake in the photos below!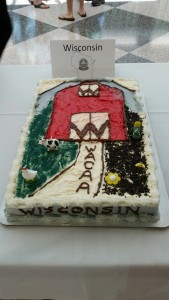 Members who attended enjoyed eating the cake and some ice cream later that night. It was delicious!