Zoom Licensed (Pro) accounts are available for Division of Extension employees only.
Have a question? Search our Frequently Asked Questions below.  You'll also find Zoom support at the bottom of this page.
If you need help with Zoom, please send a message to: uwex.zoom@extension.wisc.edu
Taking at least one hour-long training session from an ETS staff member is necessary to obtain a Zoom Licensed (Pro) Account . Go to the EdTech Calendar and sign up for a session that works best for your schedule.
"Zoom-Bombing" is the unfortunate act of uninvited people coming into a Zoom Meeting and sharing unwanted content through various Zoom tools. Zoom-Bombing is a potential issue for all Zoom users, not just the Divison of Extension.
While we have not yet had any reports of Zoom-Bombing during Extension sessions, we want you to be aware that this could happen. We have curated a list of helpful links directly from Zoom to help you understand and mitigate this issue. Here are the best practices for hosting Zoom Meetings which are open to the public.  
You can sign up for a Basic Zoom Account by filling out this form.
Taking at least one hour-long training session from ETS  is necessary to obtain a Zoom Licensed (Pro) Account.

You can sign up for Zoom training by visiting the Ed Tech Calendar and selecting a training  or by going to this form directly
Note: You need to log in with your Wisc Google account (netid@wisc.edu) to access the forms.
Please take a look at our All Things Zoom Page for more information to help you decide which account works best for you.
No. Only one person needs a Pro Account in each Zoom Meeting or Zoom Webinar.
These are tip sheets that you can use for quick reference or printing.  They are designed to help you utilize the best features of Zoom when you need them most.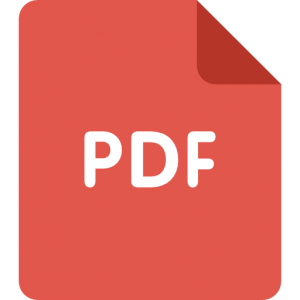 PDF Versions
Recommended Meetings Settings
Inviting Participants
Creating and Launching Polls
Screen Sharing
Quick Polling
How to Annotate
Using Breakout Rooms
We are asking that you use the headset. If you use the mic on your camera in a Zoom Meeting or Webinar with 2-3 people, you will likely not have any issues. However, with more people comes more potential for issues and feedback that can ruin the presentation for you and for others. The chances of feedback and garbled audio increased with each user. Sometimes even one person without a headset will unintentionally cause audio chaos. Don't be that person.
If you have a headset with two plugs (one green and one pink) we recommend disposal. They served us well, but USB headsets are going to do a much better job. If you just can't bear to dispose of technology, 3.5 to USB adapters cost about $7.
Have everyone put their headset on. Feedback is caused by a sound loop. The sound comes out of your speakers and then your microphone "hears" the sound from the speakers then sends it through to the other end. That happens again and again and again causing an echo sound or high pitched noise. If you separate the two sounds (say with a headset where the sound is going directly into your headphones) the feedback will stop. You avoid feedback in a conference room or group setting by using quality equipment that is designed to separate incoming and outgoing audio.
In a nutshell, Zoom Meetings are designed for up to 100 people to have two-way communication. Everyone's camera can be on and everyone can participate to their level of comfort. Webinars are designed for up to 500 people using mostly one-way communication. The host and presenters have active cameras and microphones; everyone else can only use the chatbox to communicate.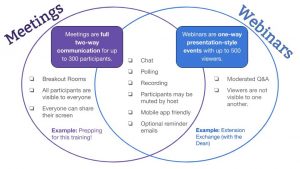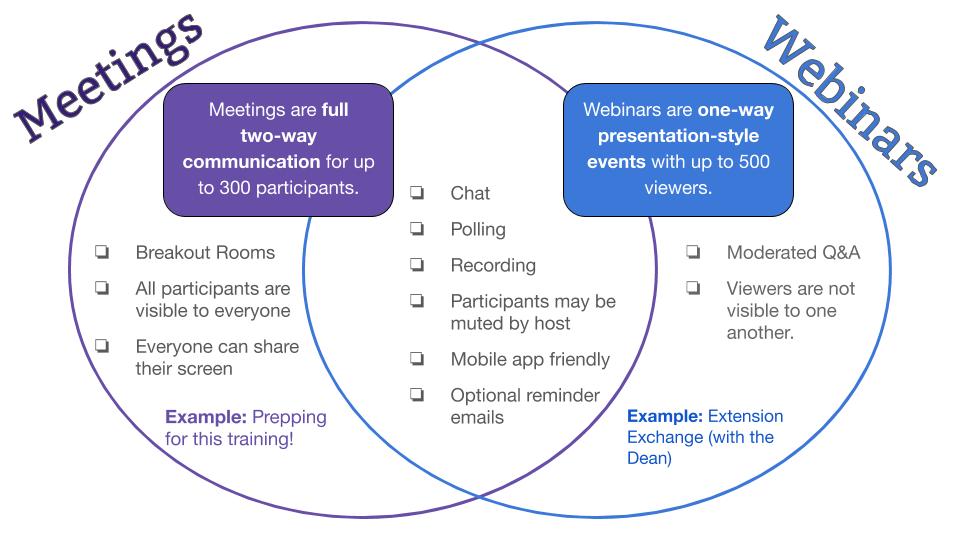 Your set-up for a Zoom just like any other video conferencing session.
Zoom Meeting Hardware:
A projector and flat surface/smart tv/Mondo Pad…you get the idea; you need to have a way to get the video from your computer to a bigger surface so everyone can see.

Computer- to run the Meeting

Camera- Zoom Meetings include two-way communication, so you need a camera to capture what's going on in your conference room.  This is usually the element that makes or breaks the potential for good interactive meetings.

Microphone/speakers- for your incoming and outgoing sound. This could work with your conference calling phone system (the one use likely have for group Wislines), or be part of the computer set-up.
Zoom Webinar Hardware:
A projector and flat surface/smart tv/Mondo Pad…you get the idea; you need to have a way to get the video you are watching on to a bigger surface so everyone can see.

Computer- to run the Meeting

Speakers- so you can all hear what the presenters are saying
This seems like a lot of stuff. It can be, or it can be as few as 1 thing. There are lots of different set-ups that are going to get the job done for lots of different budgets. Most offices have a projector and a laptop computer. 
The phone number for a Zoom Meeting or Webinar should be included in the email you received telling you about the session. If it is not, please contact the organizer of the meeting. The organizer can find that info by going to zoom.us, logging in to their account and copying out the invitation for the specific session.  There will be 2 phone numbers on the invitation. You may use either number.
No. We will no longer be supporting 800 numbers.
Check out this short Zoom video!
https://support.zoom.us/hc/en-us/articles/201362473-Local-Recording
If you were the person to hit the record button, your recording is located somewhere on your computer as we are not using cloud-based recording at this time. Please check out this quick video to find recordings on your computer.
Accessing Local Recording Files
By default, all recordings will be placed in a Zoom folder found in the following file path on these devices:
PC: C:\Users\User Name\Documents\Zoom
Mac: /Users/User Name/Documents/Zoom
To access recording files:
Open the Zoom desktop client and click Meetings.

Click the Recorded tab and select the meeting with a local recording.

You will need to have a Zoom Licensed (Pro) Account to create audio-only sessions. While we do have an audio-only option, we would greatly encourage you to add video! Decide to have a Meeting instead and have anyone who wants to use video. You can always have people who are not interested or able and people with a low connection quality call in. The value you will gain by seeing your colleagues' faces and reactions cannot be measured.  
For more information check out our Zoom Personal Audio Conference page.
Need more help? Zoom has a wealth of training materials, tips, and support for when you need something at your fingertips.
Also find short videos covering popular "How to" topics like:
For more quick videos, visit Zoom's Video Tutorials Library 
Live Support
Zoom has 24/7 365 Support for questions 
Users are able to chat with Zoom's live agents when logged into the web portal or on Zoom's Help Center site by clicking on the Help icon that is usually located on the bottom right corner of each web page.

Dial-In assistance:
US: +1.888.799.8854 (

or)

+1.650.397.6096 ext. 2