Have a question? Search our Frequently Asked Questions below. You'll also find Zoom support at the bottom of this page.
"Zoom-Bombing" is the unfortunate act of uninvited people coming into a Zoom Meeting and sharing unwanted content through various Zoom tools. Zoom-Bombing is a potential issue for all Zoom users, not just the Divison of Extension.
Here are the best practices for hosting Zoom Meetings which are open to the public.  
Zoom Web Portal:
Go to https://uwmadison.zoom.us
Click on Sign in.
If you are redirected to UW-Madison NetID login page, please enter your NetID and password credentials.
Zoom Desktop Client: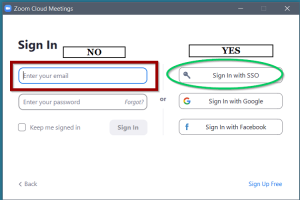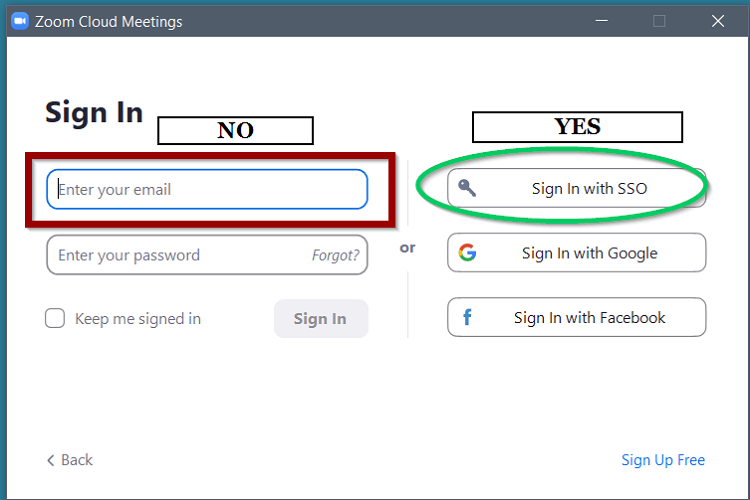 If applicable, download the Zoom Client for Meetings desktop client.

Once the desktop client is installed, click the Sign In with SSO option.
If prompted to enter your domain, enter: uwmadison.
If prompted, enter your netid@wisc.edu email address, then click Continue.
If prompted, enter your NetID credentials on the UW-Madison NetID login page. Important: If you are currently signed in with this same account on another device, you will be signed out of that device.
If you would like the Zoom desktop client to automatically run when your computer starts up, you can follow the steps below:
Windows:
Open the Zoom desktop client.
Click on your profile picture at the top right and click Settings.
Click on General and then check the box that says, "Start Zoom when I start Windows".
Mac:
Right-click on the Zoom app in the dock.
Select Options, then click on Open at Login.
Zoom Mobile Client
Download/install the Zoom mobile client for your device.
Run/open the Zoom mobile client.
On the "Sign In" screen, scroll to the bottom of the screen and select SIGN IN WITH – SSO option.
If prompted to enter your domain, enter: uwmadison and click Continue.
If prompted, enter your NetID credentials on the UW-Madison NetID login page.
No. Only one person needs a Pro Account in each Zoom Meeting or Zoom Webinar.
These are tip sheets that you can use for quick reference or printing. They are designed to help you utilize the best features of Zoom when you need them most.
We are asking that you use the headset. If you use the mic on your camera in a Zoom Meeting or Webinar with 2-3 people, you will likely not have any issues. However, with more people comes more potential for issues and feedback that can ruin the presentation for you and for others. The chances of feedback and garbled audio increased with each user. Sometimes even one person without a headset will unintentionally cause audio chaos. Don't be that person.
If you have a headset with two plugs (one green and one pink) we recommend disposal. They served us well, but USB headsets are going to do a much better job. If you just can't bear to dispose of technology, 3.5 to USB adapters cost about $7.
Have everyone put their headset on. Feedback is caused by a sound loop. The sound comes out of your speakers and then your microphone "hears" the sound from the speakers then sends it through to the other end. That happens again and again and again causing an echo sound or high pitched noise. If you separate the two sounds (say with a headset where the sound is going directly into your headphones) the feedback will stop. You avoid feedback in a conference room or group setting by using quality equipment that is designed to separate incoming and outgoing audio.
In a nutshell, Zoom Meetings are designed for up to 100 people to have two-way communication. Everyone's camera can be on and everyone can participate to their level of comfort. Webinars are designed for up to 500 people using mostly one-way communication. The host and presenters have active cameras and microphones; everyone else can only use the chatbox to communicate.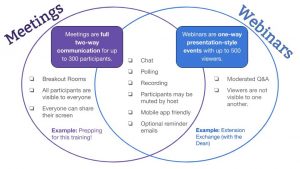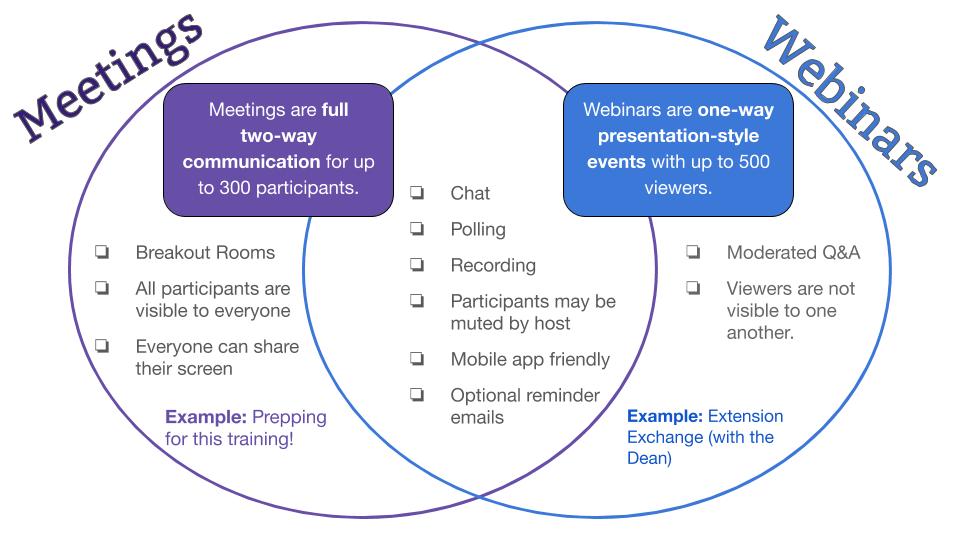 Your set-up for a Zoom just like any other video conferencing session.
Zoom Meeting Hardware:
A projector and flat surface/smart tv/Mondo Pad…you get the idea; you need to have a way to get the video from your computer to a bigger surface so everyone can see.

Computer- to run the Meeting

Camera- Zoom Meetings include two-way communication, so you need a camera to capture what's going on in your conference room. This is usually the element that makes or breaks the potential for good interactive meetings.

Microphone/speakers- for your incoming and outgoing sound. This could work with your conference calling phone system (the one use likely have for group Wislines), or be part of the computer set-up.
Zoom Webinar Hardware:
A projector and flat surface/smart tv/Mondo Pad…you get the idea; you need to have a way to get the video you are watching on to a bigger surface so everyone can see.

Computer- to run the Meeting

Speakers- so you can all hear what the presenters are saying
This seems like a lot of stuff. It can be, or it can be as few as 1 thing. There are lots of different set-ups that are going to get the job done for lots of different budgets. Most offices have a projector and a laptop computer.
The phone number for a Zoom Meeting or Webinar should be included in the email you received telling you about the session. If it is not, please contact the organizer of the meeting. The organizer can find that info by going to zoom.us, logging in to their account and copying out the invitation for the specific session. There will be 2 phone numbers on the invitation. You may use either number.
No. We will no longer be supporting 800 numbers.
Check out this short Zoom video!
https://support.zoom.us/hc/en-us/articles/201362473-Local-Recording
If you were the person to hit the record button, your recording is located somewhere on your computer as we are not using cloud-based recording at this time. Please check out this quick video to find recordings on your computer.
Accessing Local Recording Files
By default, all recordings will be placed in a Zoom folder found in the following file path on these devices:
PC: C:\Users\User Name\Documents\Zoom
Mac: /Users/User Name/Documents/Zoom
To access recording files:
Open the Zoom desktop client and click Meetings.

Click the Recorded tab and select the meeting with a local recording.
UW Madison has very specific Recording Settings. Local, cloud, and automatic recording options are turned off by default. In a physical classroom, there is an expectation that people in the classroom are not being recorded. In virtual classrooms, this same expectation exists, and because it is not obvious when a meeting is being recorded there is a mandatory opt in feature that is in place for all recorded meetings. See https://kb.wisc.edu/105646 for more information.
Need more help? Zoom has a wealth of training materials, tips, and support for when you need something at your fingertips.
Also find short videos covering popular "How to" topics like:
For more quick videos, visit Zoom's Video Tutorials Library For answers to most questions, please search the UW Madison Zoom KnowledgeBase.For other questions about UW–Madison Zoom, contact the Help Desk.