Jump directly to Zoom Training Information or Zoom Help
Inviting the Public to your Zoom Event
Zoom Bombing is a real threat for our programing efforts. Zoom Bombing occurs when bad actors join your Zoom event for nefarious reasons. These can vary from being a nuisance to disrupting the event with malicious content and visuals. In order to protect your Zoom event from this type of disruption, you should consider the following:
Never share a URL to a Zoom meeting via Social Media, on a Website or via a printed document.
Use some form of registration for any Zoom event with the public. You can use Zoom's built in registration or other tools such as Google Forms or Qualtrics to track user registration. Only share connection information with registered users.
Learn how to manage your meeting participants in Zoom. Knowing how to quickly remove a participant and if need be lock a meeting are critical skills to utilize in order to keep your event secure.
For more information on Zoom meetings for External audiences, please see the links below.
Updated Meeting Settings and Video Tutorials
Meeting Settings for Internal Extension Employees
—Video Tutorial
Meeting Settings for External Audiences
—Video Tutorial
UW DoIT Zoom FAQ
https://kb.wisc.edu/zoom/105255
How do I sign into Zoom?
From Zoom Web Portal:
Go to https://uwmadison.zoom.us
Click on Sign in.
If you are redirected to UW-Madison NetID login page, please enter your NetID and password credentials.
Zoom Desktop Client:
If applicable, download the Zoom Client for Meetings desktop client.
Once the desktop client is installed, click the Sign In with SSO option.
If prompted to enter your domain, enter: uwmadison.
If prompted, enter your netid@wisc.edu email address, then click Continue.
If prompted, enter your NetID credentials on the UW-Madison NetID login page. Important: If you are currently signed in with this same account on another device, you will be signed out of that device.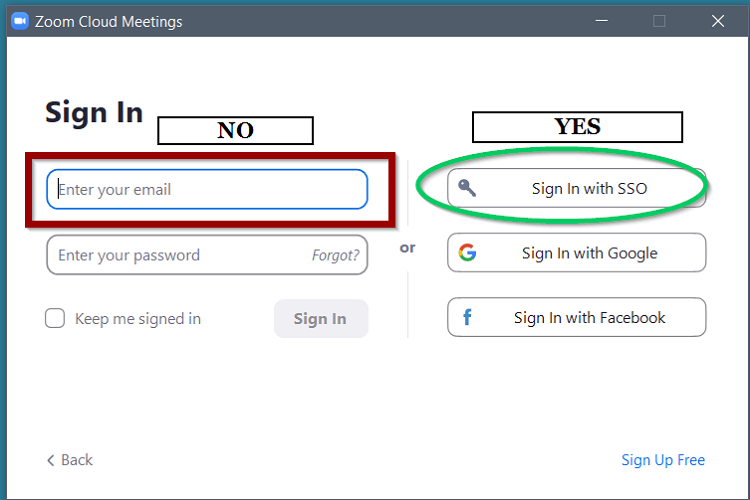 More Information