Community development is about working collectively, within a community, to address common interests. In communities throughout Dane County, residents work together to improve their communities through a variety of organizational structures, including non-profit organizations, neighborhood associations, informal groups, and project-based initiatives.
All communities have strengths, history, and assets. We follow an asset-based approach to community development, which "draws upon existing community strengths to build stronger, more sustainable communities for the future."  Asset based community development (ABCD) seeks to discover community capacity and assets, build local knowledge and skills, encourage self-help actions, and to enhance the existing resources of local communities.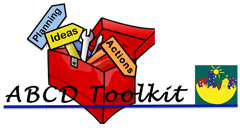 If you are a community based organization seeking assistance in asset based community development or community-based program planning and evaluation, please contact us!
---
Related Pages
Community Development Project in Ghana 2017 Creating a Farmer's Cooperative Final Report
Strengthening a Cocoa Grower's Association in the Ashanti Region of Ghana  Final Report 2018