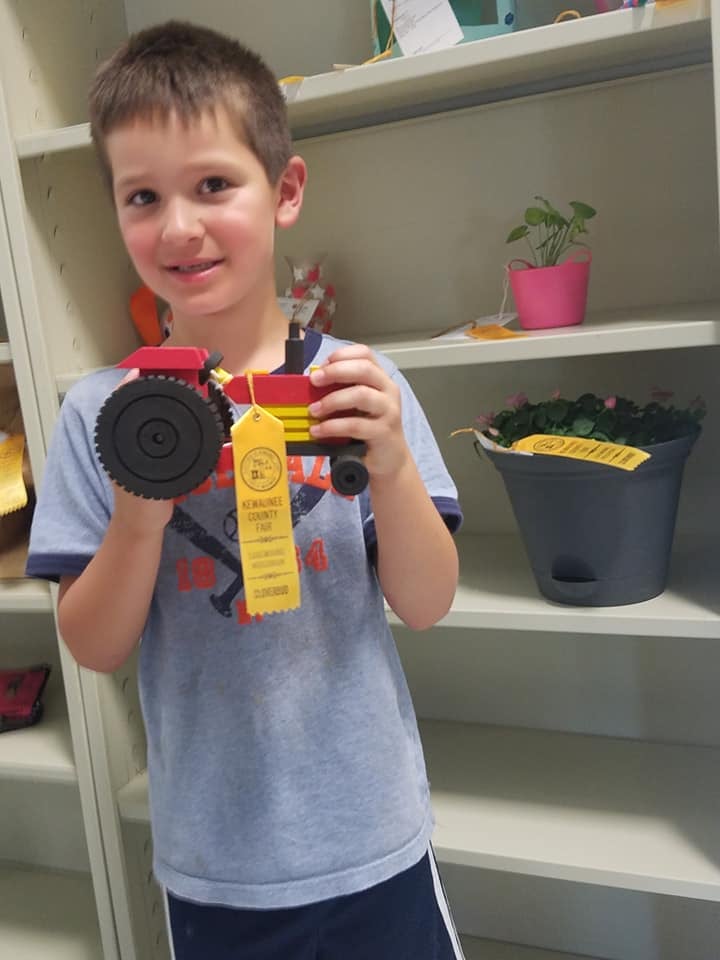 Building a Safe and Positive Experience
A young child doesn't need a subject expert or even an expert in 4-H – they need you to provide a safe and supportive experience that guides them in exploring new things and having fun.
We can't wait to see what youth will do, learn, and achieve in 4-H. To start, parents/caregivers and youth may be wondering what it means to join a project. If you have questions about projects, this page might help.
If the youth is a new member in grades 5K-2 in Wisconsin 4-H, it means they belong to the Cloverbud Project. Youth in these grade levels are also sometimes called Cloverbuds. It is the only project that youth in this age group are allowed to sign up for, because it is the only project that is designed just for them.
We encourage youth and families to use Cloverbuds—their first 4-H project—to dip their toe in the water, find out what is possible with 4-H, and get to know their club and community in a new way. Become a volunteer today!
---
Fun craft ideas:
A great way for teens to connect to Cloverbuds, and also for members to get some exercise indoors during the cold winter months.
_______________________________________________________________________________________________
Wisconsin 4-H Cloverbud Learning Activities
Wisconsin Cloverbud learning activities can be used in a variety of settings, including 4-H club meetings, Cloverbud project meetings, day camps and afterschool programs.
Each activity features a different 4-H project area and targets the development of developmentally appropriate life skills. The instructions were tested to be easy to follow for both youth and adult leaders, using materials that are relatively low-cost and easy to obtain.
While each of the activities could be used as stand-alone, they are grouped together for year-long sequence of Cloverbud activities.
Better Bubbles
Mix two different bubble solutions and test which one makes bigger and stronger bubbles.
Build a Snack Mix
How can your group create a snack that everyone enjoys? Work together to make a group snack mix.
Building a Web
Use teamwork to create a giant spider web and discover what makes webs strong.
Edible Color Wheel
Learn about the color wheel using graham crackers and frosting, and think like an artist to create your own color.
Make a Mini-Greenhouse
A recycled CD case becomes a mini-greenhouse where radish seeds sprout into seedlings – right before your eyes!
Paper Bag Pet Parade
Make a paper bag pet and teach it some tricks, then share your tricks with your friends during a special paper bag pet parade.
Pop-Up Greetings
Thank a helper with your own 3-D creation! Identify helpers in your community and create a unique 3-D card to thank them.
See the Wind
Use a simple windsock to measure wind direction and speed, and construct your own version to decorate your front porch.
Wake Up Your Tastebuds
We all have favorite foods…but how did they become favorites? Have a mini taste test to introduce new foods and maybe find a new favorite.
_____________________________________________________________________________________________
Wisconsin 4-H Afterschool Activities
Other activities appropriate for K-2 youth can be found at the Wisconsin 4-H Afterschool curriculum resources website. Resources include activities, games and project area series designed for multi-aged audiences.
______________________________________________________________________________________________
Additional Resources
National 4-H Council Curriculum
4-H Mall
There are 4 different activity packets available from the 4-H Mall Website. They all come with with guides and vary in price.
Other University Extension Services – Activities and Resources
Iowa State University Extension
CloverKids lessons, CloverKid Connections Blog, and suggested websites for K-3 resources. All materials can be downloaded free of charge on the Iowa State 4-H website
Ohio State University Extension
Ohio State Extension has a variety of Cloverbud materials and activity guides for sale or download: Ohio State Extension Website. Look for the Big Book of 4-H Cloverbud Activities, a new resource added in 2016.
Ohio Cloverbud Connections Newsletter
Each quarterly newsletter features research based activities, suggestions for leaders, and a healthy snack idea. On the website, you can find an archive of all the past activities featured on the "Click it, Print it, Do it" link on the left hand menu. All materials can be downloaded free of charge.
Michigan State University Extension
Kaleidoscope Leader's Guide and Member Packet include plans for meetings on 12 different topics. Materials can be downloaded free of charge on the Michigan State University Extension website
Montana State University
Montana 4-H Cloverbud Manual includes activity guides for Cloverbud project exploration in the areas of Science and Technology, Environment, Family and Consumer Science among others. Materials can be downloaded free of charge on the Montana State University Extension website
Texas A & M Extension Service
YEA 4-H! An Afterschool Learning Adventure (grades K-2) is designed for afterschool settings and 4-H Cloverbud groups. You can purchase the curriculum CD featuring 1200 pages containing five lessons in 23 subject areas; newsletters for parents in English and Spanish, and community service ideas. (Cost = $50): http://agrilifebookstore.org
Utah State University Extension
Utah State Extension has a variety of activity plans on their Discover 4-H Clubs website. Scroll down to find activity plans and more information on Cloverbuds.
Wisconsin Media Lab
As part of Wisconsin's public broadcasting system, Wisconsin Media Lab curates cost-free KG-12 multimedia educational content. Their award-winning classroom resources connect to Wisconsin's academic standards, span all curricular areas and are vetted by Wisconsin educators. Search by grade and subject for Wisconsin resources or click on PBS Learning Media to access the National PBS Website.
__________________________________________________________________________________________
STAFF
If you have any questions regarding 4-H Youth Development in Kewaunee County, please contact:
Erin Dahle – Program Assistant
(920) 388-7141
erin.dahle@wisc.edu