2021 Dane County Tractor Safety Program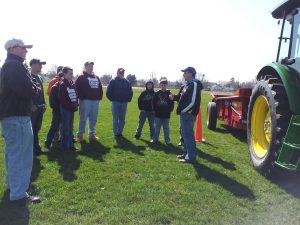 Registration is currently closed for the 2021 Dane County Tractor and Machinery Safety Program.
*If your child is interested in taking the youth Tractor Safety Program.  Please send an email to Alissa Grenawalt at Grenawalt.Alissa@countyofdane.com to be added to a waiting list.  If there is enough interest, a second offering of the program may be added.
Here are some important details to read before signing up for this years course:
Instruction for this 24 hour program will combine online learning technology and in-person training.  Attendance is required for both virtual/in-person sessions.

Students will need a computer to access a pilot online course and participate in group Zoom sessions.

In person sessions will be held to provide driver training and testing.

Independent study and driving practice are part of the program requirements.

Students must be age 12 to enroll in the program.

A written and driving exam must be passed to successfully complete this program for certification.

Cost will be $100 per student.
Program is open to students in and around Dane County.
Registration closes May 24th or until filled.  Course is limited to 20 students so register early.
To register for the Dane County Tractor and Machinery Safety Program click here:
To view other Tractor Safety programs being held in Wisconsin, you can view them here: Youth Tractor Safety – Agricultural Safety & Health (wisc.edu). 
Please reach out to Alissa Grenawalt, Dane County Ag in the Classroom coordinator for any additional questions at: (608)-224-3728 or email at:  Grenawalt.Alissa@countyofdane.com

Learn more about  the Youth Tractor & Machinery Safety Program:
The Tractor and Machinery Safety course certifies youth under 16 to operate tractors on public roads or work near dangerous equipment on farms. This certification allows 12 and 13 year olds to drive equipment on public roads for their parents' farm, while 14 and 15 year-olds are certified to work for extended family and non-family members. Certification is obtained by successfully completing the Tractor and Farm Machinery Safety Training Course including a written and tractor driving exam. 
To learn more about the rules and regulations of the Youth Tractor Safety Program in WI as well as other class offerings across the state, you can also check out the Ag Safety and Health page at: Youth Tractor Safety – Agricultural Safety & Health (wisc.edu)
The University of Wisconsin-Madison Division of Extension provides affirmative action and equal opportunity in education, programming and employment for all qualified persons regardless of race, color, gender, creed, disability, religion, national origin, ancestry, age, sexual orientation, pregnancy, marital or parental, arrest or conviction record or veteran status.
 La University of Wisconsin-Madison Division of Extension proporciona acción afirmativa e igualdad de oportunidades en educación, programas y empleo para todas las personas calificadas, sin tener en cuenta la raza, color, género, credo, discapacidad, religión, origen nacional, ascendencia, edad, orientación sexual, gravidez, estado civil o de paternidad, historial de detención o condena, o estado de veterano de guerra.
 Lub Tsev Kawm Ntawv Qib Siab (University of Wisconsin-Madison Division of Extension) pab rau tsoom fwv kev pom zoo thiab ncaj ncees nyob rau kev kawm ntaub ntawv, kev pab cuam thiab kev ua hauj lwm rau tag nrho cov neeg tsim nyog ua tau tsis tas hais yog haiv neeg twg, xim tawv nqaij twg, poj niam txiv neej, kev ntseeg, cov neeg puas cev xws li tes taw, kev ntseeg ntuj, kev tuaj txawv teb chaws tuaj, kev poj koob yawm txwv, hnub nyoog, kev xaiv ntawm kev daj dee, kev xeeb tub, kev muaj txij nkawm los yog ua niam txiv, kev rau txhom los yog muaj txim raug kaw los yog ua qub tub rog