A conditional use or special exception is a tool designed to introduce flexibility into the zoning ordinance. For each zoning district, the ordinance will usually describe uses that are allowed by right, uses that may be allowed if specified standards are met, and uses that are prohibited. The second type of use is known as a conditional use, special use or special exception. Exceptions may also be made for minor deviations from dimensional requirements (such as setbacks or height limits), and for specified construction activities (such as filling and grading near navigable waters). Throughout the remainder of the text, these terms will be considered together and referred to as conditional uses.
A conditional use must be specifically listed in the zoning ordinance.1  Unlike a permitted use, however, a conditional use is not allowed by right at all locations in a district. Rather, it must undergo special review by the plan commission, governing body, or zoning board to determine if it is appropriate for the site.
The local zoning ordinance should identify which body has authority to decide conditional use permits.2 If the governing body is authorized to decide conditional uses, it may request a recommendation from the plan commission.3
Conditional Use or Special Exceptions?
Wisconsin courts have utilized the terms conditional use, special use, and special exception interchangeably. However, some Wisconsin communities make a distinction.
Conditional use is generally used to refer to specified uses of a property that may be allowed under certain circumstances (i.e. gas station, landfill).
Special exception is more commonly used to refer to minor deviations from dimensional requirements (i.e. setback, height).
Adapted from: Olson, Daniel M. "Zoning Tools: Conditional Uses and Special Exceptions." The Municipality, October 2008. League of Wisconsin Municipalities.
Process for Deciding Conditional Use Permits
The process for deciding conditional use permits should be described in the local zoning ordinance. Common steps are outlined below:
Application for conditional use permit. The application for a conditional use permit must be complete by the first time that notice is given for the final public hearing on the matter, unless an ordinance expressly allows later submission of information.4 The applicant has the burden of proof of showing that they meet the standards outlined in the local ordinance.5
Notice and public hearing. Because the decision to grant or deny a conditional use permit is quasi-judicial, local decision-makers must follow the rules of procedural due process. Among other things, this means that testimony should be limited to the public hearing, decisions should be based on pre-determined standards, and decision-makers should be impartial. Public notice requirements.
Decision by governing body, plan commission or zoning board. The authorized permit review body has authority to grant or deny the permit.6 based on general or specific standards laid out in the local zoning ordinance.7 These standards often relate to site suitability or compatibility with neighboring land uses due to factors such as noise, odor or traffic. The applicant must demonstrate that the proposed project complies with each standard in the ordinance. The permit review body may impose conditions on development consistent with the ordinance standards and objectives.8
Filing and notice of decision. The decision to grant or deny the permit, including any associated conditions, should be promptly filed in the planning and zoning office and provided to the landowner. A reasonable time limit within which an appeal may be filed should be specified in the local zoning ordinance. If no such provisions are made, the appeal period begins when an aggrieved party finds out about the decision9 or is given notice of the decision.10
Notice Requirements
Advance notice of meetings or hearings to decide conditional use permits should be provided to the following parties:
News media. Notice must be provided in writing or by phone, fax or email to any news media that have filed a written request. Notice must also be provided to the government unit's official newspaper, or if there is no official newspaper, to other media likely to give notice in the affected area.11
Parties in interest. Notice should be mailed to 'parties in interest' including the applicant, nearby property owners, and others as specified by local ordinance.12 Many counties provide notice to affected towns, but are not specifically required to do so by statute.
Department of Natural Resources. Written notice must be provided to the appropriate local DNR office at least 10 days prior to hearings for shoreland, shoreland-wetland, and floodplain zoning.13
How Do You Develop Conditions
Conditions are usually developed in one of three ways.  They may be:
listed in the local zoning ordinance for the district,
recommended by zoning staff during the public hearing or in a staff report, or
developed by the permit review body at the conclusion of the public hearing.
Permit conditions that are routinely imposed for similar projects should be adopted by ordinance as minimum standards for approval.  Incorporating standards in the ordinance allows permit applicants to anticipate and plan for design, location, and construction requirements.
Attaching and Tracking Conditions
Conditions attached to a conditional use permit should be designed to diminish the adverse impacts of the use on the district. For example, a daycare facility might be allowed as a conditional use in a residential district subject to parking, fencing and signage requirements.
Conditions must be reasonable and relate to a legitimate regulatory purpose, such as public health, safety or welfare.14 Conditions are generally legal and acceptable provided they meet the following tests:
Essential Nexus Test. The limitation must be designed to remedy a harm to public interests or to address a need for public services likely to result from the proposed development.15
Rough Proportionality Test. The limitation must be commensurate with the extent of the resulting harm or need for services.16
To assist in monitoring conditional use permits, the plan commission may require compliance reporting as a condition of the permit. Compliance reporting may be requested on a periodic basis or upon transfer of the property. This type of review does not give the plan commission the ability to attach new conditions, unless the permit is revoked due to noncompliance. Therefore, it is important for the plan commission to consider all potential problems associated with the conditional use at the time the permit is issued. An effective means to provide subsequent property owners with notice of permit conditions is with an affidavit recorded with the deed.
Time Limits, Modification and Revocation of Permits
Once a conditional use permit is granted, subsequent owners of the property are generally allowed to continue the use subject to limitations imposed in the original permit.17 However, there are some exceptions to this rule. Communities may issue a limited-term permit for uses that are temporary in nature, such as a gravel pit or annual concert series. Permits can also be revoked or conditions added if the owner changes the use or violates permit conditions.18 Revoking a conditional use permit is not considered a taking without just compensation because a conditional use permit is a type of zoning designation and not a property right.19
If a zoning code amendment removes the conditional use that was the basis for a permit, the conditional use permit becomes void.20 In situations like this, the use is allowed to continue as a nonconforming use. However, the permit conditions are not enforceable.
Conditional Use Permit Application and Appeals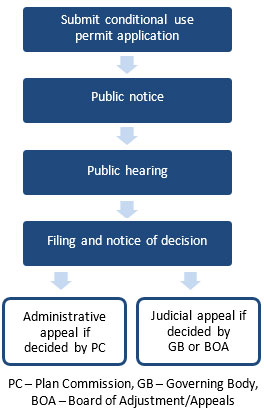 Reconsideration and Appeal of Decisions
A person who is dissatisfied with a decision of the plan commission may ask to have their case reheard multiple times hoping for the answer they desire. Courts have found that requests for re-hearings can be denied unless there is a significant change in the project proposal, new information relevant to the decision, or a reversible error in the original process or decision.21
Likewise, a person may appeal a decision of the plan commission. Appeal of conditional use decisions is handled differently depending on the body that made the initial decision to grant or deny the permit.  The diagram below shows the relationship between the initial decision-making body and the appropriate appeal body. Conditional use decisions of the plan commission are appealed to the zoning board of adjustment or appeals, unless the ordinance provides an alternate mechanism of appeal to the governing body.22 Conditional use decisions of the governing body or zoning board are appealed directly to circuit court.23
---
Watch Now: Conditional Uses
An overview of conditional land uses.
---
1Foresight, Inc. v. Babl, 211 Wis. 2d 599,565 N.W.2d 279 (Ct. App. 1997).
2Wis. Stat. §§ 59.694(1) & (7)(a) and 62.23(7)(e)1 & 7.
3A member of the governing body who serves on the plan commission should not participate in both decisions.  League of Wisconsin Municipalities, Zoning Caption 445.
4Weber v. Town of Saukville, 209 Wis. 2d 214, 562 N.W.2d 412 (1997).
5Edward Kraemer & Sons, Inc. v. Sauk County Bd. of Adjustment, 183 Wis. 2d 1, 515 N.W.2d 256 (1994).
6Village of DeForest v. County of Dane, 211 Wis. 2d 804, 816, 565 N.W.2d 296 (Ct. App. 1997).
7Edward Kraemer & Sons, Inc. v. Sauk County Bd. of Adjustment, 183 Wis. 2d 1, 515 N.W.2d 256 (1994).
8Rainbow Springs Golf Co. v. Town of Mukwonago, 2005 WI App 163, 284 Wis. 2d 519, 702 N.W.2d 40.
9State el. rel. DNR v. Walworth County Bd. of Adjustment, 170 Wis. 2d 406,414, 489 N.W.2d 631 (Ct. App. 1992).
10State ex. rel. Brookside Poultry Farms, Inc. v. Jefferson County Bd. of Adjustment, 131 Wis. 2d 101, 117-18, 388 N.W.2d 593 (1986).
11Wis. Stat. § 19.84.
12Wis. Stat. §§ 59.694(6) & 62.23(7)(e)6 which apply to zoning boards deciding appeals, variances and conditional use permits.  Presumably, the requirements also apply to the governing body or plan commission.
13Wis. Admin. Code §§ NR 115.05(4)(h) & NR 116.20(2)(c).
14Lessard v. Burnett County Bd. of Adjustment, 2002 WI App 186, 256 Wis. 2d 821, 649 N.W.2d 728.
15Nollan v. California Coastal Commission, 483 U.S. 825, 107 S. Ct. 3141, 97 L.Ed.2d 677 (U.S. 1987).
16Dolan v. City of Tigard, 512 U.S. 374, 114 S. Ct. 2309, 129 L.Ed.2d 304 (U.S. 1994).
17See Rohan, Zoning and Land Use Controls, sec. 44.01[4], p. 44-18, and Anderson, American Law of Zoning 3d, vol. 3, sec. 21.32, p. 754-5.
18Action may be taken following notice and a public hearing.  Hartland Sportsman's Club v. Town of Delafield, 35 F.3d 1198 (7th Cir. Wis. 1994) and Bettendorf v. St. Croix County Bd. of Adjustment, 224 Wis. 2d 735, 591 N.W.2d 916 (Ct. App.1999).
19Rainbow Springs Golf v. Town of Mukwonago, 2005 WI App 163, 284 Wis. 2d 519, 702 N.W.2d 40.
20Hussein v. Village of Germantown Bd. of Zoning Appeals, 2011 WI App 96, 334 Wis. 2d 764, 800 N.W.2d 551.
21Tateoka v. City of Waukesha Bd. of Zoning Appeals, 220 Wis. 2d 656, 583 N.W.2d 871 (Ct. App. 1998); Goldberg v. Milwaukee Bd. of Zoning Appeals, 115 Wis. 2d 517, 340 N.W.2d 558 (Ct. App. 1983)
22League of Woman Voters v. Outagamie County, 113 Wis. 2d 313, 334 N.W.2d 887 (1983); State ex. rel. Brookside Poultry Farms, Inc. v. Jefferson County Bd. of Adj., 131 Wis. 2d 101, 388 N.W.2d 593 (1984).
23Town of Hudson v. Hudson Town Bd. of Adjustment, 158 Wis. 2d 263, 461 N.W.2d 827 (Ct. App. 1990); Magnolia Twp. V. Town of Magnolia, 2005 WI App 119, 284 Wis. 2d. 361, 701 N.W.2d 60.

Resources
Back
Next