The primary role of a zoning board is to review and decide cases where a relaxation of the ordinance is sought or where there is an alleged error in a zoning decision.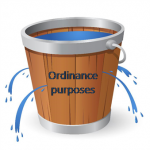 If the purposes of a zoning ordinance are held in a bucket, and variances (leaks) are granted that compromise ordinance purposes, then over time the purposes of the ordinance are lost.
Zoning boards make the following types of decisions:
Variance. Allowing a property owner to do something prohibited in the zoning ordinance.
Administrative appeal. A legally contested order or decision of the zoning official or planning and zoning committee.
Conditional use/Special exception.  A use or dimensional exception listed in the zoning ordinance that is not permitted by right but may be granted if certain conditions are met. Zoning boards only have this authority if authorized by local ordinance.
The zoning board may only grant a variance, special exception or administrative appeal if the applicant meets their burden of proof by providing evidence that they meet all of the legal standards for that decision.
All zoning board decisions are quasi-judicial decisions, meaning that the zoning board members act like judges and apply the laws as currently written. When deciding variances, conditional uses and administrative appeals, zoning board members
investigate facts gathered from the application, staff report and possibly an on-site visit,
hold hearings, during which they ask questions of the property owner/agent, zoning staff, neighbors and other interested parties,
weigh evidence,
draw conclusions, and
use this information as the basis for their official decisions.
When making decisions, zoning board members must:
Discuss the applications only during the hearing. See Chapter 6 of the Zoning Board Handbook for more details.
Apply the legal standards from the local ordinances, state statutes and case law.
In addition, if the zoning board finds that an applicant has met all of the legal standards, the zoning board may apply conditions to the permit.