Welcome to the Wisconsin First Detector Network!
The Wisconsin First Detector Network (WIFDN) is a citizen science network that empowers people to take action against invasive species through invasive species monitoring, management, and outreach. WIFDN provides training and resources through a combination of webinars, instructional videos, and hands-on workshops, in addition to providing volunteer opportunities to citizen scientists.
---
News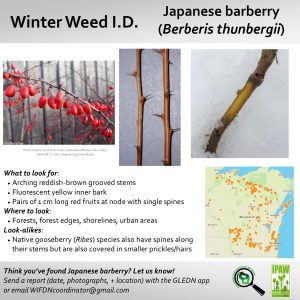 ---
Upcoming Events
Thursday, March 4th, 10-11 am: Preventing and Controlling Invasive Plants on Rights-of-Way webinar (Free, registration required)
Thursday, March 4th, 6-7 pm: Lakeshore Invasive Plants Webinar (Free, registration required)
---
Learn more about WIFDN
Invasive species are considered to be the number two threat to biodiversity, second only to habitat loss. The effects of invasive species are increasingly evident on Wisconsin's landscape. Despite efforts by federal and state agencies, non-native insects, plants and diseases continue to establish and spread throughout our state, impacting our economy and environment. While some of these pests are here to stay, many others have not yet been found in Wisconsin, and still more are found at low enough levels that eradication may be possible. Efforts to prevent new introductions and to identify new infestations before they become well established are the best way to ensure the survival of many of Wisconsin's iconic plants, animals, and ecosystems.
By joining Wisconsin First Detector Network, you will have access to online training resources brought to you by invasive species experts from across the state. Training topics include terrestrial and aquatic invasive species biology, identification, and reporting. We emphasize species of concern to Wisconsin (e.g. emerald ash borer, late blight, giant hogweed), but we also discuss general resources for other species. We invite participants who are already doing invasive species volunteer work in Wisconsin, as well as people who are looking for new volunteer opportunities. Consider becoming a First Detector and help improve our network and minimize the impact and spread of invasive species in Wisconsin!
For more information
Anne Pearce, WIFDN Coordinator
WIFDNcoordinator@gmail.com
608-262-9570
1575 Linden Drive
Madison, WI 53706