Welcome to the Wisconsin First Detector Network!
The Wisconsin First Detector Network (WIFDN) is a citizen science network that empowers people to take action against invasive species through invasive species monitoring, management, and outreach. WIFDN provides training and resources through a combination of webinars, instructional videos, and hands-on workshops, in addition to providing volunteer opportunities to citizen scientists.
---
News
72 Counties, 10 Reports Each
The WIFDN County Challenge is live! You can complete the challenge by being the first person to submit an invasive species report in 2019 from your county.
This year, WIFDN has an additional monitoring challenge in celebration of Wisconsin Citizen-Based Monitoring Network's 15th anniversary! Our WBCM at 15 goal is to receive at least 10 reports from each of our 72 counties. You can get involved by submitting invasive species reports, reading more about the WCBM at 15 goals, and taking the WCBM at 15 Pledge. Track our progress at our interactive map by clicking the picture below!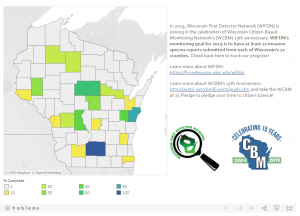 ---
Upcoming Events
Friday, January 24th, Winter I.D. and Management at Riveredge Nature Center in Saukville (registration required)
Friday, February 7th – Sunday, February 9th, Wisconsin Garden Expo in Madison. Join us at 10:30 on Sunday morning for a seminar on choosing non-invasive plants for your yard. 
Friday, March 20th – Saturday, March 21st, Wisconsin Citizen Based Monitoring Conference at the Holiday Inn in Manitowoc
Saturday, April 25th, Citizen Science Training at Navarino Nature Center in Shiocton (stay tuned for registration information)
Thursday, April 30th, Citizen Science Training at Spooner Agricultural Research Station (stay tuned for registration information)
Friday, May 1st, Citizen Science Training at Willow River State Park in Hudson (stay tuned for registration information)
---
Learn more about WIFDN

Invasive species are considered to be the number two threat to biodiversity, second only to habitat loss. The effects of invasive species are increasingly evident on Wisconsin's landscape. Despite efforts by federal and state agencies, non-native insects, plants and diseases continue to establish and spread throughout our state, impacting our economy and environment. While some of these pests are here to stay, many others have not yet been found in Wisconsin, and still more are found at low enough levels that eradication may be possible. Efforts to prevent new introductions and to identify new infestations before they become well established are the best way to ensure the survival of many of Wisconsin's iconic plants, animals, and ecosystems.
By joining Wisconsin First Detector Network, you will have access to online training resources brought to you by invasive species experts from across the state. Training topics include terrestrial and aquatic invasive species biology, identification, and reporting. We emphasize species of concern to Wisconsin (e.g. emerald ash borer, late blight, giant hogweed), but we also discuss general resources for other species. We invite participants who are already doing invasive species volunteer work in Wisconsin, as well as people who are looking for new volunteer opportunities.
Consider becoming a First Detector and help improve our network and minimize the impact and spread of invasive species in Wisconsin!
For more information
Anne Pearce
WIFDN Coordinator
WIFDNcoordinator@gmail.com
608-262-9570
1575 Linden Drive
Madison, WI 53706