Welcome to the Wisconsin First Detector Network!
The Wisconsin First Detector Network (WIFDN) is a citizen science network that empowers people to take action against invasive species through invasive species monitoring, management, and outreach. WIFDN provides training and resources through a combination of webinars, instructional videos, and hands-on workshops, in addition to providing volunteer opportunities to citizen scientists.
---
News
2021 Volunteer Activities
Did you spend time monitoring or managing invasive species in 2021? Did you spend time teaching other people about invasive species? If so, we'd love to hear about it! Please take a few minutes to fill our our 2021 Volunteer Efforts survey.
GLEDN and EDDMapS Updates
For several years, WIFDN volunteers and partners have used the Great Lakes Early Detection Network (GLEDN) app to map and report invasive species. GLEDN is one of several regional apps developed and supported by the EDDMapS team. Now, instead of having slightly different apps for each region of the country, the EDDMapS team has developed the EDDMapS App. If you've been using GLEDN, you can keep using it! Eventually, GLEDN will be phased out. If you want to get started with the EDDMapS App, check out our new EDDMapS App quick guide!
Species Alert: Winged Burning Bush
Winged burning bush (Euonymus alatus) is an extremely popular ornamental shrub that has bright red fall foliage. Unfortunately, it easily spreads into natural areas (from birds eating the fruits), where it can create dense stands and shade out other species. Fall is the best time to look for burning bush in your local woodlands! Keep your eyes out for the bright red leaves, and send us a report if you think you've found burning bush growing where it was not intentionally planted!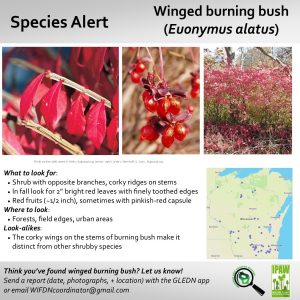 WIFDN 2020 Report
2020 was a year like no other, but WIFDN volunteers stayed as busy as ever! Check out our one-page recap of the year here!
---
Upcoming Events
Wisconsin Garden Expo, February 11th – 13th, 2022 in Madison
Upper Midwest Invasive Species Conference (UMISC), October 25th – 27th, 2022 in Green Bay
Learn more about WIFDN
Invasive species are considered to be the number two threat to biodiversity, second only to habitat loss. The effects of invasive species are increasingly evident on Wisconsin's landscape. Despite efforts by federal and state agencies, non-native insects, plants and diseases continue to establish and spread throughout our state, impacting our economy and environment. While some of these pests are here to stay, many others have not yet been found in Wisconsin, and still more are found at low enough levels that eradication may be possible. Efforts to prevent new introductions and to identify new infestations before they become well established are the best way to ensure the survival of many of Wisconsin's iconic plants, animals, and ecosystems.
By joining Wisconsin First Detector Network, you will have access to online training resources brought to you by invasive species experts from across the state. Training topics include terrestrial and aquatic invasive species biology, identification, and reporting. We emphasize species of concern to Wisconsin (e.g. emerald ash borer, late blight, giant hogweed), but we also discuss general resources for other species. We invite participants who are already doing invasive species volunteer work in Wisconsin, as well as people who are looking for new volunteer opportunities. Consider becoming a First Detector and help improve our network and minimize the impact and spread of invasive species in Wisconsin!
For more information
Anne Pearce, WIFDN Coordinator
WIFDNcoordinator@gmail.com
608-262-9570
1575 Linden Drive
Madison, WI 53706