WIFDN supports a variety of volunteer opportunities to fit your interests and schedule. Read about current opportunities below and stay tuned for new opportunities!
Report Invasive Species
Resource managers and researchers rely on citizen scientists across the state to report invasive species. Use the free Great Lakes Early Detection Network app to easily map invasive species and submit your reports to WIFDN! It takes less than a minute to create a report, so this opportunity fits into any schedule, any season.
Learn how to use the GLEDN app in this guide, or watch a training video here.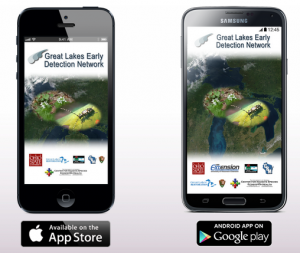 Detect Emerald Ash Borer with the Wasp Watchers Project
Help survey for invasive emerald ash borer (EAB) and its relatives by walking your local baseball field! One of Wisconsin's native, stingless wasps, Cerceris fumipennis, provisions its nests with metallic wood boring beetles like EAB. And, you guessed it, the wasps nest in sandy areas, like baseball fields. The project runs from June – September each year. You can do as little as scout a local field once or as much as visiting active nests once per week.
Learn more at our Wasp Watchers page!
Monitor for Spotted Lanternfly
Look for spotted lanternfly and map it's preferred host plant, the invasive tree-of-heaven. Learn more at the Spotted Lanternfly page!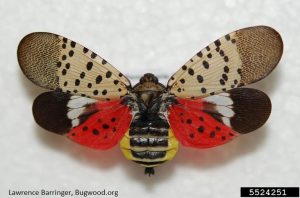 Report a Pigweed
Palmer amaranth and waterhemp are problematic pigweed species, especially in our agricultural lands. Look for and report these species. Learn more at the Report a Pigweed page!