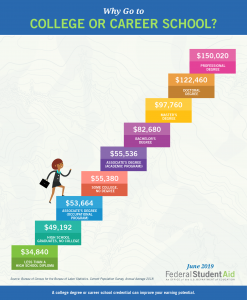 This Money Matters module covers basics about paying for school, types of student loans, and repaying loans. It's never too early—or too late—to explore your options for education beyond high school. Students have a variety of college options, from two-year community colleges to four-year colleges and universities, to technical, vocational, trade schools, and certificate programs.
A college education is a long-term investment. Almost three out of every four students borrow money to attend college. Around one million Wisconsin residents have student loan debt. It takes an average of 20 years for borrowers to repay their student loans.
Borrowing money for continuing your education usually pays off through earning more money after you graduate with your degree or certificate. Individuals with education and training beyond high school earn more over their lifetime. Remember though, even if you don't complete your degree, you still need to repay your student loans. Currently, changes to student loan repayment plans as well as loan forgiveness options are being considered by the federal government. Visit studentaid.gov to learn the latest on these topics.
This module takes about 45 minutes to complete. By the end of this module, you will be able to…
…compare different student loan options and their costs and benefits.
…identify the kinds of federal student loans you may be eligible for.
…discuss what the process of obtaining and paying back a student loan is like.
Complete the following pre-learning check to test your knowledge. Answer "true or false" to the three statements below. Click on the blue box to find the correct answer.
True, Direct Subsidized Loans are loans made to eligible undergraduate students who demonstrate financial need to help cover the costs of higher education at a college or career school. The government pays the interest on your loan while you are enrolled in school at least half-time.
False, even if you don't finish school, you will still need to pay back your student loans. Students who take out loans and don't graduate may have a harder time repaying their debt because they won't have the higher earning power that usually comes with a degree.
True, this grace period gives you time to get financially settled and to select your repayment plan. Even if you don't yet have a job, you'll be expected to begin your loan repayment after your grace period ends.
Let's learn more…
No one wants to take on more debt than they need to in order to go to school. This video talks about responsible borrowing strategies.
When you're looking to pay for school, you'll want to use any scholarships and grants available to you first because those funds usually do not have to be paid back. Grants are often need-based depending on your income and situation, while scholarships are usually merit-based. Grants and scholarships can come from schools, federal and state governments, and private or nonprofit organizations. Look for scholarships and state and local grants using one of the many free scholarship search options available, like careeronestop scholarship finder.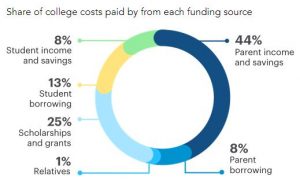 The U.S. Department of Education offers different federal grants, including Pell Grants and TEACH Grants. Most of the federal grants are given to students with financial need. You can find more information on types of federal grants, who's eligible, and how to apply on the Federal Student Aid website. Note that some grants may have to be paid back if the student withdraws from school or doesn't complete other obligations that come with the grant.
After accepting any grants or scholarships, plan to use federal subsidized student loans, followed by federal unsubsidized student loans, before taking out private loans. Just because you are offered a student loan, doesn't mean that you have to accept the entire amount. Borrow just enough to make sure your tuition, housing, and other expenses are fully paid after you use your work earnings and any other sources of income. A general guideline is to try not to take on more total student debt than you expect to earn as a starting annual salary when you leave school, as explained here: How much should I borrow in student loans. See the section on "Student Loans" for more information on different types of federal and private student loans.
All students need to fill out a Free Application for Federal Student Aid (FAFSA®) form if they are interested in federal student aid, whether it's grants, student loans, or work study. Information from your FAFSA form is used to determine the cost of attendance, how much families are expected to contribute, and how much need-based or non-need based financial aid you can get to attend. Students will receive this information in a school aid offer or 'award letter' from any schools they listed in their FAFSA form, more information about this here: Comparing School Financial Aid Offers. Because your financial aid package is based on the cost of attending a particular school, your aid amounts will vary from school to school. To continue receiving federal student aid, fill out the FAFSA form every year you're in school.
Veterans: The U.S. Department of Veterans Affairs has information on GI Bill benefits to support education and skills training for servicemembers, veterans, and their families at VA-approved institutions. Qualified individuals can apply for VA education and training benefits online, in person, or request an application over the phone. Find out more on the VA website – Education and Training. In addition to the federal government, nonprofit organizations also offer money for college to veterans, future military personnel, active duty personnel, or those related to veterans or active duty personnel. Find out more on this U.S. Department of Education website for military families.
For more information about college planning and saving for college, visit the UW-Madison Division of Extension website: Saving for Post-Secondary Education.
Student loans are offered by both the federal government and private financial institutions. A variety of loan options are available, and some students are eligible for subsidized loans that come with lower interest rates and payments that are deferred or postponed until graduation. All loans must be repaid with interest.
Federal loans are made by the government, with terms and conditions that are set by law, and include many benefits, such as fixed interest rates (explained in Federal Student Aid Loans) and income-driven repayment plans (explained in Federal Student Aid Repayment Plans) not typically offered with private loans. There are four types of Direct Loans available through the U.S. Department of Education:
Private student loans are made by private organizations, including banks, credit unions, state-affiliated agencies, or schools. These types of loans have terms and conditions, such as fixed or variable interest rates, that are set by the lender. Private student loans are generally more expensive than federal student loans. Check out this UW-Madison Extension video for more information about using private student loans.
Private student loans often require the borrower to have an established credit history. Borrowers with a negative or short credit history will have less private loans available to them and will usually pay higher interest rates. Private loans may also require a co-signer with a more established credit history. If the student is unable to make their private student loan payments, then the co-signer is responsible for making payments. This UW video discusses co-signing on a private student loan.
This section covers paying back student loans – and interest. A great first step when planning to pay off debt is to create a budget that includes current income, expenses, and all monthly debt payments, more information about this in Make a Spending Plan module. Whether you have federal or private student loans, be sure to use the tax credits and deductions available to you, more information here: Tax Benefits for Education: Information Center. Find out more about students loans and saving on taxes in this UW-Madison Extension video.
Payments aren't due until after you graduate, leave school, or drop your enrollment to less than half-time. Keep in mind that the interest on your loan continues to grow while you are still in school, except if you have a 'subsidized loan.' For Federal Parent Loans, the parent can choose to put off payments until the student they borrowed for graduates, leaves school, or lowers their enrollment status to less than half-time.
Grace Periods: For most federal student loan types, after you graduate, leave school, or drop below half-time enrollment, you usually have a six-month grace period before you must begin making payments. This grace period gives you time to get financially settled and to select your repayment plan. This grace period could be affected by a few different situations, including the type of Federal student loan, active-duty military, returning to school before your grace period ends, and consolidating your loan which cancels any grace period. Find out more about grace periods through the U.S. Department of Education.
Repayment Plans: Federal student loans offer many types of repayment plans that are not available for private student loans. Repayment options range from Standard Plans to Extended Repayment Plans, and include Income-Based Repayment Plans for borrowers who have high debt compared to their income. There are no prepayment penalties if you are able to pay off your student loans ahead of schedule. Although you may select or be assigned a repayment plan when you first begin repaying your student loan, you can change repayment plans at any time—for free.
Before you contact your loan servicer to discuss repayment plans, you can use this loan simulator to see which plans you may be eligible for and estimates for how much you would pay monthly and overall.
Then contact your loan servicer if you would like to discuss repayment plan options or change your repayment plan.
You can get information about all of the federal student loans you have received and find the loan servicer­ for your loans by logging in to My Federal Student Aid.
Many private student loans require payments while you are still in school, but some do allow you to defer or put off payments while you are still in school. If you do postpone payments while you're in school, remember that the interest keeps growing and will increase how much you owe when you finish school.
Grace Periods: A private student loan may or may not have a grace period to begin making payments, depending on the lender. Remember that interest continues to grow even during any grace periods provided by your lender. You also need to check with your lender to find out if there are prepayment penalties for paying off your loan early to save on interest.
If you find that you won't be able to pay some or all of your monthly student loan payment, contact your loan servicer as soon as possible. You may be able to change your repayment plan, depending on the type of student loan you have.
Federal student loans: If you're not sure who your federal student loan servicer is, visit StudentAid.gov/login or call 1-800-4-FED-AID (1-800-433-3243). The U.S. Department of Education has a list of Federal student loan services on their website. Keep in mind that the student loan forbearance, repayment plans, or deferment options offered through the Department of Education only apply to federal student loans.
To provide relief to federal student loan borrowers during the COVID-19 national emergency, federal student loan borrowers are automatically being placed in an "administrative forbearance", which lets you temporarily stop making your monthly loan payment, more information in Coronavirus and Forbearance Info for Students, Borrowers, and Parents. This suspension of payments has been extended through December 31, 2022.
Private student loans: You can also ask your private loan servicer about your options for a forbearance, loan consolidation, or waiving late fees. If you have a private student loan, contact the company you currently make your payments too or you can find information on your loan servicer in your free credit report that you can get from AnnualCreditReport.com. If you are a co-signer on a private student loan, check in with the primary borrower to see if they are able to keep up with their payments, or else the co-signer will be responsible for making those monthly payments, more information in Co-signed a private student loan?. The private student loan co-signer may not be able to request an accommodation, but the primary borrower can.
Terms to know:
Deferment: A deferment is a temporary pause to a student loan payment that is allowed under certain conditions, such as active-duty military service or re-enrollment in school.

Federal student loans: interest generally doesn't accrue on certain types of subsidized loans, but will continue to accrue on unsubsidized loans.
Private student loans: deferment options vary between lenders, so you may or may not have the option to defer payments.

Forbearance: Forbearance is a temporary postponement or reduction of your student loan payments for a period of time. You can ask for forbearance if you are experiencing financial difficulty. Note that interest continues to grow on all loans while they are in forbearance.

Federal student loans: Your federal student loan servicer can grant forbearance for up to 12 months at a time. You must apply to your loan servicer for forbearance. You must continue to make payments until you receive confirmation that your servicer has accepted your forbearance request.
Private student loans: Private student loan forbearance varies between lenders and is more limited than the federal student loan forbearance. Some servicers charge borrowers a flat fee to place loans into forbearance for a period of three months. Contact your private student loan servicer as early as possible if you want to explore this option.

Loan Consolidation: Debt consolidation is a method of debt refinancing that involves taking out one loan to pay off others, and comes with pros and cons to consider beforehand.

Federal loans: If you have multiple federal student loans you may be able to combine them into one loan with a fixed interest rate based on the average of the interest rates on the loans being consolidated. Learn more about federal loan consolidation in Federal Student Aid Student Loan Consolidation.
Private student loans: These cannot be consolidated into a Direct Consolidation Loan, but may be refinanced through your loan servicer in order to lower your monthly loan payment.

Default: Default is failure to repay a loan as agreed. When a loan is in default, the entire unpaid balance of the loan and any interest owed becomes immediately due. When a loan is considered to be in default depends on the type of loan you have.

Federal student loan default occurs when a payment isn't made in more than 270 days for Federal Direct Loans, but the Federal Perkins Loan is considered to be in default if you miss the payment due date. It can result in legal consequences and a loss of eligibility for additional federal student aid. More information in Student Loan Delinquency and Default.
Private student loans are usually considered in default as soon as you miss four monthly payments (120 days) and could result in the lender taking legal action to collect payment.
Wisconsin borrowers can get more information about their loans or repayment options based on their specific circumstances by calling the free Student Loan Debt Hotline at: 833-589-0750. The Consumer Financial Protection Bureau also has guidelines and links to resources on their website to help people figure out their best options.
Test your knowledge
Student Loans Quiz Take this 10-question quiz to review the basics and test your knowledge. You can take this quiz as many times as you want.
Certificate of Completion
Wisconsin residents: If you'd like a certificate of completion for this module, be sure to contact a UW-Madison Extension Financial Educator to find out about program requirements.