Would you like to make changes to your current financial situation?
How can you be more strategic when you make decisions around money?
Are financial choices made during active duty service getting in the way of your future financial goals?
What does financial security look like for you and your family?
Would you like to explore resources that may help improve your finances?
You may have experienced unique financial situations as an active duty Military service member. These situations might have included a change of duty station creating a loss of income for some families, financial hardships during deployment, and the high rate of unemployment as you transition from active service. Unfortunately, Veterans as a group may also be the target of financial scammers.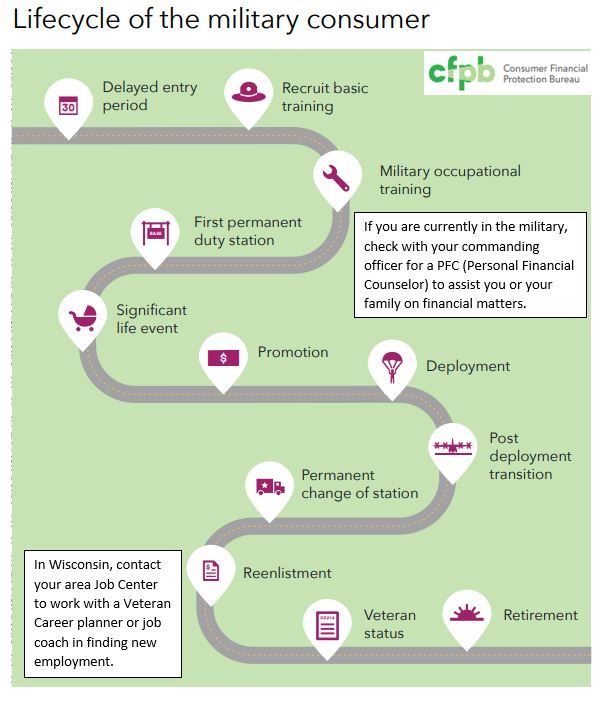 Financial Capability is a lifelong process of setting goals and sticking to them. There are so many day to day situations that come up, it's easy to put off making those big picture financial decisions. When you know your mission (Financial Goals), you will be able to create an action plan that supports your goals. The result will pay off with Financial Security. If you would like to develop more strategies and look into ways to balance your bottom line, check out the resources posted below.
How are you doing with your finances?
Veterans have unique challenges and opportunities when it comes to managing money. Click on the bars below to view the resources and strategies to move your finances forward.
Want more information about financial management strategies?
Wherever you live in Wisconsin, you can find a UW-Madison Division of Extension financial educator to answer your financial questions, provide free financial coaching, and direct you to additional resources.
If you'd like more information about participating in the Money Matters self-study program, find out if your County has a participating Money Matters UW Extension Educator on this website.