Would you like to make changes to your current financial situation?
How can you be more strategic when you make decisions around money?
Are financial choices made during active duty service getting in the way of your future financial goals?
What does financial security look like for you and your family?
Would you like to explore resources that may help improve your finances?
You may have experienced unique financial situations as an active duty Military service member. These situations might have included a change of duty station creating a loss of income for some families, financial hardships during deployment, and the high rate of unemployment as you transition from active service. Unfortunately, Veterans as a group may also be the target of financial scammers.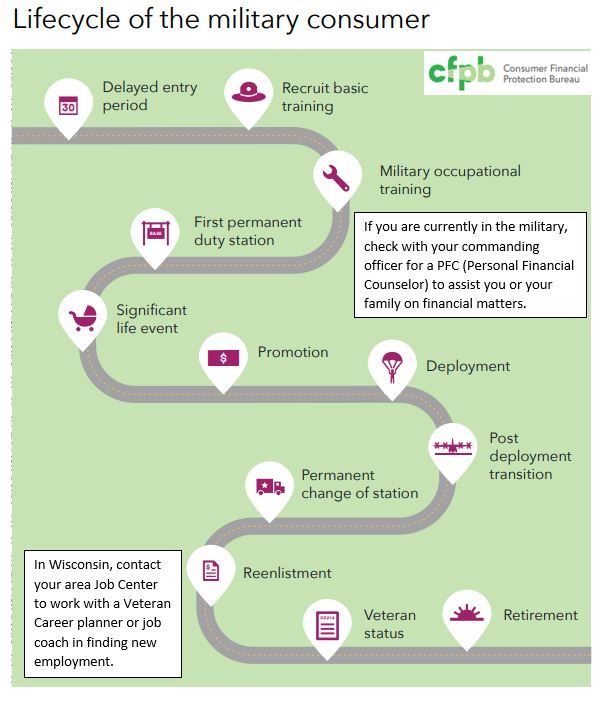 Financial Capability is a lifelong process of setting goals and sticking to them. There are so many day to day situations that come up, it's easy to put off making those big picture financial decisions. When you know your mission (Financial Goals), you will be able to create an action plan that supports your goals. The result will pay off with Financial Security. If you would like to develop more strategies and look into ways to balance your bottom line, check out the resources posted below.
How are you doing with your finances?
Veterans have unique challenges and opportunities when it comes to managing money. Click on the bars below to view the resources and strategies to move your finances forward.
It is helpful when making financial decisions to begin by spending some time thinking about what you want to accomplish — your goals. Dream a little, and then create your strategy on how to get there. Check out the resources below to get started on your financial goals today.

Smart Goals Worksheet – Print out this worksheet from the UW to create your SMART goal and have a reminder at the ready.

My New Money Goal – Download a copy of this worksheet from the Consumer Financial Protection Bureau to create a budget that includes your financial goal, current income, and monthly expenses.

Social Security Administration – This landing page for Veteran's has links and information related to Social Security benefits from birth through retirement.

Thrift Savings Plan – Retirement is a common financial goal. Find information about managing your TSP once you leave the uniformed services.
Since you have taken the time to look at what you would like to accomplish – your Goal – you can put together a plan to achieve success. Below are some tools and resources to help you along the way.

Check out the Money Matters Spending Plan self-study module on budgeting. Review a range of budgeting and spending plan worksheets to find something that works for you.

How to Create a Budget and Stick to It – From the Consumer Financial Protection Bureau, this website has tools needed to determine income, track spending and bills, and pull it all together in a flexible budget.

Internal Revenue Service – Find links to tax forms, services, and resources for Veterans related to paying taxes and maximizing use of tax credits. Also links to MilTax website with free tax services for the Military.
Sometimes we find that debt sneaks up on us.Try to attack it as soon as you can! Make strategic decisions and apply them to your situation as soon as you are able. Below are some resources and tools that may help. You can also learn more about credit reports and credit scores by visiting the Money Matters module on Credit.

Debt Elimination Calculator – This Military One Source website tool lets you figure out different ways to eliminate your debt and which approach works best for you. Also has links to other calculators for paying off credit cards and saving for major purchases.

Managing in Tough Times – This UW website is designed to help people make sound financial choices in tough times. Includes information on cutting expenses, considering bankruptcy, and managing financial stress.

When you Can't Pay Your Bills on Time – This Money Matters self-study module helps you prioritize your debts, assess what to do if you're unable to pay your bills, and negotiate with creditors about payment plans.

There are several options to look into if you'd like to talk with a credit counselor. You can locate a reputable credit counselor through any of these organizations:

Medical Debt

For the general public, any medical collections that have been paid by your insurance must be legally removed from your credit report. Also, collection agencies have to wait at least 180 days from the date the debt went into default to report to the credit reporting companies. Veterans get an additional 180 days before medical collections appear on their credit report.

The protections for medical debt are stronger for a veteran. Medical debt incurred by a veteran cannot be reported for at least one year from the date the services were received. Any medical collections incurred by a veteran must be removed from a credit report once the debt has been paid or settled and does not require the payment to come from an insurance company.
Servicemembers and veterans may find themselves targets of scams or predatory lenders. According to the Federal Trade Commission (FTC), retired military personnel and veterans have a 44% higher loss from fraud than civilians, with the top three areas identified as:

1. Debt collection

2. Identity theft

3. Impostor scams

A good way to keep watch for identity theft is to order a copy of your three free annual credit reports every year. You can also download calendar reminders from Extension to check your free report three times a year on 2/2, 6/6 and 10/10.

Active duty military service members are eligible to place an active duty fraud alert on their credit report. This is available for service members on active military duty who want to help minimize their risk of fraud or identity theft while deployed. An active duty alert can make it harder for someone to open unauthorized accounts in your name.

Here are more resources and tools to protect yourself or deal with fraud that may have occurred:

Fraud information – Learn about different types of scams and identity theft from the Consumer Financial Protection Bureau.

How to File a Complaint – Complaints help the Federal Trade Commission (FTC) and other law enforcement agencies bring scam artists to justice and put an end to unfair and misleading business practices. If you have a complaint, file it online or call 1-877-FTC-HELP.

IdentityTheft.gov – Also from the FTC, this website walks you through reporting identity theft and protecting your finances and reputation from further harm.
US Department of Veterans Affairs – Explore benefits specifically for veterans. Includes a range of programs, such as the Homeless Veterans' Program and Cash-Out Refinance Loans for Veterans.

Veterans Benefit Administration – Provides information needed to begin filing for VA benefits, including compensation, home loans, education, life insurance, pensions, and more.

Wisconsin Department of Veterans Affairs – Includes a link to Wisconsin County and Tribal Veterans Service Offices. CVSOs work with the US Department of Veterans Affairs, the Wisconsin Department of Veterans Affairs, and other Veterans Service Organizations to make sure Veterans get all the benefits they are entitled to.

Disabled American Veterans – Resources for job searching, assistance for benefit claims, and rides to medical appointments.

American Legion – Provides access to Veterans Service Officers offering free advice and guidance for Veterans in working with the VA.

AMVETS – Provides direct representation when filing for benefits with VA, at no cost to the veteran.

Iraq and Afghanistan Veterans of America – non profit advocacy for veterans of Iraq and Afghanistan.

Vietnam Veterans of America – non-profit advocacy for Vietnam Veterans.
Want more information about financial management strategies?
Wherever you live in Wisconsin, you can find a UW-Madison Division of Extension financial educator to answer your financial questions, provide free financial coaching, and direct you to additional resources.
If you'd like more information about participating in the Money Matters self-study program, find out if your County has a participating Money Matters UW Extension Educator on this website.