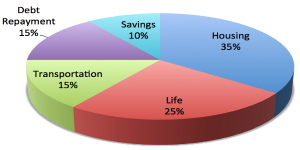 A spending plan (also referred to as a "budget") is simply a plan you create to help you plan to meet expenses and spend money the way you want to spend it. A good spending plan can help you stop "spending leaks"; in other words, it can keep you from spending money without thinking. It can help you make sure you have money to pay bills on time, even when your bills and income change each month. Creating a spending plan is a process. Try it, then tweak it to make improvements and try it again. It is never perfect, but if you keep working at it and improving it, you'll get to a place where it's "good enough". How do we know when it's good enough?  Here's what students in a group spending class said: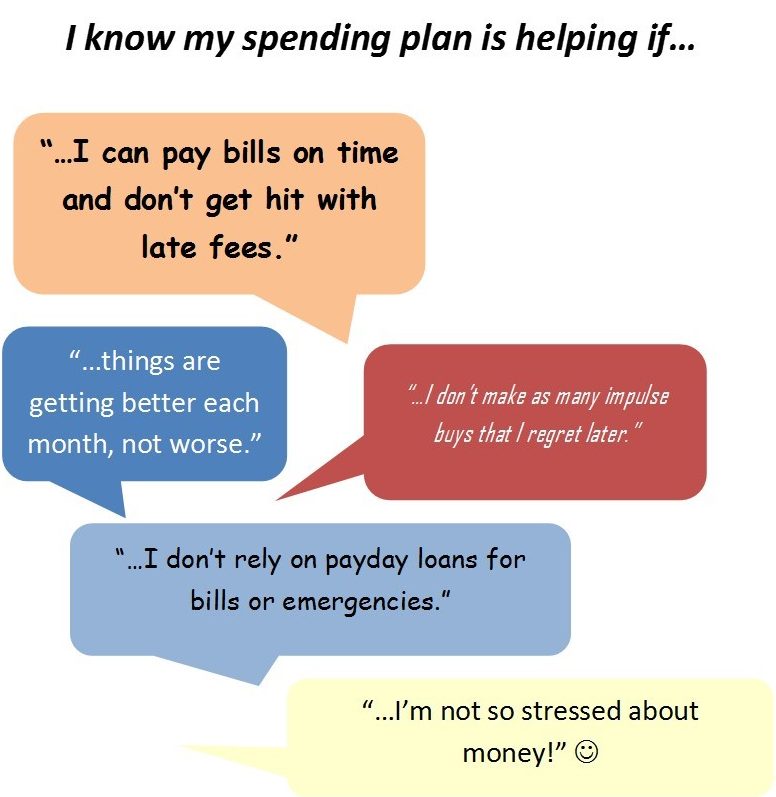 To learn how to make and follow a spending plan, read the three guides below.  Then take the quiz.
Simple Steps to a Spending Plan  Follow this step-by-step guide to learn how to create a spending plan.
Sharon's Story  Read about Sharon and see if you can help her improve her spending plan.
SMART Goals  Savings goals belong on your spending plan too. Learn how to make goals work for you by turning them into SMART goals.
Ready to review what you learned above? Take this Spending Plan Quiz.
Here are some more tips and resources that can help with spending plans.
Basic Spending Plan Template Here's a form you can print out and use to create your own basic spending plan.
When You need to Reduce Expenses Are you spending more than your income?  Consider these suggestions from UW-Extension's Rent Smart Program
Track Your Spending A spending plan doesn't really work if you don't track your spending.  Here are some ways to track your spending from Rent Smart.  Remember, the best way to track spending is the way that fits best into your lifestyle.  If it isn't easy for you, you probably won't do it.
Spending Your Money A summary about spending plans from the UW-Extension Money $mart program.
Budgeting & Planning Tools Worksheets and other tools you can download to help you plan to meet expenses.
Certificate of Completion
If you'd like to certify that you've completed this module, be sure to contact a UW-Extension Family Living Educator to find out about program requirements.