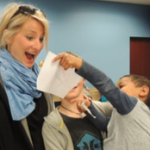 By Donna Doll-Yogerst, Family Living Educator
Art allows children to express creativity and emotions. Did you know, however, that art also helps preschoolers practice writing skills? The fine motor skills needed to color within a shape or cut out an object give preschoolers practice for holding a pencil and writing. Read the fact sheet for a variety of ideas on how to encourage art with preschoolers.
Read the fact sheet:
References
Froyen, Laura. (2014.) School Readiness the Role of the Family, 10-23-14 Wisline Web.  Retrieved from:https://uwmadison.app.box.com/s/lwa7lelx3p38wr9ppqec
Bongiorno, Laurel. Supporting the Development of Creativity. Retrieved from: http://families.naeyc.org/learning-and-development/music-math-more/supporting-development-creativity
Art Influences Learning. Retrieved from http://www.earlychildhoodnews.com/earlychildhood/article_view.aspx?ArticleID=509
McWilliams, M. Susan. 2014. National Association for the Education of Young Children. Art Play: Stories of Engaging Families, Inspiring Learning, and Exploring Emotions Retrieved from: http://www.naeyc.org/yc/files/yc/file/201405/YC0514_Art_Play_Stories_Extended_McWilliams.pdf
Ready at Five – Art Activities. Retrieved from Ready at Five   Retrieved from: http://www.readyatfive.org/for-parents/activities-to-do-with-your-child.html
Ready at Five – Exploring the Arts: Promoting Creativity. Retrieved from: http://www.readyatfive.org/download-document/for-parents/parents-tips/631-sept2013ptarts/file.html
Riley, Dave et al. (2009.) Why We Scribble and Paint. In Intellectual Development – Connecting Science and the Practice in Early Childhood Settings. (108-146). St. Paul, MN Redleaf Press, MN.