Rothschild Biomass Cogeneration Plant
Fuel Type: Wood waste from saw/lumber/paper mills, forest residue, right-of-way clearings
Boiler Output: 50 megawatts of electricity, 1,350,000 pounds of steam per hour at 1,550 psi
Project Cost: $296,000,000
Purpose of Project: Cogeneration facility provides base-load for the electric system (grid) while supplying all of the steam to the Domtar Rothschild Paper Mill
Project Description: To meet the Wisconsin Renewable Portfolio Standard, which requires utilities to generate 10 percent of their energy from renewable sources by 2015, We Energies has installed a 50MW biomass cogeneration plant at Domtar Paper Company's Rothschild mill. The biomass fuel would consist of clean, untreated wood waste such as logging residue, bark and shavings from paper and saw mills and municipal yard waste and right-of-way clearings. With help from the Wisconsin Paper Council, Domtar Paper Company was identified as a partner for the project.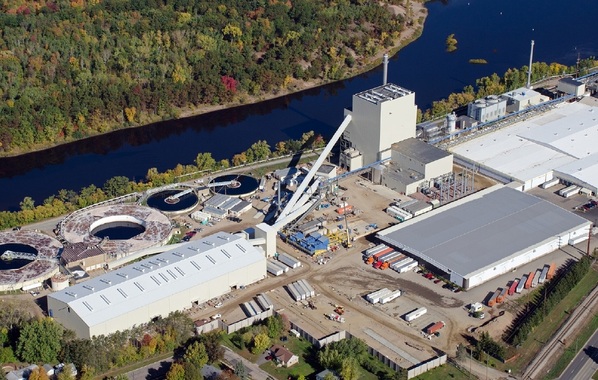 This information is courtesy of WE Energies and Pöyry International Consulting and Engineering.
Gundersen Lutheran Biomass Boiler: A Key Part of Gundersen Energy Independence Goal
Fuel Type:
 Wood chips, post-industrial wood waste.


Boiler Output: 

800 horsepower, Steam at 400psi, 250kW Steam-powered Generator


Project Cost:

 $6,500,000


Amount of Assistance:

 $225,000 Wisconsin Bioenergy Grant


Estimated Savings:

 $350,000 in Natural Gas and $150,000 in electricity


Purpose of Project:

 Provide electricity, space and process heat to Gundersen Lutheran's La Crosse campus 
Project Description:
The biomass boiler represents 38% of Gundersen's energy independence goal-by far the largest single project in their Envision® portfolio that will help them achieve their goal. Gundersen's boilers were a high user of fossil fuels, consuming much of the natural gas used to create heat for their buildings. When it came time to refurbish or replace their aging boilers, Gundersen looked at all of their options and selected a biomass boiler.
Healthcare organizations use boilers year-round. The boilers create steam that is used to heat buildings in the winter. The steam is also used all year in the laundry and kitchen, as well as to dehumidify the air and sanitize medical equipment. The biomass boiler uses clean organic wood fuel sources, such as milling or forest residues. These woody biomass products are sourced locally and have no paints, glues or treatments on the wood. The wood product is fed into the system, where it is burned and heats water to create steam used throughout the La Crosse Campus. Gundersen uses state-of-the-art equipment to control emissions.
In addition, the biomass boiler project incorporates a steam turbine. Steam runs through the turbine and turns a motor to produce electricity. That electricity-enough to power about 225 homes a year-is used on-site by Gundersen, further reducing fossil fuel emissions.
The biomass boiler is expected to save Gundersen approximately $500,000 a year. The project was supported in part by a Wisconsin Bioenergy Grant ($225,000).
Muscoda Protein Products and Meister Cheese
Fuel Type:
 Wood chips


Boiler Output:

 400 HP Wood Boiler


Project Cost:

 $

1,700,000




Amount of Assistance:

 $35,000 from Focus on Energy and $430,000 from USDA


Estimated Savings:

 Offsets around 600,000 therms of natural gas (approximately $390,000)


Purpose of Project:

 The wood energy system provides process heat for the Meister Cheese plant and the nearby whey drying facility.