Combined Heat and Power
Wisconsin Space Heating – Cost and Fuels
How does the use of wood energy in Wisconsin compare with other fuels for space heating? WI DNR has provided county-level information on space heating average costs and fuel types across the state.
For individual maps and resources:
Average Annual Space Heating Cost per Housing Unit
Use of Wood for Space Heating
Use of Natural Gas for Space Heating
Use of Propane for Space Heating
Use of Fuel Oil for Space Heating
Use of Electricity for Space Heating
Average Annual Fuel Quantities Used for Space Heating by County
Wisconsin Space Heating Data Sources and Procedure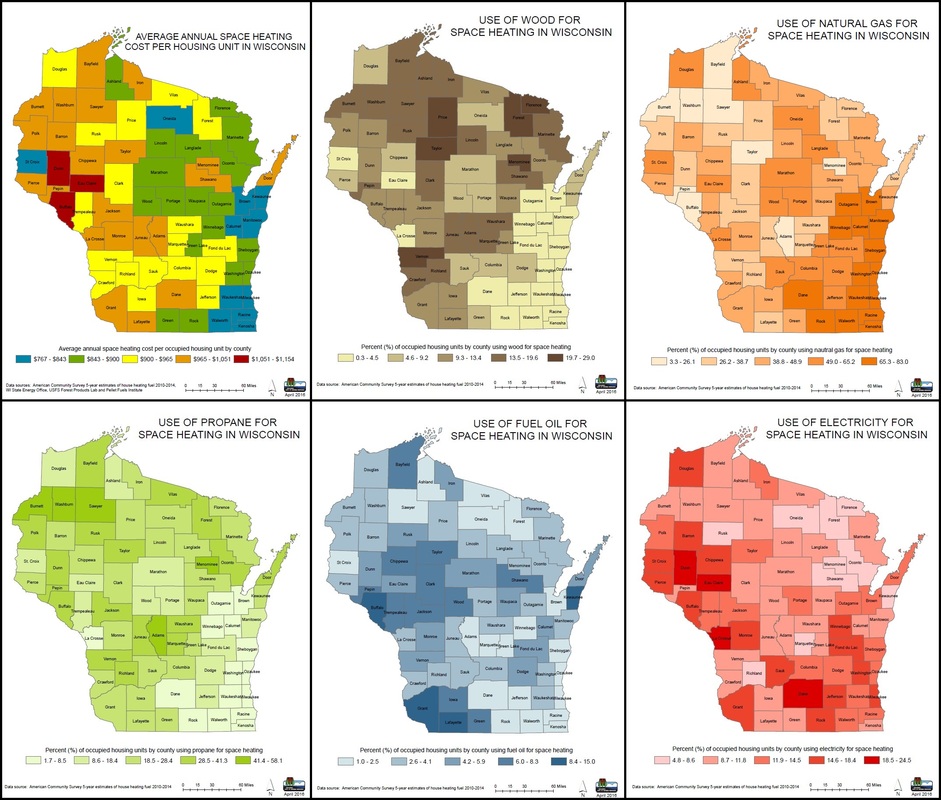 Wood energy resources and presentation from the July 2015 event. AURI featured presentations from representatives of the Great Plains Institute, Minnesota Department of Natural Resources, Wisconsin's own Gundersen Health Systems and many more. For more information, please follow this link.
Minnesota County Bio-Energy Reports
The Agricultural Utilization Research Institute (AURI) assisted in the development of county-wide bio-energy analysis of selected counties in Minnesota. The documents primarily explore opportunities to utilize natural resources to generate bio-energy in the Headwaters Region. Here are links to reports for Lake of the Woods County and Mahnomen County.
This document provides a detailed look at moisture in cellulosic materials to make better decisions about the use of wood as an energy source. Remember to allow your wood fuels to dry for sufficient time before burning to maximize fuel efficiency. If you have further questions, don't hesitate to reach out to us!