New Horizons Dairy has been a family operation since 1899 and as Dave looks to his three adult sons, who are all involved in the family farm, he hopes that the legacy that began with his great-grandfather will continue for generations to come. Dave's middle son, Derek, describes how his two young children and their cousins love growing up and playing on the farm, just as he did with his two brothers, Matthew and Ross. Both Matthew and Ross work closely with the farm's cattle, while Derek has been working closely with his father to explore new opportunities with no-till practices and planting cover crops. Ensuring that the next generation inherits a thriving farm is something very important to the Van De Hey family, which is why they focus on practices that are mutually beneficial for the environment and for their family farm.
Steps Towards Conservation
Unlike some of our other farms, Dave and Derek began no-till practices and planting cover crops without the assistance from local agencies. They first started in 2007 on less than 10 percent of their land. As they learned more about the practices and began to see the benefits of converting fields to no-till and cover crops, they began to increase acreage. The initial motivation stemmed from their desire to increase harvest rates. By double cropping, they could maximize a field's return, without reducing yields. Starting small allowed them to experiment with different mixes and crop rotations. Knowing what they know today, Dave and Derek are happy that they took the initiative and with the help of the Fox Demo Farms they continue to explore ways to implement more conservation practices on their land.
Through their involvement with the Fox Demo Farms and the U.S. Geological Survey (USGS) edge-of-field monitoring, they have been able to quantify the amount of sediment that leaves their land. For Dave and Derek, the project has been an eye-opening experience. Preliminary data show high losses of sediment in surface runoff, averaging approximately 4,000 pounds per acre annually among the four monitored project fields (USGS, 2016). As responsible farmers, Dave and Derek recognize the importance of addressing erosion and reducing their impact on our local waterways. They are hopeful that with the combination of cover crops and no-till planting, they can reduce their impact on the environment, all while improving their farm operations.
Benefits of Conservation Agriculture: Soil Stability
By growing a cover that could be used as feed for their heifers, Dave and Derek achieved their initial goal of maximizing the yield from one field. Their experiment with double cropping inadvertently opened a door to a whole host of other benefits. After the first couple years of planting cover crops in a no-till system, they began to recognize an improvement in soil structure, which has led to a variety of other soil health advantages.
Due to their ability to infiltrate snowmelt and spring rains, the no-till and cover crop fields were significantly more stable than the conventional fields. In fact, they were so stable that Dave and Derek decided to haul spring manure. Typically, conventional farming in the Midwest provides a very short window of opportunity to work the land and plant, so applying spring manure is rarely an option. However, applying manure in the spring provides a higher likelihood for nutrient uptake and reduces the risk of nutrient loss due to surface water runoff. For the Van De Heys, the improved nutrient uptake has drastically reduced their need for commercial fertilizers, which has been a tremendous cost savings. Additionally, distributing manure in the spring alleviates pressure on fall applications, allowing more time to plant covers after harvest.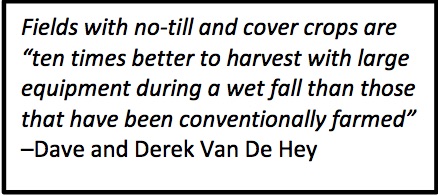 Building healthy soils that effectively infiltrate water helps reduce stress related to unpredictable weather patterns. As Dave and Derek have witnessed, fields with stable soils because of no-till planting and cover crops are "ten times better to harvest with large equipment during a wet fall than those that have been conventionally farmed." For producers, timing is everything. Weather often dictates planting and harvesting schedules; however, if improving soil health provides more flexibility during the spring and fall months, then we can reduce the stress of unpredictable weather and improve overall quality of life.
Dave and Derek's Advice
Dave and Derek started their conservation work on a small scale and have worked their way up to where they are today. While they're still working to increase acreage, they believe that the path they took has been influential in their success. They both stress the importance of being flexible and learning from your mistakes. Making the transition doesn't happen overnight; however, if you start small and make necessary adjustments along the way, the benefits outweigh the costs. Here are a few of the things they have learned throughout the process:
Start small and work your way up
Be flexible and learn from mistakes
It's important to plant cover crops as early as possible, so select fields that are harvested first
Wait until the field is dry enough to no-till plant – do not plant when the field is wet