2017 marked the 100th year anniversary of Van Wychen Farms. As a family farm operation, George Van Wychen and his brother Pete are third-generation farmers, and as they near retirement, they look to pass the family legacy onto George's two adult sons, Nick and Matt. In 2014, George joined the Fox Demo Farms project. His decision to join was based on his land stewardship principles. "I am proud of my farm and want to show what we've done with cover crops, erosion control, and building healthy soils here," says George. His passion for conservation is a trait that he has passed onto his sons, who look to continue their father's effort to improve soil health and water quality within the Fox River Basin.
Steps Towards Conservation
Despite having followed in his father's conservation footsteps, Nick jokingly recalls how difficult it was to "hang up the keys" to his chisel and plow and transition to a no-till system. As someone who loves to drive big equipment, it was a challenge to change not only the practices, but the mindset of how to farm. However, once he began to see the financial savings of cover crops and no-till planting, he became fully committed to the practices and equally committed to communicating the financial benefits of conservation practices to producers throughout the river basin. For Nick, it's a win-win situation for the environment and for his farm's bottom-line.
Matt, like his brother Nick, began working on the family farm as a teenager. However, unlike his brother, Matt was uncertain about a career on the farm. After graduating high school, Matt set out to pursue a degree in Microbiology at UW-Madison. However, along the way, he worked with a professor in the Department of Agriculture, who encouraged him to shift focus and continue his education in agronomy. Matt's return to the family farm stemmed from George and Nick's conservation efforts. The concept of minimizing your inputs to maximize your outputs is at the heart of Van Wychen Farms and the conservation practices they implement. For Matt, the challenge of maximizing efficiency is what drives his passion for farming.
Benefits of Conservation Agriculture: Time and Resources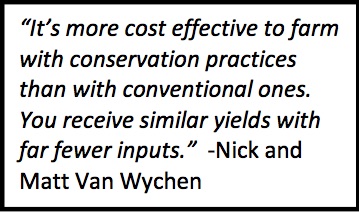 Nick and Matt both recognize the financial gains available through conservation practices. Van Wychen Farms has been planting cover crops for more than a decade and in the last five years, they have begun to implement no-till practices on their land. Through side-by-side comparisons of fields planted with conservation practices and those planted with conventional practices, they have found that yields are comparable, if not better on conservation fields. For Nick and Matt, they have drastically reduced their inputs including, fuel consumption, labor costs, and wear and tear on their machinery. By reducing their operational costs and maintaining, if not improving, their production, they believe that conservation practices pay for themselves.
The two brothers are convinced that "it's more cost effective to farm with conservation practices than with conventional ones. You receive similar yields with far fewer inputs." While they both value the environmental benefits of these practices, they recognize that to continue farming, they must remain profitable and with an unpredictable market, it's important that they maximize their profits. Fortunately, conservation practices are mutually beneficial for the environment and their pocket book.
Nick and Matt's Advice
Nick and Matt stress "making it work for you." They advise those interested in conservation agriculture to first identify what their goal(s) are for converting practices. Once you have identified what's most important to you and your farm, you'll be able to tailor a conservation plan that will help you achieve your goals. When getting started it's important to be patient and seek assistance from your local County Land & Water Conservation Department or Natural Resource Conservation Service agents. Change doesn't happen overnight, but if you keep an open-mind to the process, the benefits are well worth it.
"Make it work for you" – Identify what your goal(s) are for converting to conservation practices
Seek assistance from local County Land & Water Conservation Departments and Natural Resource Conservation Service
Keep an open-mind to the process
Be patient and don't get discouraged. Change doesn't happen overnight, but the benefits are well worth the time and effort
Additional practices include:
Installation of stream crossing
Experimenting with many different cover crop mixes
Experimentation and use of an Interseeder prototype model
Develop and design innovative equipment for interseeding cover crop
Develop manure application strategies while maintaining cover crop with local dairy producers
Half fields of no-till or conventional tilled, with cover or no crop
Additional Stories about Van Wychen Farms:
USDA Success Stories: Got Soil? Make it healthy! The Van Wychens show us how it's done.
Basin Buzz: Innovative Equipment Being Built and Used at Van Wychen Farms