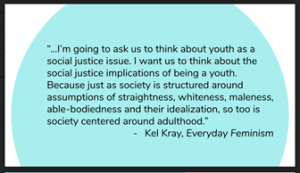 About Community Youth Development
Division of Extension programming historically focuses on civic engagement in its adult and youth programming in order to empower audiences on issues of concern for their own lives, local communities and the state as a whole. Youth programming as conducted within the Institute for Positive Youth Development utilizes the experiential learning model and Youth-Adult Partnership in order to Teach. Learn. Lead. Serve.
Programming is rooted in the local context, specifically diversity, equity and inclusion. Read more about local Rock County priorities in the Race to Equity Report.
Ongoing Community Youth Development priorities to both conceptualize change and design/implement approaches could include a variety of cross programming collaboration, organizational change pilots based on Y-AP dimensions and Rock County conversations organized around Youth Program Quality Assessment Standards. These opportunities for partnership inform strategies to enhance existing PYD programming and Y-AP in practice as well as create as needed both within organizations and across community coalitions.
It's all about the roles youth, adults and organizations play in answering the question 'What is Purpose?'
You can read more about UW-Madison, Division of Extension programming statewide in Community Youth Development here https://extension.wisc.edu/youth/community-youth-development/
Para más información en español, se puede visitar aquí.
Fall Back Fall is a time many look forward to, AND it is also a time when others begin to dread the winter days ahead.  For this blog post, we are not looking ahead to winter, but back.  The winter 2023 Youth-Adult Partnership blog post focused on being intentional about describing who we are.  As […]

AmeriCorps is a network of local, state, and national service programs that connects over 70,000 Americans each year in intensive service to meet community needs in education, the environment, public safety, health, and homeland security. AmeriCorps' members serve with more than 2,000 non-profits, public agencies, and community organizations. Members serve in full or part-time positions […]

June 21 is the start of summer, the longest day of the year.  In a year defined by a dry pattern, sun shines most days.  However, it's been uncharacteristically cool.  If the sun is shining, why is there no warmth?  I always say that I prefer cold weather to warm, because I can put more […]

The winter Youth-Adult Partnership blog post focused on being intentional about describing who we are.  This spring as sunlight lengthens and warms our efforts, that language can be turned into helping describe what we need?  And after we ask for what we need, how do we engage each other to get those things? The experiential […]

In January it is customary to set priorities for the new year AND a key aspect of the Juntos program is creating an educational plan. Juntos (pronounced "Who-n-toes") means "Together" in Spanish.  The Juntos program brings together cohorts of 8th-grade youth to support each other for three to five years as they enter high school […]

Back to Basics When I drive to work in the morning, I eye the lane changes that continue to change in the construction zone.  For too many months, this route was blocked entirely.  It was frustrating.  My alternate route had many more obstacles, stoplights, and in general felt too slow.  I was grateful my preferred […]

This week was the official start to summer.  It was a hot one and it was full of another kind of heat, 'sparks'.  In Positive Youth Development we talk about how sparks "give a young person a sense of direction and encourages goal setting."  June 21 was one of two Spark Days held by Division […]

June is Pride Month  The Department of Instruction cites "Wisconsin's LGBTQ students reported higher rates of depression and suicidal thoughts than their peers" according to the Youth Behavior Risk Survey.  Belonging is a key aspect of 4-H.  We are grateful for our community partners and the work they do to keep youth safe and connected […]

4-H Camp families, we have a wonderful opportunity and need your help! The reality is, until April 15th, the state hadn't given approval to allow us to hold our Rock County 4-H Camp (with overnights) in 2022. With this opportunity, our challenge is that without enough 4-H Adult Volunteers, we will not be able to […]

You can watch the recording on Hedberg Public Library's YouTube Channel to learn more.  Learning also means leading.  The following are some Action Steps youth can take using a variety of resources. Self-Educate:  Set your own learning goals and find resources you love to learn with.  For example a website https://asianamericanedu.org/, a book https://socialjusticebooks.org/booklists/asian-americans/,  a […]