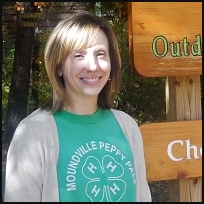 We're extremely happy to introduce our new Office Operations Associate and welcome her to the Upham Woods staff.
Hello! My name is Jennifer Loveland and I am the new Office Operations Associate at Upham Woods. From the first time I came to Upham Woods as a 4-H camper, through my years of being a camp counselor, I have always known this to be a special place. I am so pleased to be here, working to continue its mission and to witness firsthand the impact it can make. My first week here has been filled with awed-filled lunchtime hikes, amazed that this beautiful setting is my daily "office."
In my free time my husband, Daryl and I most love to go camping and hiking with our dogs in Wisconsin's amazing state parks, as well as biking the rail trails from Elroy to Sparta. When the weather changes, we head north to the family cabin for snowmobiling and winter walks.
I hope to see you here soon so you, too, can experience the beauty of Upham Woods!