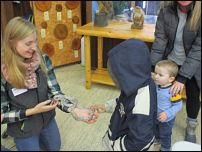 On Saturday morning, December 8th at Upham Woods Teaching Naturalists Megan and Ariel prepared the Nature Center for Animal Expo Day. It was a public event for nature lovers of all ages to meet the education animals of Upham Woods. During the event, folks were able to observe and explore in some of the rooms that had tables full of animal remains; including, furs, feathers, tracks, scat, bones, skulls, and even insect. Also, there were DOTS (Digital Observation Technology Skills) tools in each room to help guests take a closer look at the objects they examined. Some tools included a digital microscope and a thermal imager. 
Some of the education animals that visitors were able to meet were Aldo the leopard gecko, Leche the Honduran milk snake, Popcorn the albino corn snake, Squishy the tiger salamander, and of course Larry and Midge the three-toed box turtles. The public was also able to witness a very exciting event: Leche the snake had her monthly meal consisting of one mouse. This feeding can be a slow or fast process and the snake must get at the right angle to begin. It looks as if Leche is playing with her food, but she is simply positioning it so she can swallow it head first. After she has the mouse in her mouth, it's just a matter of seconds until the mouse is totally consumed! 
Even Beauty our red-tailed hawk had a presentation of her own for the public. We took a family outside the Nature Center to the birdhouse to visit Beauty. Ariel showed the group how Beauty steps onto her hand with a protective leather glove. After Beauty has done that, she gets to have her favorite part of the day: feeding time. We were able to witness Beauty fly down from her perch to scoop up her prey with her deadly talons and start feeding by tearing up the rat with her sharp, hooked beak. 
Thank you to all the folks that came out and visited us here at Upham Woods!