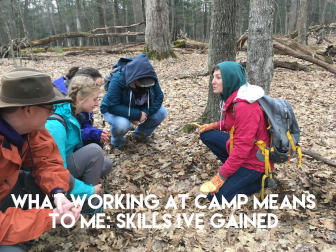 Our staff are beginning to dream about the summer months after what seems like record snowfall for the month of February. With our attention shifting to summer planning, we've started sharing with each other about what working at camp means to each of us. This is the third in our series "What Working at Camp Means to Me" by one of our Teaching Naturalist's Megan Giefer who focuses on skills she uses daily at Upham. Catch the first blog written by our Facilities and Operations Director here, and the second blog written by another Teaching Naturalist Ariel Christian.
I have found enjoyment working at an outdoor school and it has taught me incredible skills that will be in my back pocket forever. Some of the most important skills I learned while working at Upham Woods Outdoor Learning Center: 
Decision Making is very important when working in any natural resources field because the one thing that comes to mind is weather. You need to have quick decision making when working outside because in a matter of 5 minutes weather can change instantly and can become chaotic. Working in an outdoor classroom my high priority is making sure everyone is safe and that could mean adjusting the lesson by being inside or trying to beat the storm.  
Patience is another one that is important because sometimes youth don't like being outside as much as you do. So, I like to give them some time to adjust to the outdoors and take a moment so that they can find their passion.  Find something that sparks their eye to become that first initial target to creating a passion into nature.  
And this is where creative thinking comes into play. Each lesson you teach is always going to be different because not every single child is the same and they all have unique and outstanding personalities. This is the time that I enjoy working with students to engage their critical thinking skills by observing them in lessons, and determining what would be the best fit for youth.  
These are just a few of the skills that I use every single day in my job working at Upham Woods and I know they are invaluable skills for my career.