4-H & Youth
Flyers to Share with Your Group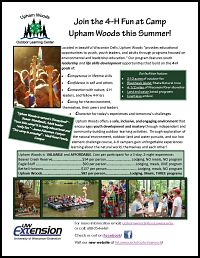 Click here to download the
4-H Summer Camp Flyer
 and share Upham Woods highlights with your campers, parents, counselors and adult volunteers.
4-H Events at Upham Woods
Every year Upham Woods hosts several exciting 4-H Youth Development events including the Operation: Military Kids summer camps, Arts Camp, and the Youth As Partners in Civic Leadership Conference.
Year-Round Fun!
Summer is an action-packed and wonderful time at Upham Woods!  We have many visiting groups over the summer including the annual summer 4-H camps from over 30 counties and others such as scout groups, youth organizations and adult professional development workshops.
The winter season is also a great time to experience all that Upham Woods has to offer! Through programs like Nordic skiing, snowshoeing, and broomball, youth and adults learn engaging, lifetime winter sports that a high percentage of people stay committed to. Some outdoor activities, such as skiing, are particularly valuable to youth because youth tend to pursue, or "track" the activity through childhood and into adulthood. Outdoor, physical activities can serve a dual positive function for youth: be a tool to help combat the nation-wide obesity epidemic and a tool for positive youth development.
4-H County Summer Camp at Upham Woods
Click here for a list of changes to fees and schedules for Summer 2020.
How do I reserve my dates for 2020?
Review the Summer 2020 Calendar here.

Each session block has been labeled; use these labels to create a list of your top 4 choices.

Submit your requests using the Qualtrics reservation form from now until June 21, 2019.
On July 2, you will receive an email with your contract, approved session block, and a request for a deposit.
Return the signed contract with deposit by August 1, 2019.
Camp Counselors- Training Weekend
Great counselors make summer camp awesome! Counselors can be youth ages 14+, adult volunteers and 4-H staff. We offer two sessions of camp counselor training in the spring.
4-H Goals, Essential Elements and Foundational Topics
Whether through summer camp, winter camp, day programs, or themed weekends (STEM, Archery, Arts, OMK, International programs, and more), our programs meet the goals, essential elements and foundational topics of 4-H Youth Development principles. Upham Woods programming features youth leadership and life skills development opportunities that build on the 4-H goals of:
Competence in lifetime skills
Confidence in self and others
Connection with nature, 4-H leaders, and fellow 4-H'ers
Caring for the environment, themselves, their peers and leaders
Character for today's experiences and tomorrow's challenges
Upham Woods offers a safe, inclusive, and engaging environment that encourages youth development and mastery through independent and community-building outdoor learning activities.  Through exploration of the natural environment, outdoor land and water pursuits, and our low element challenge course, 4-H campers gain unforgettable experiences learning about the natural world, themselves and each other!
Residential Programs
Residential environmental education programs provide the backbone of Upham Woods. Residential programs are popular with school groups, home school groups, scouting programs, and youth groups. Programs vary in length but are typically two to five days long. Groups can choose from a wide variety of programming options and themes. Through a combination of Upham Woods staff and group leaders, environmental and outdoor education lessons are presented through experiential, hands-on activities.
Some of the programs offered at Upham Woods include:
Interpretive geology and history hikes on Blackhawk Island and North Shore
Living history with a French Voyageur or an 1850's Wisconsin lumberjack
Water ecology exploration utilizing stereoscopes
Raptor programs with a red-tailed hawk and barred owl
Team building challenge course and group initiatives
Orienteering courses
Canoeing and kayaking
Live amphibian and reptile programs
Outdoor survival
Nordic skiing, snowshoeing and snow science in winter
Campfires
Fun additions to your summer camp program:
Consider adding some of these unique summer challenges to spice up your group's stay at Upham Woods.
Critter Conservation Challenge
The Critter Conservation Critter Challenge (CCC) is a way for your whole camp to work together to follow good conservation practices and earn points by doing so. A group earns points by:
 Shutting off lights
Keeping recyclables out of the trash
Turning off water faucets
Picking up litter
Minimizing food waste during meals
Composting
A group loses points by leaving lights on/faucets running, putting recyclables in the trash, etc. The CCC is introduced during youth orientation and explained at the second meal. If the group earns enough points, they earn either a Blue ribbon award or Red ribbon award to take back to the county, and get to put a "feather" with their county name on the display board in the Dining Hall.
Stump the Naturalist
Stump the Naturalist is when campers submit questions (within guidelines) to the tree "stump" in the dining hall for the naturalists to answer. If the naturalists can't answer correctly, they get "stumped" and the camper gets a tree cookie to take home.
These are all optional activities to include in your camp schedule. We recommend choosing your favorite two activities above!
---
Groups have the choice to stay in rustic cabins or a dormitory. Family style food service is available to groups comprised of 20 or more participants.
Guests utilizing Upham Woods for day or residential programs have a wide variety of environmental and outdoor education and recreation courses to choose from. Take a look at the full list of program offerings here.
If your group is interested in visiting Upham Woods, please contact us. We will be happy to discuss visitation options and to help plan your visit. We can be reached at 608-254-6461 or via email at uphamwoods@wisc.edu.
To schedule a program, first visit the Upham Woods Calendar to identify available open dates. Once dates are found, please fill out an online application to reserve dates. You will receive an email confirmation of your reservation acceptance. A deposit of $100 per night ($50/day visit) is required within 10 days to hold reservation date(s).