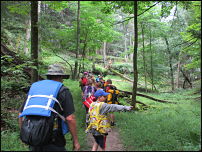 Program Coordinator Caleb Jenks recaps our August Session of Open Enrollment Camp, a "week of firsts":
This summer has had the largest open enrollment camp presence of any summer so far, with over two hundred total youth participating in three separate camp blocks.  With each different open enrollment, we have tried new things such as partnering with different county groups to offer the camps, and trying out new program options.  This is especially true of our recently concluded August session, which ran from the 5th through the 11th .  This camp was the first time Upham Woods has offered a full seven day camp program, drawing in just over forty campers for a unique summer experience.
With a whole week to go outdoors and explore, we had a lot of flexibility to be creative in our program offerings.  As a result, we were able to run three things not usually seen in the Upham experience; Island day, extended free choice periods, and an expanded use of the DOTS (Digital Observation Technology Skills) toolkits in the programming.  This included not only offering more programs with the opportunity to use the tools, but also having the campers create scientific stories to share with each other the things they were able to observe with the kits.  We also were able to take old programs to new places, such as fishing from a new location on the north shore property.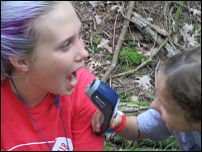 By far the largest endeavor of the camp was the extravaganza now remembered as Island Day, which began by running a double crossing of the "world famous" Upham Woods barge to get 40 campers (plus counselors, chaperones, and Naturalists) onto the island at the same time.  Once there, the campers split apart into smaller groups and set out to spend the day exploring  the island.  Although no two groups had the exact same experience, every camper did have the opportunity to explore Upham Woods's caves, have a picnic lunch delivered by boat on the beach, swim in the Wisconsin River, and participate in a full DOTS session, later creating a scientific story about their experience.  In total, each camper spent nearly six hours on Blackhawk Island, making Island Day the single largest Island exploration ever to have taken place at Upham Woods.  That is, of course, until we do it again with more campers next year.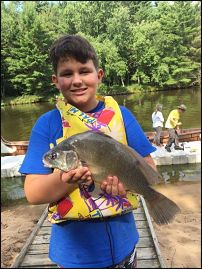 Although many activities in the earlier parts of the week were done in pre-determined groups, we wanted to give the campers some freedom to choose their own adventure.  In July, one of the things we tried was an "extended free choice", where campers were able to sign up ahead of time for activity blocks that would run for entire mornings and entire afternoons.  Feedback about the whole process was overwhelmingly positive, putting having more free choice high on our list of priorities.  In the August session, we took full advantage of the extra days to allow for two consecutive days of extended free choice programming.  Some of the programs offered included familiar Upham Woods favorites like Peanut Butter Mountain and more Blackhawk, but we also decided to combine parts of other programs to make newer, longer experiences.  One example of this was a group that canoed up to the north shore of the property to fish from a spot not previously open for fishing, or a survival skills program that included fire-building, shelter building, and archery.  In addition, many of these programs saw a return of DOTS kit tools, like a group that used the portable microscope to get up close looks at the scaly skins of some of the nature center's reptiles.  These tools allowed the campers to see and observe things happening in front of them that are not visible to the unaided eye, allowing for a new perspective of the natural world.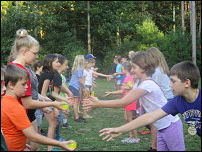 Now that the first ever seven day open enrollment camp has passed, we at Upham Woods are already starting to look forward to next year's sessions.  That is because next year, we are running two separate seven day experiences, as well as several five day open enrollment programs.  These camps are a great opportunity for anyone to come and have an outdoor experience that is memorable, fun, and unique.  We hope that everyone who participated this year is excited to return for more adventures at Upham Woods next year, and that they bring along some friends.  Since open enrollment is open to any youth participant, it is an outstanding opportunity for all kids to come and have a good summer camp experience.  At Upham Woods, we are excited to be expanding these opportunities even more in coming summers, and eagerly await the arrival of the next summer camp season.