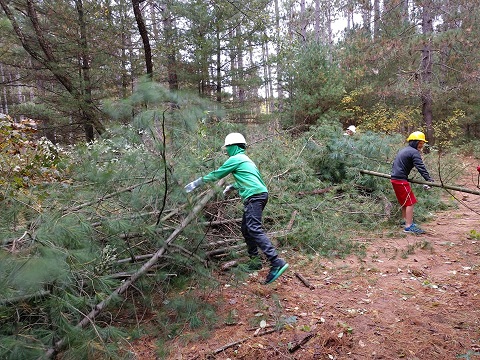 Conservation Challenge is over 1,500 hours! Thanks to the efforts of St. Williams in a trail corridor clearing project, the Conservation Challenge is now over 1,500 hours. Not only did St. Williams add hours to the challenge, but they finished the new trail corridor for our Blue Triangle Trail. This trail will be key this winter as it will be used as a ski trail in our winter programming. Deerfield schools also added even more hours to the Conservation Challenge on Halloween. You can see the Conservation Challenge in action by viewing our Conservation Story Map. Take a minute to check it out:
https://uwex.maps.arcgis.com/apps/MapTour/index.html?appid=9f9a039a6b84481d9bd866de677c7482
Sauk County Conservation Day is Back. Coming up on November 12, Reedsburg Webb Middle school will be participating in Sauk County Conservation Day. Over 200 future land stewards will be at Upham learning about conservation and land management from volunteers working for the DNR, International Crane Foundation, The Nature Conservancy, and many more. Students will get to participate in choice activities lead by experts and get their hands dirty doing hands-on conservation service.