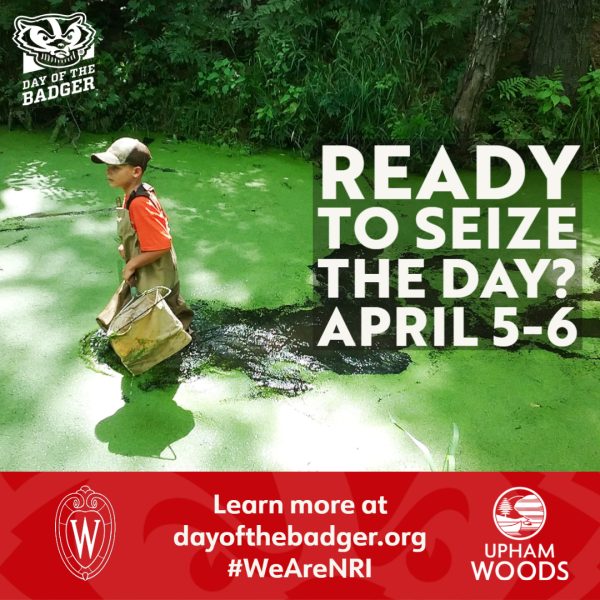 Day of the Badger is an opportunity to celebrate what makes UW-Madison great! Your support of Upham Woods will ensure we can continue to expand our offerings to connect people with nature and each other. Positive childhood experiences in the outdoors help youth build a foundation of resiliency to cope and thrive throughout life, and as an adult, outdoor experiences can positively impact mental well-being. Let's make sure cost is not a barrier!
Here is how you can get involved:
 Donate on April 5th or 6th! Any amount helps, but for just $50 you can send a child to camp for one day, and $150 supports their entire 3-day camp experience. For a limited time, we have a matching donor who will double your impact! Check out our page at: https://dayofthebadger.org/campaigns/upham-woods-outdoor-learning-center#/
Share your favorite Upham memories on social media. Be sure to use the hashtags: #UphamMemories and #DayOfTheBadger. If you need an image to go with your post, consider using the images below! Suggested caption: "I'm proud to have experienced the great outdoors at Upham Woods and proud to pay it forward in support of the next generation of Upham Woods visitors! UW Madison's Day of Giving is on, and Upham Woods has a goal of raising $500 toward student scholarships by 5pm CT on April 6th to receive a generous matching gift. Please check out their page at https://dayofthebadger.org/campaigns/upham-woods-outdoor-learning-center#/ to get involved. #UphamMemories #DayOfTheBadger"

Celebrate what makes Upham Woods great by going outside to experience nature.
We are so thankful for all of our supporters and we know that you will help us make this year a success!