Hi Everyone! 
My name is Katie, and I am the Accessibility Intern at Upham Woods! Since my last blog post, the summer has picked up and many exciting things are happening at Upham Woods. Two of the projects and initiatives I have directly participated in are Upham Woods' new partnership with Access Ability Wisconsin (AAW) and the Natures Navigators STEM Camp!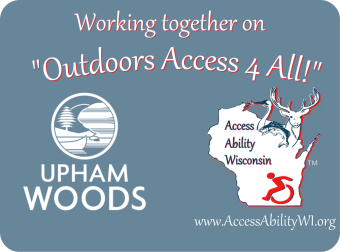 Recently Upham Woods and AAW have partnered, resulting in events, educational opportunities, and Upham Woods hosting one of AAW's all-terrain outdoor wheelchairs AAW's mission is to increase "outdoors access for all!" Their mission perfectly aligns with Upham Woods' mission of providing accessible programming and creating an inclusive environment. One of the results of this partnership is that Upham Woods now hosts one of AAW's outdoor wheelchairs, which is currently available for events, individual reservations, and for the participants at Upham Woods programs- free of charge! 
After getting to know AAW and being a part of this partnership, I feel immense gratitude for the opportunities that AAW provides through their accessibility efforts and for working for an organization such as Upham Woods that actively implements accessible programming through their various efforts. Partnerships such as this show the value of community and connection concerning accessibility and that accessibility cannot be an individual effort. 
The collaborative and communal elements of accessibility are not new to Upham, as several projects and programs I have worked on this summer feature collaboration. For example, in my last blog post, I discussed the adaptive kayak that Upham Woods recently purchased. Soon after purchasing the kayak, Upham hosted a training session for the UW-Madison Hoofers so they could learn how to use their adaptive kayak, increasing accessible recreation opportunities in Madison.  
Another program featuring collaboration is the Nature's Navigators STEM Camp for autistic youth. Upham Woods is collaborating with several other organizations to host this camp and we all have been hard at work on the planning, training, curriculum, and evaluation. I believe all of our efforts will result in a fun and impactful experience for the participants, and I am very excited to see the end result in August! To me, this program exemplifies the importance of collaboration, as each organization has added valuable insight and knowledge to the planning and implementation process. 
Overall, I am incredibly grateful for the many learning experiences I have had through my internship! The examples I have listed are a few of the collaborative projects I have been a part of working on, though there are several others I did not discuss! I plan to take this collaborative mindset with me when I return to New Hampshire at the end of summer and into future organizations I work for. With this in mind, I will end this post on a note of gratitude for all of the people, partners, and individuals at Upham Woods that make the experiences at Upham so impactful for the participants that attend our programs! 
To learn ore about the initatives discussed in this blog post, please check out the webpages featuring Natures Navigator's STEM camp and Access Ability Wisconsin.