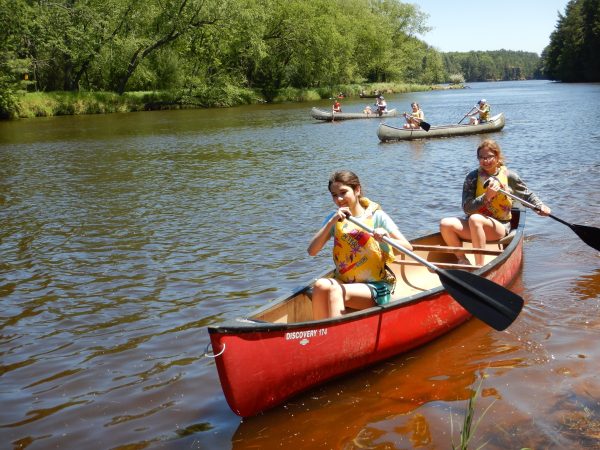 Sign up to spend time at Upham Woods canoeing, exploring Blackhawk Island, and making new friends. We have a few options from youth camp to family camp, so that everyone can have fun this summer. NOTE: If you are looking for our STEM camp for Autistic youth in grades 6-12, please click here: https://ccr.nelson.wisc.edu/natures-navigators-stem-camp/
Youth Camp
Who: Any youth entering 4th-8th grade.
When: July 5-8 or July 19-22
Cost: $295. Scholarships are available for $30 and $60 through our registration process. 4-H members can request additional scholarship funds through Wisconsin 4-H.
Registration Closed
Family Camp:
Who: Families that want to spend time together enjoying classic camp activities from swimming to canoeing to exploring water ecology. Families can include parents, grandparents, aunts, close friends etc. Anyone that you consider family is welcome to attend this exciting weekend. All meals are included and our Welcome Packet can be found here.
When: July 14-16
Cost:
Family of 2: $285
Family of 3:  $420
Family of 4:  $550
additional family members: $130/each
Volunteer at Camp!
Come to camp for free!
Adult Chaperones:
Who: Anyone over the age of 18 who wants to facilitate a safe, inclusive camp experience.
Must be able to: Pass a background check, agree to camp policies, complete required UW-Madison trainings and attend a virtual training session in April.
There is a need for specialized chaperones such as first aid coordinator (requires certifications), dining hall coordinator etc.
How: Application is now open. Involves an interview with a Program Coordinator: Johanna or Rachael. No experience is necessary. Apply Here: https://forms.gle/oPFniZqBiNs5YMYRA
If you have questions or have accommodation requests, please reach out to Rachael Lewandowski-Sarette at lewandowskis@wisc.edu.